Ben Carson does not have a plan to win the nomination — nor does he have a plan to drop out after what's likely to be a poor Super Tuesday showing.
As Donald Trump soars and Sens. Marco Rubio and Ted Cruz duke it out for second, Gov. John Kasich and Carson are both lagging in fifth and sixth, respectively. But while Kasich is already making a strong showing in Vermont and vows to win his home state of Ohio on March 15 — a key swing state and a winner-take-all primary — Carson has no clear plan to win at all.
"Well, we clearly don't know," the campaign's chairman, retired Maj. Gen. Bob Dees, told the Washington Examiner. "But we think the opportunity exists for people to wake up, and that's what we're hoping."
In interviews with two top aides on Tuesday, neither could identify a clear path to the nomination.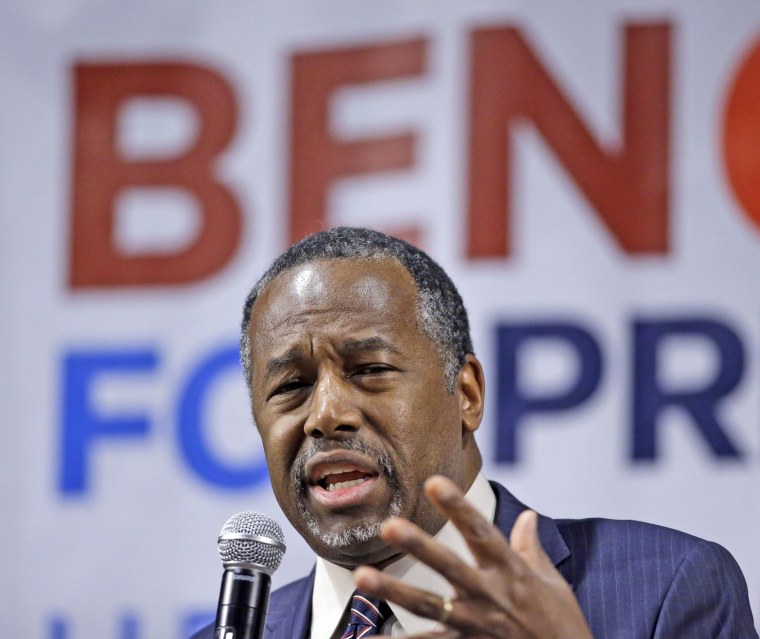 "A good night is about us continuing to grow our vote," campaign manager Ed Brookover told MSNBC, arguing that it was still too early to call it quits. "When we'll pull ahead, I don't know."
Despite consistent polling with Carson in single digits, Jason Osborne, a senior communications strategist for the campaign, said, "A lot can change within a week, a lot can change within two weeks. At this point, anything can happen."
Both suggested that a best-case scenario for Super Tuesday is a handful of delegates and that a contested convention might provide an opening, but it's unclear — to both outsiders and campaign insiders — how a contested convention would actually help the Carson camp.
"There's always the possibility that people will awaken and recognize that just what they were asking for is what I have presented for them," Carson told MSNBC's "Morning Joe" when asked to make the case for himself.
Osborne suggested that winning some of the U.S. territories' delegates — like the Northern Mariana Islands, which have just nine delegates and are mostly notable for their time zone, announcing results early in the day on March 15 — might give Carson some momentum.
"This is a delegate-gathering operation," Osborne said, noting he runs the islands' local party. "Does a win there propel us to the presidency? I can't say that it would, but it does continue to give us optimism that we're doing the right thing."
For those outside the campaign, the picture is less rosy.
For Carson to have a shot, GOP strategist Rick Wilson said, "a meteor has to kill Trump, Cruz and Rubio, and John Kasich has to get mauled by a wolverine."
Wilson, who is supporting Rubio and making ads for his super PAC, and Cruz's former communications director, Rick Tyler, agreed that the path for Cruz and Rubio is tough. For Carson, they said, it's fictional.
"It's a pipe dream — he has no hope of gaining the Republican nomination," said Tyler, now an MSNBC and NBC News commentator, adding that Carson is likely hurting Cruz in his fight against Rubio. "He is taking 6, 7, 8 percent of the vote, and most of it from Cruz. ... It's making it much tougher for [Cruz] to compete."
Brookover and Osborne both said they were heartened by fundraising: They raised more money in February than January and felt this was their supporters telling them to stay in the race.
"What really emboldened him was the last debate is the bickering back and forth not on substance but on personalities," Osborne said. "[Carson felt like] 'I'm the only adult in the room left, so why would I get out when the voters ...' — when he knows the voters don't want that."
Carson said the same on Tuesday.
"The one thing I do know is that I have millions of social media fans, and they're begging me not to get out. They're continuing to support us tremendously economically. So there is really no reason to disregard what they have to say," he said on "Morning Joe."