NOGALES, Arizona — Jessica Elizabeth Orellana Diaz wanted her voice to be heard by Bernie Sanders, even if he needed a translator to understand it.
"Mi unica esperanza es llegar a este país," Orellana told Sanders after describing her painful journey of leaving El Salvador to seek asylum in the United States.
"Her only hope is to come to this country," Arizonan and DREAMer Julio Zuniga said in English, translating for the Vermont senator.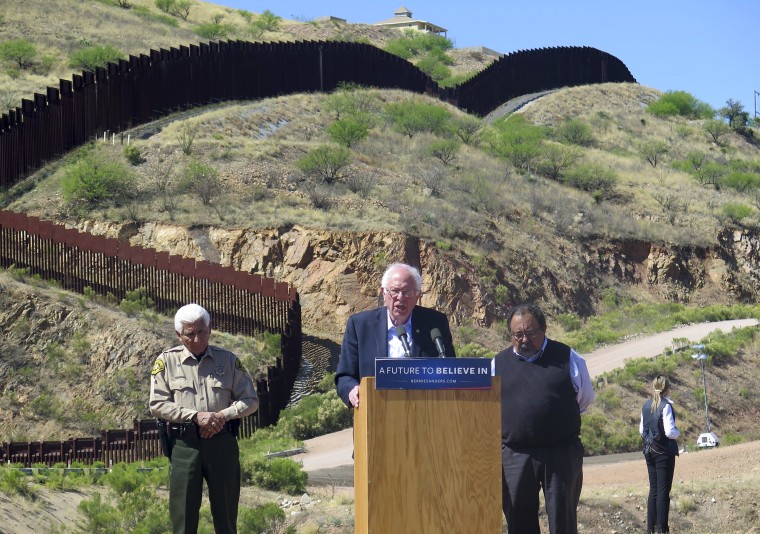 Sanders made his first trip to the U.S.-Mexico border of the presidential campaign Saturday, and speaking in the foreground of the wall dividing two countries said he would fight to provide a path forward for undocumented immigrants.
"We don't need a wall, and we don't need barbed wire," Sanders said, with Mexico over his right shoulder and the U.S. over his left.
"We need comprehensive immigration reform," Sanders said. "We need to take 11 million undocumented people out of the shadows, out of fear, and we need to provide them with legal protection."
Sanders, who regularly speaks about the importance of "listening to Latinos" when it comes to immigration issues, said the country needs to "build more bridges, not more walls."
He condemned Republican presidential front-runner Donald Trump, who in his presidential announcement speech said illegal immigration from Mexico was bringing "rapists" and crime into the U.S.
"All of us are rightly appalled by the divisive, bigoted, and xenophobic comments of people like Donald Trump," Sanders said.
"I will do everything I can to oppose that kind of language and those kinds of actions," Sanders said.
Sanders also criticized controversial Maricopa County Sheriff Joe Arpaio, who has made national headlines for crackdowns on undocumented immigrants, as "demonizing and preying on vulnerable people and communities."
Related: Joe Arpaio Tours 'Tent City' Jail With Bernie Sanders' Wife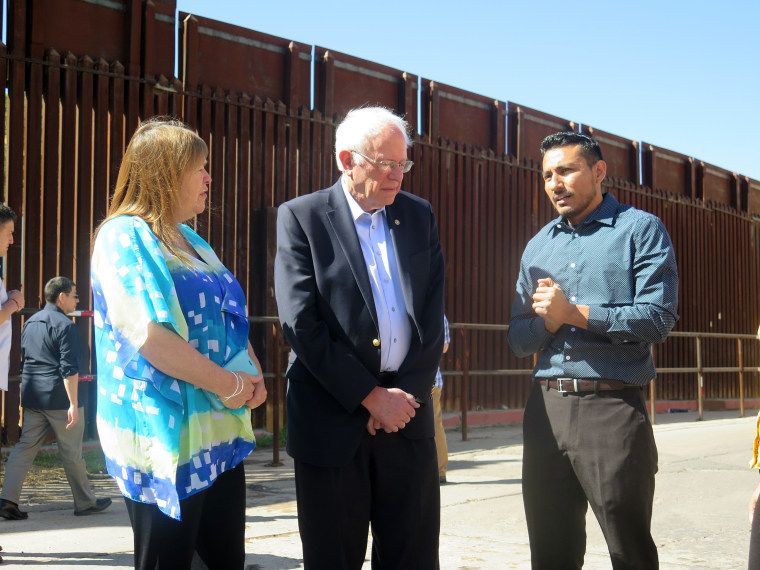 Condemning Arpaio resonates particularly with liberals, Latinos, and immigration activists alike — all groups the senator is working hard to court ahead of Arizona's Democratic primary on Tuesday.
Sanders toured the border along with U.S. Rep. Raul Grijalva or Arizona and Santa Cruz County Sheriff Tony Estrada.
Estrada huddled with Sanders as part of the morning trip to explain to the native New Englander the specific problems that face this border community. Estrada told Sanders that drug cartels still pose a significant threat the security of the border and the town of Nogales.
Sanders said President Barack Obama's administration played a role in what he called the "deportation regime" of the country.
Before concluding his time at the border, Sanders said he "strongly" disagreed with rival Hillary Clinton's recent comments on granting asylum to children fleeing oppressive Latin American countries.
During PBS' February Democratic debate, Clinton asserted that such children should be "processed appropriately" so as to "send a message to families and communities in Central America not to send their children on this dangerous journey in the hands of smugglers."
"Sending children who have braved all kinds of dangers to escape some of the most violent regions in the world…telling them simply that they have to go back is in some cases sending them back to a death sentence, and that is wrong," said Sanders on the matter.
When NBC News asked Orellana, who was granted asylum herself after leaving harsh conditions in El Salvador, how it felt to share her story with Sanders, she paused and smiled.
"I felt that it was a very good opportunity to be able to speak with Senator Sanders, because I was able to express what we young Latino Americans really feel when we come here to this country," she said.