Des Moines — Bernie Sanders may not leave Iowa as popular as the pork chop on a stick or fried PBJ — but the Democratic candidate rolled into the Iowa State Fair to a crowd that wrapped around to the back of the soapbox stage to hear him speak on Saturday afternoon.
"I believe that if we all — when it comes to Election Day — realize Bernie can win and we don't give up and say, 'Oh, he has no chance,' then we can do this," said Zach Murrell, 21, a senior mechanical engineering student at Iowa State University.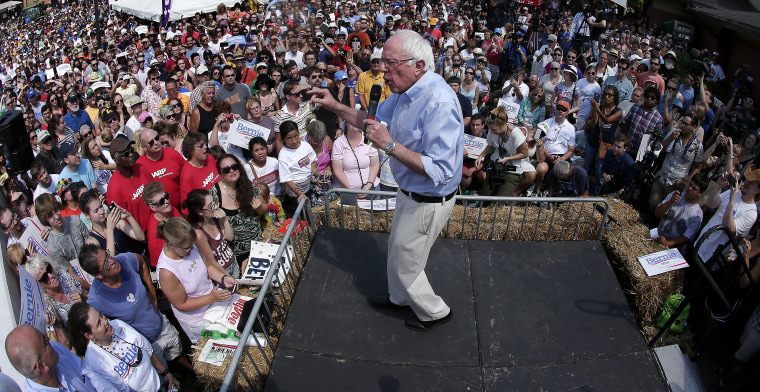 For Sanders, the political complexion of his rally attendees is not narrowly defined. Nearly all of those in attendance at Sanders' events caucused for either Obama or someone not named Hillary Clinton in 2008. But the issues—environment, Social Security, student loans—connect and bring out different generations.
"What initially got me to Bernie was the fact, you know what, he's got a lot of integrity. And how I know that? He's not backed up by any money. He's backed up by voters," Caleb Humphrey, 30, a campaign volunteer and Iraq War veteran, said.
"And as a veteran myself and especially a combat veteran, I've seen combat and I've been there," Humphrey said. "We should have used all of our resources to avoid it. It's a horrible thing."
Earlier in the morning — while Hillary Clinton answered questions at the Iowa State Fair about the FBI's investigation into her private email server — Sanders spoke at a town hall in Boone, a town about an hour outside of Des Moines.
Sanders called for expanding Social Security by lifting the cap on taxable income, creating a single-payer healthcare system, and — using a line frequently referenced by the GOP to warn about the current state of the economy — pushed back against the government's use of an unemployment rate figure that does not include those who gave up on looking for work and those who are working part time but would like to work full time.
"How many of you believe that real unemployment in America is 5.3 percent?" Sanders asked the crowd. "Real employment in America is over 10 percent, not 5.3 percent."
Former U.S. Sen. Tom Harkin's endorsement of Hillary Clinton on Friday is of little surprise. Harkin declined to endorse Clinton or Obama in 2008.
But one year ago, the popular Iowan hosted the Clintons at the final Harkin Steak Fry, where Clinton heavily hinted at her second bid for the White House.
And about an hour down the road, Sanders gathered in the basement of Collegiate United Methodist Church across from the Iowa State University campus. Sanders packed the room, squishing people along the walls and room's columns. Someone took a milk crate from the church kitchen, wrapped it in white paper and set it on top of a table as the event podium.
One of those church members, Amy Bleyle, a mother a five, is now a volunteer for the Sanders campaign, working at the Boone event.
"What really upsets me is that everyone is ignoring him. It's like, 'Hello, I'm Joe Biden and going to maybe throw my hat into the ring.' And they're talking about Al Gore throwing his hat into the race," Bleyle exclaims. "I'm like, 'What, hello! Here's Bernie. He wants to run!'"
Bleyle also is one of the few in Iowa who caucused for Clinton in 2008 yet says she will not attend the February caucus for the former Secretary of State this time around.
"Bernie Sanders is the only one left with integrity," Bleyle said.
On Saturday, the top two candidates for the Democratic nomination shared the same fairgrounds. Clinton did not address the crowd from the soapbox but took press questions prior to walking the streets.
For the campaign, it's now a ground effort to translate the intensity exerted by Sanders' crowds across the country and Iowa — like Obama in 2008 — into enough caucus supporters to siphon the state away from Clinton.
Sam Muhr, 27, of Ottoman County, didn't caucus in 2008, but for Muhr — wearing a Bernie shirt and blue bandana in Boone—this campaign is "more authentic, more grassroots."
And why not Hillary?
"I found Bernie instead," Muhr said.
Sanders will make two stops in northeastern Iowa on Sunday, including Dubuque, where Clinton campaigned on Friday before about 400 people.