PHILADELPHIA — The gloves are truly off between Bernie Sanders and Hillary Clinton.
Less than 24 hours after Sanders' big win in Wisconsin, the senator from Vermont hammered Clinton for not being "qualified" to be president.
"Now the other day, I think, Secretary Clinton appeared to be getting a little bit nervous," began Sanders in front of thousands at Philadelphia's Temple University Wednesday night.
"And she has been saying lately that she thinks that I am, quote-unquote not qualified to be president," he said as the raucous crowd booed.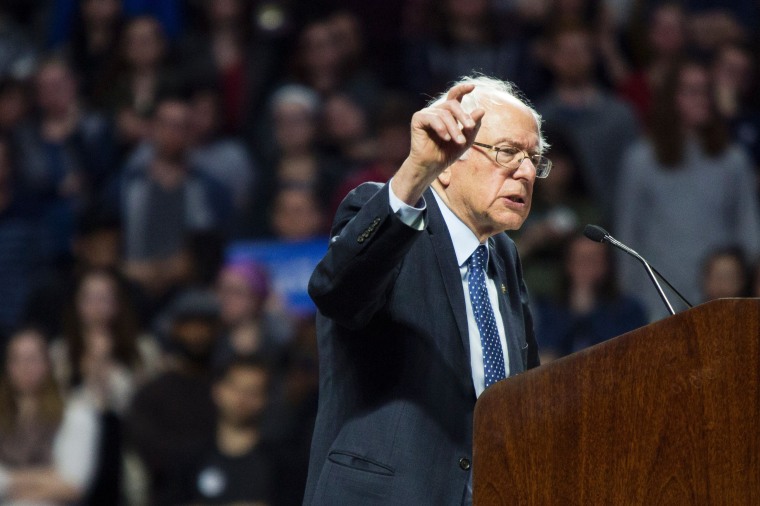 "Well let me just say in response, to Secretary Clinton, I don't' believe that she is qualified if she is…through her Super PAC, taking tens of millions of dollars in special interest funds," Sanders declared.
Related: Sanders Gets Momentum But Gains Little From Wisconsin Win
He went on to list a number of traits disqualifying someone from being president all directed squarely at Clinton — with the crowd cheering enthusiastically after each bullet point:
"I don't think that you are qualified if you get 15 million dollars from Wall Street through your Super PAC," said Sanders. "I don't think you are qualified if you have voted for the disastrous war in Iraq. I don't think you are qualified if you've supported virtually every disastrous trade agreement, which has cost us millions of decent paying jobs."
But perhaps his most forceful blow — and certainly newest for a candidate who is known for rarely straying from his normal stump speech — came on the subject of the controversial "Panama Papers" and its relation to the Panama Free Trade Agreement.
"I don't think that you are qualified if you supported the Panama Free Trade Agreement! Something I very strongly opposed and which, as all of you know has allowed corporations and wealthy people all over the world to avoid paying their taxes to their countries," Sanders concluded.
In the immediate aftermath of his remarks, it remained unclear exactly when he believes Clinton called him "not qualified" to be president.
During an interview on MSNBC's Morning Joe early Wednesday, host Joe Scarborough repeatedly pressed the former secretary of state on whether she believed Sanders was not qualified to be commander in chief.
"Well, I think he hadn't done his homework and he'd been talking for more than a year about doing things that he obviously hadn't really studied or understood, and that does raise a lot of questions," said Clinton when asked pointedly if Sanders was not "ready" to be president.
"Well, let me put it this way, Joe. I think that what he has been saying about the core issue iin his whole campaign doesn't' seem to be rooted in an understanding of either the law or the practical ways you get something done. And I will leave it to voters to decide who of us can do the job that the country needs," she added shortly after.
Late Wednesday, Clinton's press secretary Brian Fallon responded to Sanders' remarks via Twitter saying, "Hillary Clinton did not say Bernie Sanders was 'not qualified.' But he has now — absurdly — said it about her. This is a new low."
Fallon in a follow-up tweet demanded that Sanders "take back your words about Hillary Clinton."