With just days left before the Nov. 8 presidential election, Hillary Clinton brought in some star power at a get out the vote concert and rally in Cleveland Friday, with performances by superstars Jay Z and Beyonce and other artists.
Donald Trump, speaking at a rally in Hershey, Pennsylvania before the artists in Cleveland took took the stage sniped: "I didn't have to bring J-Lo or Jay Z … I'm here all by myself. Just me. No guitar, no piano, no nothing."
At the Cleveland rally, Beyonce said she hopes that America makes history again by electing the nation's first woman president. Her backup dancers wore pantsuits in a none-too-subtle nod to the former secretary of State.
"There was a time when a woman's opinion did not matter. If you were black, white, Mexican, Asian, Muslim, educated, poor or rich — if you were a woman, it did not matter," Beyonce told the crowd in Cleveland.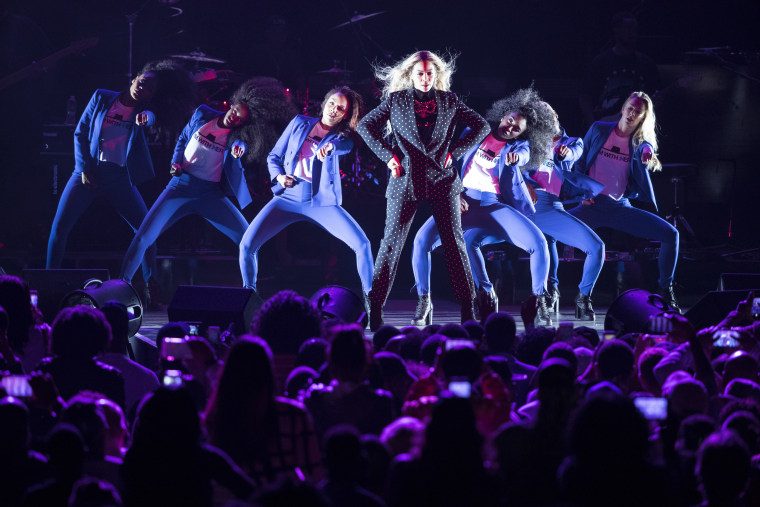 "Less than 100 years ago, women did not have the right to vote. Look how far we've come from having no voice to being on the brink of making history, again, by electing the first woman president," she said.
Clinton appeared on stage with Jay Z and Beyonce and in brief remarks told the crowd that she respects him for raising issues such as poverty, criminal justice reform and racism in his music.
"Jay memorably said something we should all recall: Rosa Parks sat so Martin Luther could walk, and Martin Luther walked so Barack Obama could run, and Barack Obama ran so all the children could fly," she said.
Jay Z did not criticize Trump by name but said "this other guy … I don't have any ill will towards him, but his conversation is divisive and that's not an evolved soul to me, so he cannot be my president."
Earlier Friday at an event in Detroit, Clinton predicted that Michigan can "make the difference" in the election if she wins there next week, during a campaign stop that raised some eyebrows when it was added to her schedule in the final stretch.
Clinton has visited Michigan a lot less frequently than the other battlegrounds her campaign is hoping to win on Election Day. The reason? She has spent most of her time recently in places that have early voting. Michigan does not.
On Friday, she urged everyone to go to the polls and acknowledged that many voters are seeking something new. "I know that a lot of people say they want change but let me tell you: change is inevitable. There will be change. The question is: what kind of change?" she asked.