WASHINGTON — Vice President Joe Biden, inspired in part by his late son, has been holding meetings at his Washington home to discuss challenging Hillary Clinton for the Democratic presidential nomination, the New York Times reported on Saturday.
Biden has said publicly he would make a decision at the end of the summer but the Times said the vice president and his associates were actively exploring getting in the race.
The Times, citing several people who have spoken with him and his advisers, said the Biden camp was contacting Democratic leaders and donors who have not firmly committed to Clinton, the clear leader among the five Democrats who have entered the race, or might be concerned about her prospects.
Times columnist Maureen Dowd also said Biden, 72, has been "having meetings at his Washington residence to explore the idea of taking on Hillary in Iowa and New Hampshire."
RELATED: Vice President Biden Attends Prayer Services at Charleston Church
The paper said Steve Ricchetti, Biden's chief of staff, began talking to supporters in the months before Beau Biden died in May at age 46.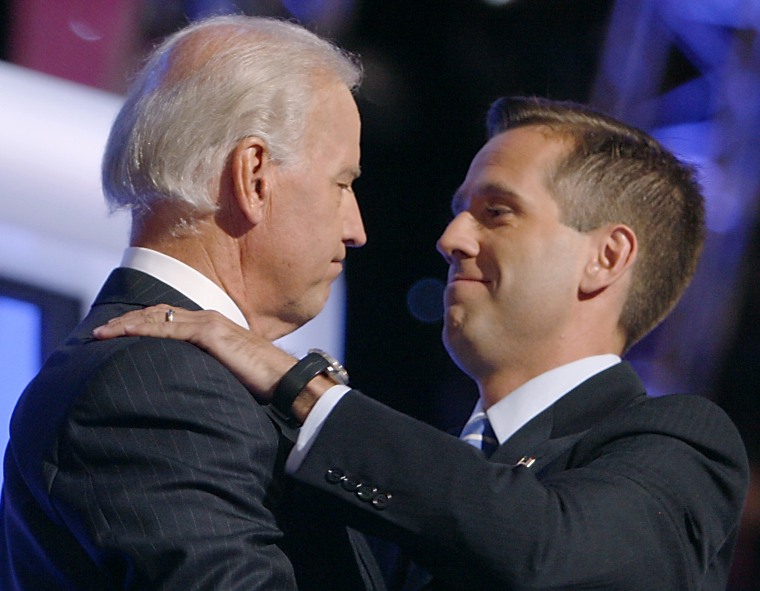 Dowd cited a conversation in which Beau Biden, a former attorney general of Delaware who was dying of brain cancer at the time, tried to get his father to promise he would run. The vice president's younger son, Hunter, also encouraged him, Dowd wrote.
RELATED: Beau Biden Funeral: Obama Delivers Eulogy for 'Consummate Public Servant'
"He was so close to Beau and it was so heartbreaking that, frankly, I thought initially he wouldn't have the heart," Boston attorney Michael Thornton, a Biden supporter, told the Times. "But I've had indications that maybe he does want to - and 'that's what Beau would have wanted me to do.'"
RELATED: 'We Owe You': Joe Biden Celebrates Same-Sex Marriage, Says More to Be Done
The Wall Street Journal reported last month that John Cooper, a fundraiser for Barack Obama's successful presidential runs, has joined the Draft Biden 2016 Super PAC to persuade Biden, who sought the Democratic nomination in 1988 and 2008, to try again.
Dowd, who has often been critical of Clinton and her husband, former President Bill Clinton, said a campaign by Biden might be complicated for him because he has a good relationship with Hillary Clinton and respects the Democratic Party's desire to put a woman in the White House.
The White House had no immediate comment on Biden's plans and the Times quoted a spokeswoman for Biden as saying: "As the Biden family continues to go through this difficult time, the vice president is focused on his family and immersed in his work."