Vice President Joe Biden said Sunday he would have run for president, but he decided that he "couldn't win" and that he would never again seek political office.
In a joint interview with his wife, Dr. Jill Biden, on CBS' "60 Minutes," the vice president said helping his family grieve over the death in May of his son, former Delaware Attorney General Beau Biden, took precedence over a presidential campaign.
"I've said from the beginning that I don't know whether our ability to deal with the loss of Beau would reach a point where we could do that before time ran out," he said. "And there was nothing we could control."
Related: Joe Biden Announces He Will Not Seek Democratic Nomination for President
Asked by CBS News correspondent Norah O'Donnell whether he chose not to run because "you think you couldn't win" or "didn't want to run," Biden answered:
"Couldn't win. I'll be very blunt. If I thought we could've put together the campaign that our supporters deserve and our contributors deserved, I would have gone ahead and done it."
Jill Biden also said she was disappointed, saying, "Oh, yeah, sure," when asked whether she had encouraged her husband to run.
"I thought Joe would be a great president," she said.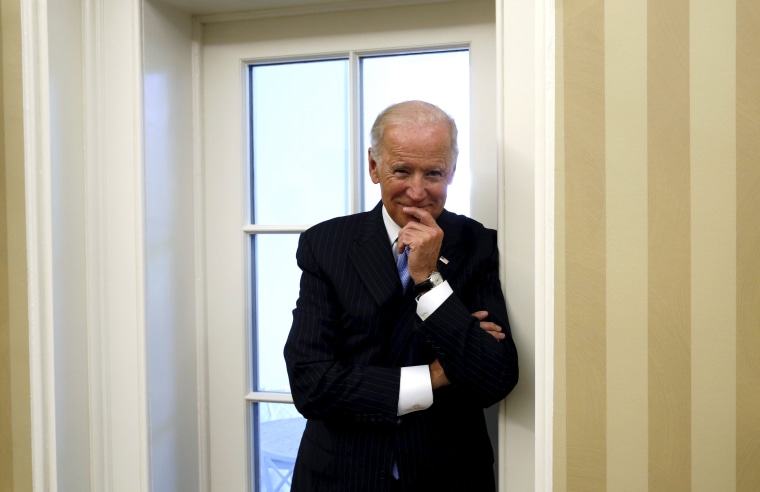 But family came first.
"What I struggled with was whether or not we could emotionally ... handle this," Joe Biden said, adding: "I could — I speak for me — I could."
Then he started talking about his granddaughter — Beau Biden's daughter.
"She's lying between my legs with her head on my chest and turns around and puts her arms around me and starts sobbing and says: 'Pop, I see Daddy all the time. I see Daddy all the time. Pop, you smell like Daddy. You're not going to leave me, are you Pop?'
"Well, when that happens, you go, 'I don't know, man, how, you know, how could," he said before a pause.
"And so, there are those kinds of ups and downs," he said.
Biden, in fact, said he would never again run for political office, because "I can do so much more, I believe, (as) a respected figure who can convene people and bring people together."
Related: Joe Biden's 80 Days of Indecision
"I do want to influence the Democratic Party," he said. "I want to make no bones about that. I don't want the party walking away from what Barack and I did."
Unburdened by conducting another campaign, the vice president had strong thoughts on other top political figures:
On Hillary Clinton: "I've debated Hillary 13 times in national presidential debates. I know Hillary. I know her debating skills. I know mine. I have never had any doubt about her intellect or her capacity to debate. And I thought she comported herself really well [in the Democratic presidential debate]. ... I've said from the beginning, look, I like Hillary. Hillary and I get along together. The only reason to run is because I still think I could do a better job than anybody else could do. That's the reason to run. I wouldn't run against Hillary."
On Donald Trump: "I'm disappointed in Donald Trump. I know what a showman and all that he is. But I really don't think it's healthy, and I hope he reconsiders this sort of attack on all immigrants. I think that is beneath the country. I don't think it's where the American people are. And I hope he really doesn't believe it."
On Paul Ryan, presumed to be the next speaker of the House: "I think we can make some real progress, particularly with Paul Ryan, who is a good guy, on working toward an accommodation on the budget and on keeping the government open. This is a decent guy. And he knows you cannot function, this government can't function, without reaching some consensus, and he wants to do that."