Donald Trump should be disqualified for calling the election "rigged," Vice President Joe Biden said Tuesday.
"You're going to have people though — you always have, whatever their background — who are going to believe it's rigged," Biden told MSNBC's Chris Matthews. "We've always had that element in every election. The difference is we've never had the head of a great party saying that it is rigged."
Watch the full interview on "Hardball With Chris Matthews" at 7 p.m. ET on MSNBC
"That should be disqualifying in and of itself, what he's saying," Biden added.
He spoke with MSNBC shortly after making a campaign stop for Hillary Clinton in the battleground state of Pennsylvania, in which he argued that Trump was "already doing harm to the United States."
"This man is thoroughly unqualified, based on his conduct, his abuse of power, and his lack of substantive knowledge — just the minimum amount of knowledge needed to be president of the United States of America. So I'm finished with Donald Trump," he told students at at Chatham University in Pittsburgh earlier Tuesday.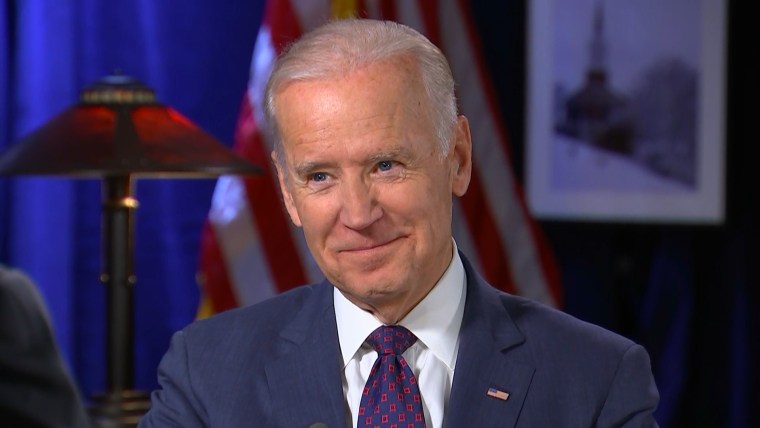 Biden hasn't held his tongue when it comes to the GOP nominee, who he has said would create a "nightmare" presidency. He's joked that if the two were in high school, he would "take him behind the gym" for the recently unearthed lewd comments that Trump made about women in 2005.
Biden criticized Trump Tuesday for dismissing those comments as "locker room talk."
"I was a pretty good athlete in high school," Biden told Matthews. "People didn't act in the locker room like he talks about. That's not true."
Related: Biden Calls Out Trump in Ohio, Wants to Talk About 'Critical Issues'
While he was quick to criticize the Republican candidate, the vice president also admitted that Democrats have lost the "gut connection" he and President Obama once had to the party's voters, recalling the day in 2009 they were sworn in when thousands of people stood to salute them.
"You have to go and let them know that you understand their anxieties," he said. "I think we got to the point where a lot of local Democrats took it for granted."
Politicians need to reconnect with the middle class too, Biden said, who were once the focus of economic recovery but no longer are as the economy has improved.
"We just started getting back to the point where we can talk about actually beginning to rebuild the middle class," he said. "We've kind of forgotten about ordinary Americans."
And Biden, who's from Scranton, Pennsylvania, wasn't afraid to weigh in on current events outside of politics — identifying himself as an American League fan on the day of the first game of the 2016 World Series, between the Chicago Cubs and the Cleveland Indians.
"I'm a Phillies fan because they're in Philly, and I want to sleep with my wife. Oh God, is she a Philly fan, any sport ... But I'm an American League fan," he said.
That puts him at odds with Clinton and Obama, Chicagoans who are both rooting for the National League's Cubs.