DES MOINES, Iowa — Bill Clinton is used to drawing crowds, but on Saturday he wasn't the main attraction. The former president opened for pop superstar Katy Perry in Iowa before Hillary Clinton's speech at an influential dinner.
"I don't want to talk long because I've never been the warm-up act for Katy Perry before, but I am well aware that I am the warm-up act," Clinton said as he took the stage outside HyVee Hall.
Clinton and Perry appeared in a warm-up rally here ahead of the Jefferson-Jackson dinner, a critical campaign stop for Democratic presidential candidates.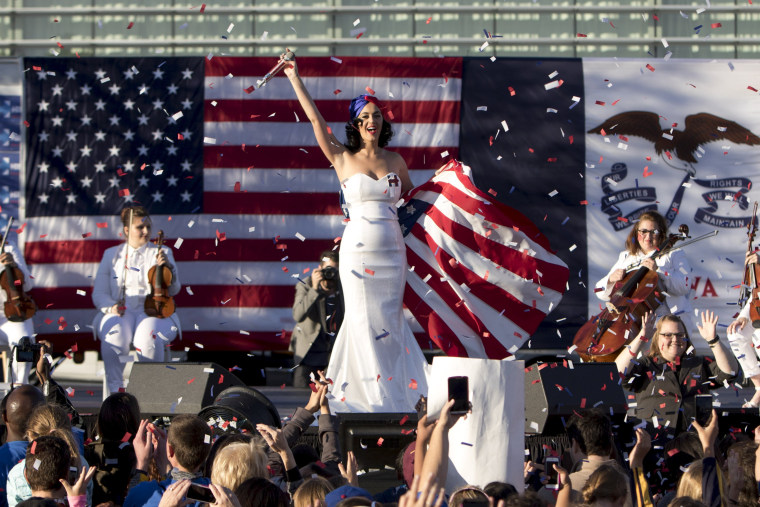 Dressed in jeans and a blazer, the former president told the crowd of 4,000 supporters that they've "learned a lot about Hillary" in the last six weeks.
"That's the person I know and the person America got to see again without all those barnacles in the debate and in those eleven hours of testimony," he said.
Clinton said that he responded to all the friends who reached out about Hillary's marathon testimony on Thursday with a simple: "I think I'll vote for her." He then made a new, unique case for why his wife should be president.
"I want you to support Hillary for me too because I want to break a ceiling. I am tired of the stranglehold that women have had on the job of presidential spouse and I want you to help me deal with that," Clinton joked in his first official speaking role at a campaign event.
At one point, an animal rights activist briefly interrupted Clinton. Ever the nimble politician, Clinton politely asked the man to "quit" after a few seconds of shouting and once he left the stage, Clinton told the crowd to give him "a hand" because at least "that guy is for something."
Perry then took the stage in a long, white sequin dress with an "H" logo prominently pinned on it and an American flag cape. "She's my firework," Perry said, before singing her well-known song by the same name. Perry also performed Clinton campaign playlist staple "Roar."
Hillary Clinton made a surprise appearance at the end of the rally and thanked Perry for performing. "Sometimes it's important — you just have to roar about what you need to fight for!"
Then she added, "it's pretty special to have the 42nd president here with me today."