Multiple hecklers shouting "Bill Clinton is a rapist" interrupted President Barack Obama and Hillary Clinton at separate rallies after a pro-Donald Trump radio host offered a cash reward to anyone carrying out such a stunt.
Three separate protesters disrupted Hillary Clinton's election campaign rally with Al Gore in Miami, while three others — including two wearing "Bill Clinton rapist" T-shirts — cut into Obama as he addressed a crowd in North Carolina.
The Clinton campaign linked the incidents to Alex Jones, the conspiracy theorist and right-wing radio host who founded the Infowars website.
Jones, who has prayed for Donald Trump on his show, on Friday offered $1,000 to supporters pictured on television for at least five seconds wearing a "Bill Clinton rape" T-shirt and $5,000 to anyone who can be heard shouting "Bill Clinton is a rapist" while wearing such a garment.
Jones, who believes the Sandy Hook shootings were a hoax, also says Obama and Hillary Clinton are demons who smell like sulfur.
Obama appeared unfazed by the interruptions at his event in Greensboro, joking to the crowd that "those folks are auditioning for a reality show" as one pair was escorted out of the amphitheater.
He responded to a later disruption: "Go get your own rally!"
Hillary Clinton urged her audience to "focus on what's really important in the election" as the crowd drowned out the interlopers with boos.
It followed similar scenes on Saturday, when Bill Clinton himself was interrupted by a protester who shouted "you're a rapist!" at a rally in Milwaukee, Wisconsin.
The former president urged the crowd to applaud his protester, saying: "You gotta feel sorry for him. They had a bad day yesterday, so they're trying to make it up. Give him a hand. When other people pour poison down your throat, don't drink it. Give back good."
Trump's campaign has sought to capitalize on the support of women who have accused Bill Clinton of sexual abuse and invited them to sit in the family area close to the center of Sunday night's presidential debate.
Three women — Juanita Broaddrick, Paula Jones and Kathleen Willey — accuse Bill Clinton of sexual misconduct dating back decades including a rape allegation, all of which the former president has denied.
A fourth, Kathy Shelton, is a child rape victim and critic of Hillary Clinton who, as a lawyer, conducted the defense of her rapist.
Jen Palmieri, director of communications for the Clinton campaign, told reporters that Tuesday's rally interruptions were organized by Jones and Infowars.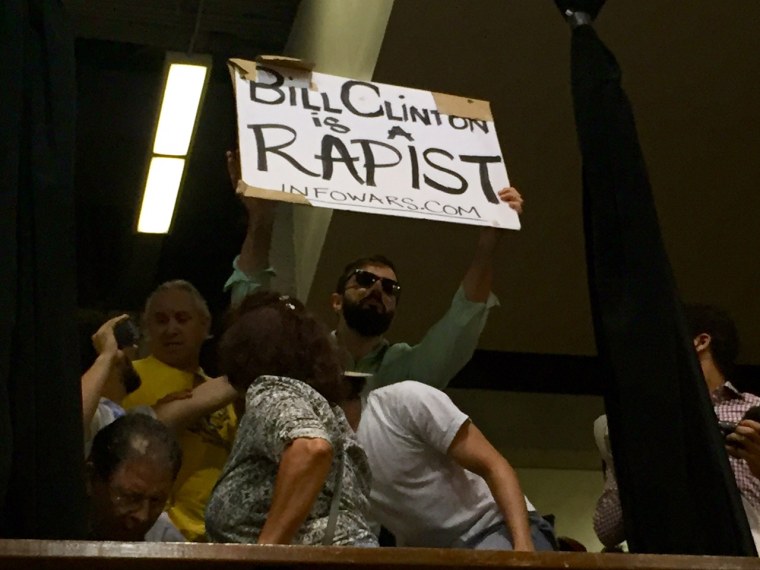 However, disruptions have also taken place prior to Jones' cash reward offer.
On Thursday, vice-presidential hopeful Tim Kaine was interrupted by a man wearing a shirt with a picture of Bill Clinton and the word "RAPE."
Bill Clinton has denied all the allegations lobbed by his accusers and was never charged with any crimes, but the claims resonate with Trump voters.
Related: Nasty Campaign Talk Puts Parents, Teachers in Tough Spot
At a Trump rally late Tuesday in Panama City, Florida supporter Tammy Wilson held a sign saying "Bill Clinton is a rapist."
She told NBC News: "Bill Clinton is a rapist, and his wife enabled him, and that's not what we need in the White House. She allowed it to happen, she tore down the women that accused him of rape ... We need someone who is going to stand up for women in this country, not tear them down."
Asked about Trump's lewd comments on the Access Hollywood bus, she said: "A man is a man, and sometimes they make bad mistakes, just like women do, but a woman does not downgrade another woman who has been a victim of rape."
"Saying something but then downgrading a victim is two totally different things," said Wilson, who is from Chipley, Florida.