The Black Lives Matter network will skip a presidential endorsement but keep up its political activism by confronting candidates about the treatment of African-Americans in the United States, one of the group's founders says.
In an Associated Press interview, Alicia Garza discussed the organization's refusal to settle on a preferred candidate in the 2016 race to succeed President Barack Obama and pledged to press ahead with protests and interruptions during the campaign.
"Sometimes you have to put a wrench in the gears to get people to listen," said Garza, who spoke at the 7th Annual Black Women's Roundtable Policy Forum last week.
Related: Could Bernie Sanders or Joe Biden Take the Black Vote From Clinton?
The Black Lives Matter movement traces its roots to the fatal shooting of 17-year-old Trayvon Martin in Florida in 2012, and gained national ground after 18-year-old Michael Brown was shot and killed by a white police officer in Ferguson, Missouri, last summer. Since then, deaths of other unarmed black males at the hands of law enforcement officers have inspired protests under the "Black Lives Matter" moniker.
Some are affiliated with the original network founded by Opal Tometi, Patrisse Cullors, Garza and their allies. Some are not, although they use the slogan.
Black Lives Matter activists grabbed headlines when they disrupted a Seattle rally last month right before Vermont Sen. Bernie Sanders, a Democratic presidential candidate, was about to speak. Others claiming to represent Black Lives Matter have met with Democratic presidential candidate Hillary Rodham Clinton and Republican presidential hopeful Jeb Bush.
Related: Bernie Sanders & Cornel West Go To South Carolina. Were Black Voters Listening?
The Congressional Black Caucus, a group of African-American lawmakers in the House and Senate, also was focusing on criminal justice and police reforms during its annual legislative conference this weekend.
The Democratic National Committee acknowledged the Black Lives Matter movement at its Aug. 1 meeting in Minneapolis with a resolution saying it "joins with Americans across the country in affirming 'Black lives matter' and the 'say her name' efforts to make visible the pain of our fellow and sister Americans as they condemn extrajudicial killings of unarmed African-American men, women and children."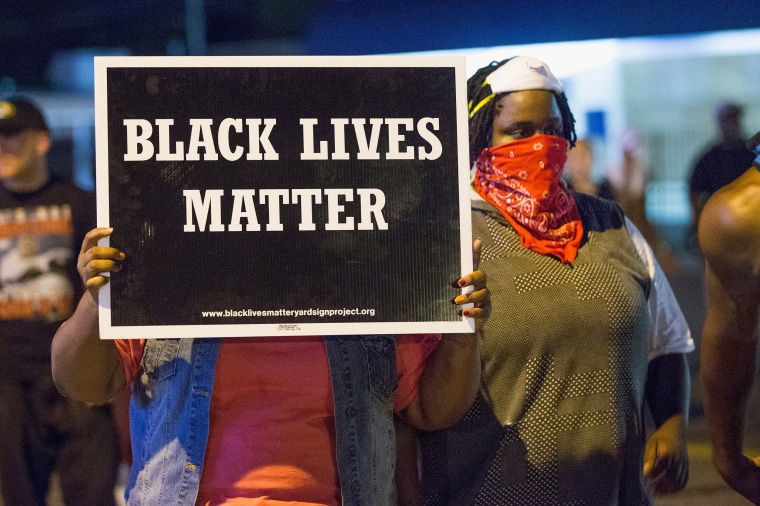 The network said the resolution would not get its endorsement, and Garza reaffirmed that the official Black Lives Matter organization will not endorse any political party or candidate this election cycle.
"Black Lives Matter as a network will not, does not, has not, ain't going to endorse any candidates," Garza said. "Now if there are activists within the movement that want to do that independently, they should feel free and if that's what makes sense for their local conditions, that's fantastic. But as a network, that's not work we're engaged in yet."
Related: Conservative Backlash Emerges Against Black Lives Matter Movement
In the future, the organization may become more involved with candidates and parties, and even run candidates, she said, but added that "we're not there yet."
"It's too early in the development of the network and it's too early in the genesis of the movement to rally around anyone in particular who hasn't demonstrated that they feel accountable to the Black Lives Matter movement or network," said Garza, who also works with the National Domestic Worker Alliance.
"What we've seen is an attempt by mainstream politics and politicians to co-opt movements that galvanize people in order for them to move closer to their own goals and objectives," she said. "We don't think that playing a corrupt game is going to bring change and make black lives matter."