In the latest snapshot of an unpredictable Republican primary season, Ben Carson has minimized Donald Trump's lead to just 5 points, according to the latest NBC News online poll conducted by SurveyMonkey. These two "outsider" candidates are the only contenders with double-digit support among Republican and Republican-leaning independent voters. The next tier of presidential candidates is led by Marco Rubio at 9%, followed by Carly Fiorina and Ted Cruz who each have 6% of support, and Jeb Bush at 5%.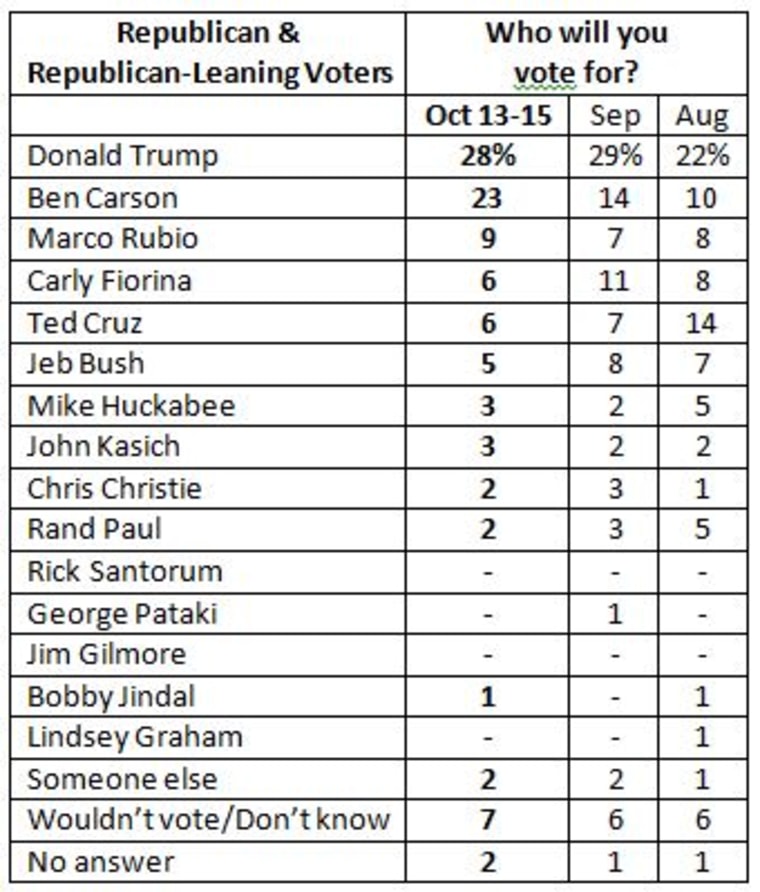 Helping to shore up Carson's level of support are white evangelical Republican voters (including independents who lean Republican). Carson, a Seventh-Day Adventist, is now supported by 33% of white evangelicals, up from 20% in September, and outpacing Trump among evangelicals by 10 points. This is an essential voting bloc in the early caucus state of Iowa, where white evangelicals made up 56% of Republican caucus voters in 2012. That year, 33% of Iowa's white evangelicals supported Rick Santorum, essentially handing him the narrowest of victories over Mitt Romney (who had the support of 14% of white evangelicals).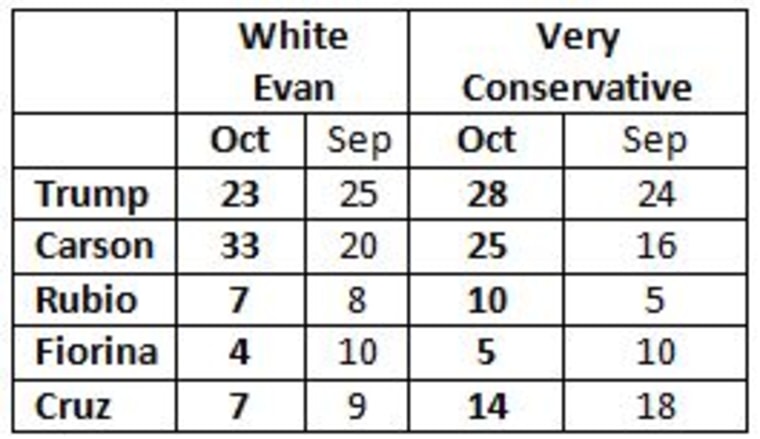 Republican voters who identify as "very conservative" are another group of significant importance in Iowa. Nearly half – 47% – of Iowa caucus goers identified as "very conservative" in 2012 and they voted 35% -14% for Santorum over Romney. Nationally, the NBC News online poll found Trump and Carson with nearly even support among those who identify as very conservative – 28% for Trump and 25% for Carson.
Stephanie Psyllos, Hannah Hartig, and Josh Clinton contributed reporting.
The NBC News Online Poll was conducted online by SurveyMonkey from October 13-15, 2015 among a national sample of 4,898 adults aged 18 and over. Respondents for this non-probability survey were selected from the nearly three million people who take surveys on the SurveyMonkey platform each day. Results have an error estimate of plus or minus 2.0 percentage points. A full description of our methodology and the poll can be found here.
The poll was produced by the Data Analytics Lab of NBC News in conjunction with Penn's Program on Opinion Research and Election Studies with data collection and tabulation conducted by SurveyMonkey.