COLORADO SPRINGS, Colo. — Donors at the swanky bi-annual Charles and David Koch retreat over the weekend noshed on top-quality food and sipped on cocktails while networking and listening to senators, governors and business leaders promote limited government and social responsibility.
But not far from any discussion was presidential politics.
Charles Koch's refusal to spend the network's money to influence the presidential election in favor of Trump, aggravated some donors who believe Trump is a far better choice than Clinton.
To appease some donors' concerns, officials presenting to the group explained why it was not in the best interest of the network.
"Today they gave a great explanation," California real-estate attorney Tim Busch said, referring to discussion in sessions closed to the press. "Charles said 'I've been at this for 50 years. It's a crisis today and it's going to be a crisis in four years.'"
"If they did [contribute to Trump], they would compromise their values and they would never be able to hold any politician accountable," Busch said.
Charles Koch, who runs the conservative donor network that has raised three-quarters of a billion dollars from its members, emphasized and clarified his own personal position, including that he would not support Republican candidate Donald Trump.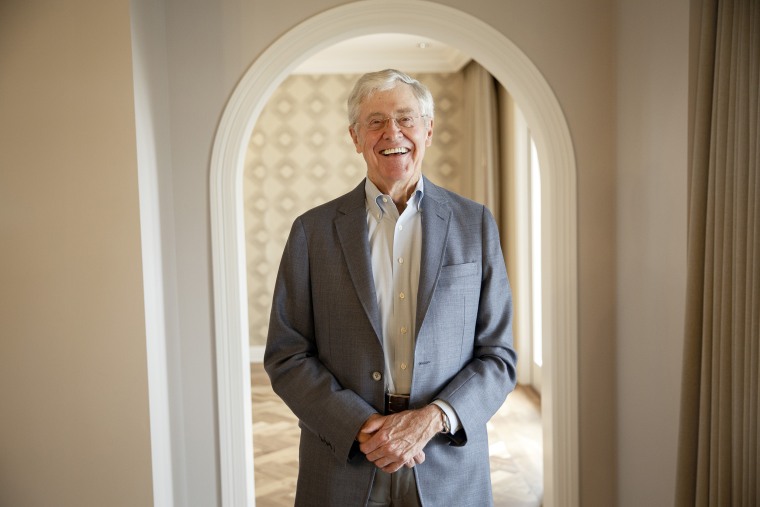 "At this point I can't support either candidate," Koch told the attendees, adding to scattered applause, "but I'm certainly not going to support Hillary."
The notion that he would support the Democratic nominee, Hillary Clinton, is "blood libel," Koch said.
In public remarks, he told the group that politics is definitely part of their strategy to promote a free and open society. "But keep in mind just one piece," Koch said, "because if we focus on that [alone] we are going to continue to lose; we're going to continue to deteriorate."
"The good news [is] we've built this network for just such a condition," he added. "That puts us in a position to make progress in spite of the political situation."
The Koch network has created a web of policy and political groups with 1,600 employees in 38 states that coordinate to advance their limited government objectives. They also fund think tanks, 300 university professor positions and philanthropic organizations.
Related: After Snubs, Trump Claims He Rejected Koch Request to Meet
Koch's explanation wasn't enough for Doug Deason, a prominent Koch donor who is also serving as a trustee on Trump's finance team.
"Just admit you're voting for trump, then you can maybe influence his policies,'" Deason said. "What are his options?"
Deason said he also wants Koch to meet with Donald Trump.
Top Trump campaign aides and top officials of the Koch network, including Mark Holden, the chairman of the board of Koch's political arm Freedom Partners, met in June after Trump staff requests. Leaders of the Koch network did not change their position or opinion of Trump after that meeting.
Koch, whose network spent $400 million on the 2012 election, has so far refused to spend money to support Trump.
Instead his group is planning $42 million in television and digital adverting on five Senate races — Ohio, Nevada, Wisconsin, Pennsylvania and Indiana and potentially Florida — a few gubernatorial races and some House contests.
We are focused on the Senate," Holden said.
Nearly a dozen journalists, including from NBC News, accepted an invitation and agreed to ground rules, including no filming and respecting attendees privacy, in order to cover the three-day long gathering.
For some at the meeting, the debate is not just about publicly supporting Trump, but also about a willingness to donate to his campaign, and that's where the divisions arise.
"I may end up voting for him," said Chart Westcott, a biotech investor in Dallas. "I'm probably not going to contribute."
Busch, the California donor, expressed a similar view.
"I'm gonna vote for Donald Trump, but I'm not going to support him," he said.
And some said they won't even vote for him.
Art Pope of North Carolina, a long time ally of Koch who runs the John William Pope Foundation, which funds conservative projects in the Tar Heel State, said that even though North Carolina is a battle ground state he might only vote in down-ballot races.
"I am not supporting Donald trump, nor am I supporting Hillary Clinton," Pope said.
A dozen elected officials attended to speak and to meet with donors.
House Speaker Paul Ryan will speak at the closing luncheon Monday. Kentucky Gov. Matt Bevin, Wisconsin Gov. Soctt Walker, Utah Rep. Jason Chaffetz and Sen. Mike Lee, Texas Sen. John Cornyn, South Carolina Sen. Tim Scott and Colorado lawmakers Rep. Mike Coffman and Sen. Cory Gardner all attended.