Republican presidential candidate Chris Christie is betting his presidential viability on New Hampshire. He's visited the crucial early primary state more than any other candidate and in a big get he scored the endorsement of the state's influential newspaper, the Union-Leader. But gun activists warn that if the New Jersey governor gains traction, his record on their issue could derail his campaign.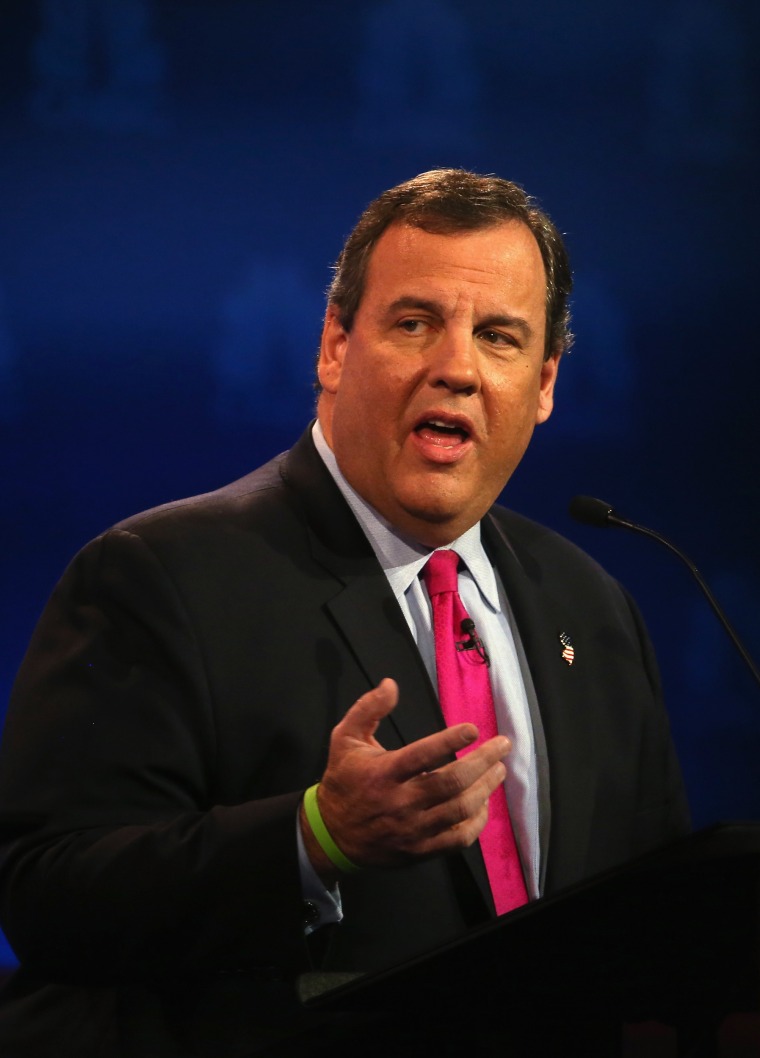 Christie has a mixed record on guns, one he's tried to address in recent years. But the politically active gun-rights' voters in the primary state with some of the loosest gun laws in the country are skeptical of the governor who runs a state with some of the most stringent gun laws.
Pro-gun advocates had few good things to say about the New Jersey governor and they have a record of making elections difficult for Republicans who don't support their cause.
Mitch Kopacz, the head of the pro-gun group Gun Owners of New Hampshire, said with confidence that if Christie doesn't radically shift his position on guns, "It will finish his candidacy."
Christie's Record
Christie, who is polling just above 5 percent in New Hampshire, according to an average by Real Clear Politics, has long been out of favor with gun groups nationally. The National Rifle Association gave him a "C" rating in 2013 and the group did not invite him to their annual conference last spring. That same distrust over gun laws has trickled down to the Granite State.
Their distrust stems from the early days of his political career. During his first short-lived campaign for the state Senate in 1993, the New Jersey Star-Ledger quoted Christie saying an effort to repeal the assault weapons ban "motivated me to get into this race." He went on to say that "no one needs a semiautomatic assault weapon," adding that there are "too many firearms in our communities."
In a campaign mailer that year sent by his campaign, he called a repeal of the assault weapons ban "dangerous," "crazy," and "radical."
Related: Chris Christie Gets Coveted NH Union-Leader Endorsement
More recently, in 2009, when he was running for governor, Christie also opposed an effort in Congress to pass the "right-to-carry reciprocity" bill that would allow valid gun owners to carry their guns into other states. "I believe that each state should have the right to make firearms laws as they see fit," Christie said at the time.
In addition to those two issues, gun-rights activists say Christie has done little to loosen gun restrictions in the state.
Kopacz said Christie "has some of the most restrictive firearm laws in the country in his state and he has to fix that," Kopacz said.
New Jersey ranks at the top by gun control groups. The Brady Campaign To Prevent Gun Violence gives New Jersey a grade of "A-," saying it has the third toughest gun laws in the country. Only Maryland, Connecticut, New York and California also received such a high rating.
New Hampshire, meanwhile, is on the opposite end of the spectrum.
The state receives a "D-" from The Brady Campaign, and gun ownership is ingrained in the culture. The state's constitution says, "All persons have the right to keep and bear arms in defense of themselves, their families, their property and the state."
It's legal to carry a gun inside the New Hampshire state house and zero mayors from New Hampshire are part of the organization, Everytown for Gun Safety, a coalition of mayors who support gun control measures.
"It's not just gun activists that get fired up, rank-and-file and even the establishment Republicans in New Hampshire own guns," Ryan Williams, a political strategist who has worked for many New Hampshire candidates, said. "It's a rural state. It's part of the culture."
Christie's Reconciliation
Christie is trying to rectify his past — and even trying to erase it.
In an interview with Fox News' last week, Christie said he doesn't remember the ban on assault weapons the reason he entered politics.
"That's 22 years ago. I don't remember. I could have but that doesn't sound like me," he told host Brett Baier.
Three months ago, Christie admitted to supporting the assault weapons ban. When asked by CNN's Jake Tapper in August if he at one time supported the ban, Christie responded, "Yes, when I was 31 years old."
To prove his pro-gun bona-fides on the campaign trail, he touts two vetoes. One was on a bill that would have reduced the number of allowable magazines from 15 to 10. The other was a bill that he originally proposed, that would have banned a .50 caliber Barrett sniper rifle, a very expensive and powerful military weapon.
With the support of gun rights advocates, he also refused to meet with parents of Sandy Hook victims.
On the night before his presidential announcement, in an apparent nod to gun rights voters, he proposed a measure that would expedite gun permits for victims of domestic violence.
And just this month he vetoed a bill that would prohibit domestic abusers from obtaining a gun.
Christie was asked about domestic violence at a recent town hall in Somersworth, NH. He mentioned his effort to allow victims to have quicker access to guns — a pro-gun position — but left out his opposition to limiting abusers from obtaining guns — a stance that would appeal to many gun-rights activists.
"I've now changed the regulations to say that when someone who has gotten a restraining order as a victim of domestic violence — that their permit must go right to the top, it must be acted on immediately," he said. "My view is we don't need to keep guns out of the hands of law-abiding citizens — we should be focusing on taking guns out of the hands of people who break the law."
He is actively trying to appeal to gun groups.
State Representative JR Hoell, who is also a member of the "no compromise" New Hampshire Firearms Coalition, said Christie has repeatedly asked for their support but "no one has taken him up on it yet." They have, however, agreed to Christie's requests for a meeting — as long as it's with the candidate and not his staff. They are reluctantly willing to hear what he has to say.
Gun Groups' Influence
Gun-rights' activists are a politically engaged voting bloc. The leaders of the numerous gun groups in the state rate the candidates and send out voters guides to all of their members. At least one group, Gun Owners of New Hampshire, the state's NRA affiliate, plans on endorsing this primary.
When pro-gun voters don't like a Republican candidate, they act on it. They helped to defeat Scott Brown in his 2014 bid for Senate because of his position on guns.
Williams, who worked for Brown during his New Hampshire race said guns became "a huge issue" because of his previous support of gun control laws.
Hoell said, "Scott Brown attracted a number of gun activists who literally camped out on his campaign trail."
"There was an enormous amount of effort to make sure he didn't win," Hoell added, noting that the activists either voted for a third party candidate or didn't vote. In the tight race, Brown lost to Sen. Jeanne Shaheen by less than three percentage points.
PHOTOS - On the Stump: Chris Christie's Presidential Campaign
On the campaign trail, Christie often blames the Democratic legislature in his state for tying his hands on gun issues. But Kopacz doesn't buy it. He said he's be more apt to believe Christie if he vetoed every bill.
"He has some explaining to do," Kopacz said.