Republican presidential candidate Donald Trump held a Christmas themed rally in Cedar Rapids, Iowa, on Saturday afternoon, even coming on stage to "Deck The Halls" instead of his usual "We're Not Gonna Take It" and opening his speech lamenting that no one says Merry Christmas anymore.
Then, turning to his Democratic rivals, he never specifically mentioned the data breach, but he did ask the audience about Sen. Bernie Sanders, saying "did you see what Hillary did to him? I told you, she's like a snake."
He also claimed hat Hillary Clinton is "being totally protected by a Democrat government," and predicted that Saturday night's Democratic debate will get a very small audience compared to Tuesday's GOP debate.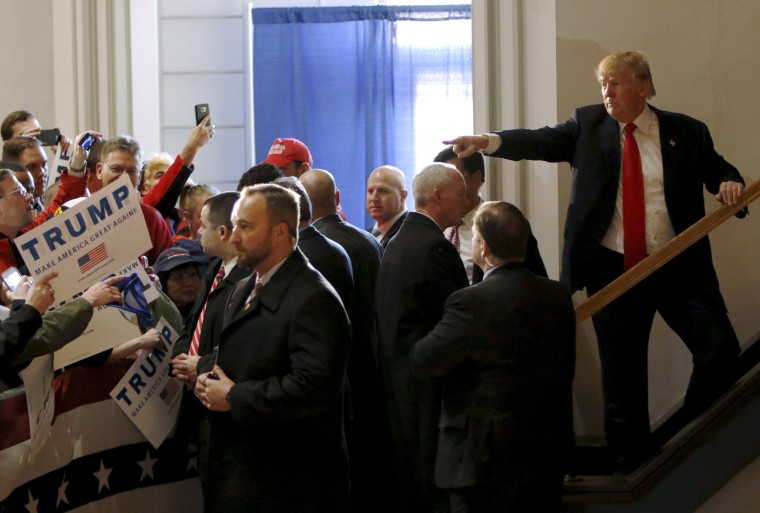 And he stuck with his position that it was good that Russian President Vladimir Putin praised him, arguing that Russia and the United States need to work together and that Putin is correct that Trump is "brilliant." He said the other candidates are "jealous as hell" that Putin will never mention them.
Trump also spent a large portion of the speech talking about the "failing New York Times" and then going after the Des Moines Register for having the only poll he's not leading in, saying that he doesn't believe their number and that he thinks the paper is going out of business.
He also said it was "sad" to watch former Gov. Jeb Bush, and noted that Sen. Ted Cruz is now following in his footsteps by suggesting that we build a wall, and criticized other candidates for not being able to function without their pollsters.
Trump spent some time talking about foreign policy as well, saying that anyone who joins ISIS can't come back to the U.S. and that he'd like to infiltrate their Internet so we can "blow the hell out of them." He also said he'd like to drop Army Sgt. Bowe Bergdahl back where he came from.
Later, in a cute moment, his granddaughter Kai, the 8-year-old daughter of Donald Trump Jr., came on stage and wished the audience a Merry Christmas.