Hillary Clinton didn't reveal her pneumonia diagnosis earlier because she didn't "think it was going to be that big a deal," she said on Monday night.
In a brief telephone interview with CNN, the Democratic presidential nominee — who abruptly left a Sept. 11 memorial service Sunday in New York — said that she's "feeling so much better" and that she'll be back on the campaign trail in "the next few days."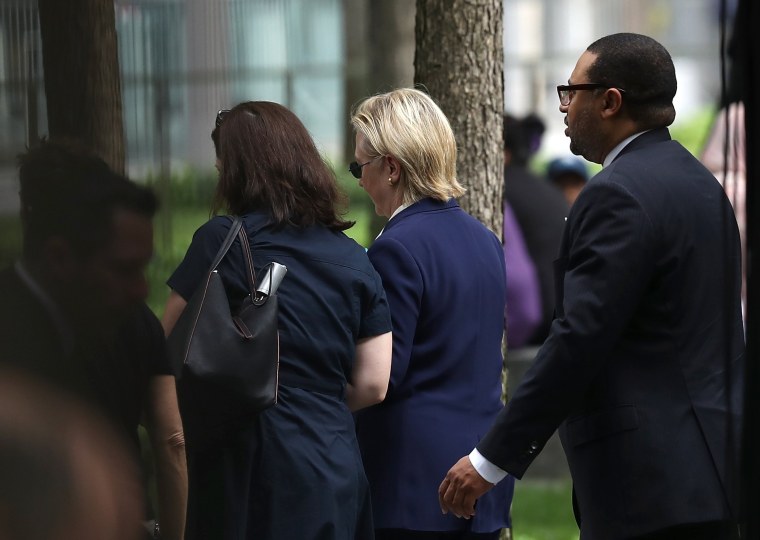 Asked by anchor Anderson Cooper why she kept the diagnosis a "secret," Clinton claimed she didn't — despite the fact that there was no public mention of it until hours after she left the memorial and had put out a statement that she had gotten "overheated."
She said she told others at Sunday's memorial, including Sen. Charles Schumer, D-N.Y., that she was ill but that she didn't make a public statement because "I just didn't think it was going to be that big a deal."
Clinton canceled two days of events Monday and Tuesday in California after her personal physician said in a statement Sunday that she had been diagnosed with pneumonia on Friday and was being treated with antibiotics.
Related: 9 Unanswered Questions About Hillary Clinton's Health Scare
"I have just examined her and she is now re-hydrated and recovering nicely," Dr. Lisa R. Bardick said in the statement, which wasn't released until after Clinton was recorded on video appearing unsteady as she left the Sept. 11 commemoration in an SUV.
The campaign initially said Clinton was dehydrated before it issued the doctor's full statement later in the day.
"What happened yesterday — I was committed to being at the memorial," she said. "This is incredibly personal to me."
After she arrived, however, "I could feel how hot and humid it was," she said. "As soon as I got into the air-conditioned van, I cooled off, and very quickly I felt better."
Clinton said on CNN on Monday that her doctor advised her on Friday to rest for five days. Instead, she continued her schedule with two publicly known fundraisers, two media interviews, a national security meeting and a news conference.
"I felt fine, but I'm now taking my doctor's advice — which was given to me on Friday, that I ignored — to just take some time to get over pneumonia completely."
Related: Clinton Camp Explains Mishandled Health Scare
"If it happens to you and you're a busy, active person, you just keep moving forward," she told CNN. "As soon as it became clear I couldn't power through, we put it out."
Clinton said more information would be released, adding that "I've talked to my staff" and that "the information is out there."
"The same cannot be said for Donald Trump," she said.
Later, in a text message to supporters signed "H," Clinton reiterated that "I'm feeling fine and getting better."
"Like anyone who's ever been home sick from work, I'm just anxious to get back out there," she wrote.