Hillary Clinton vowed to take executive action to "ban the box" at a rally in Atlanta Friday, where she was met with the biggest protest yet by "Black Lives Matter" activists at one of her events.
About a dozen protesters interrupted Clinton's speech, singing and chanting for at least ten minutes before being escorted out. Banning the box refers to removing questions about criminal convictions from job applications.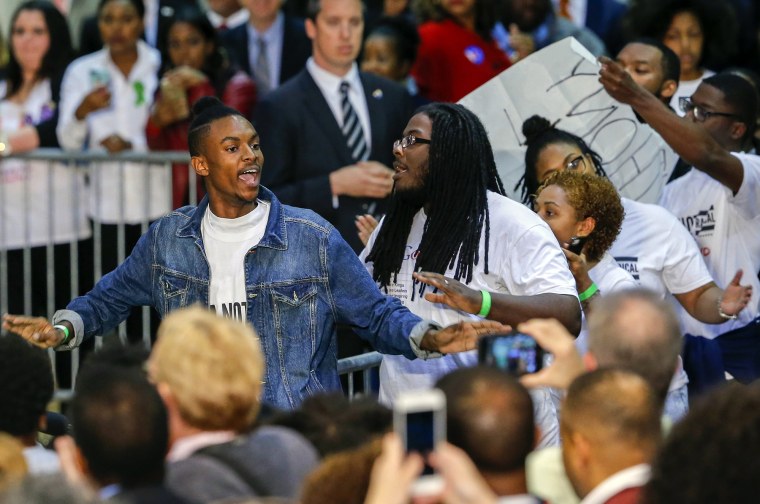 Clinton acknowledged protesters' "Black Lives Matter" chants, saying "yes, they do," but kept talking, although much of the audience couldn't hear what she way saying over the noise.
The crowd eventually erupted, "Let her talk! Let her talk! Let her talk!" and the activists left the Clark University gymnasium.
U.S. Rep. John Lewis, who introduced Clinton, tried to get the protesters to stop shouting and eventually re-joined Clinton on stage in a show of support.
Clinton continued with her speech and said she would, if elected, prevent the government and employers from discriminating against individuals who have served time in prison.
Clinton said of the protesters: "I'm sorry they didn't listen, because some of what they've been demanding, I am offering."
Banning the box would help job applicants with a criminal record get through further stages of the job application process, Clinton argued at the campaign's first "African Americans for Hillary" event.
Several major retailers have already done so, including Target, Walmart, Starbucks, Bed Bath & Beyond and Home Depot.
This is one part of Clinton's plan to reform the criminal justice system, which the campaign will roll out over the next few days. Clinton is also calling for an end to racial profiling by federal, state and local law enforcement and for the sentencing disparity between crack and powder cocaine to be eliminated.
On previous occasions, Clinton has proposed that all police departments use body cameras.
The Democratic front-runner's first major policy speech of her campaign focused on criminal justice reform and she called for an end to "the era of mass incarceration."
Clinton met with "Black Lives Matter" activists earlier this month in Washington, D.C. and promised to keep the conversation going.
Earlier Friday at a luncheon hosted by the Rev. Jesse Jackson, Clinton spoke about the need to band together on criminal justice reform.
"We have to create those channels of opportunity so that you go from childhood to adulthood pursuing your dreams instead of from cradle to prison and seeing them die and it will be absolutely critical that we all work together on this," she said.
In August, Democratic presidential candidate Bernie Sanders had a rally in Seattle halted by "Black Lives Matter" protesters.