Donald Trump and his allies are spending more and more over airwaves, but that amount is not enough to overcome Hillary Clinton's 4-to-1 ad-spending advantage, according to data from Advertising Analytics.
Through this week, the Clinton campaign has spent $113 million on ads, versus $27 million for the Trump campaign.
When outside groups are factored in, Team Clinton's ad spending stands at $189 million, compared with Team Trump's $50 million.
That nearly 4-to-1 Team Clinton advantage over the airwaves is down from their 5-to-1 edge last month.
In the battleground states, Team Clinton is outspending Team Trump through this week, $160 million to $44 million.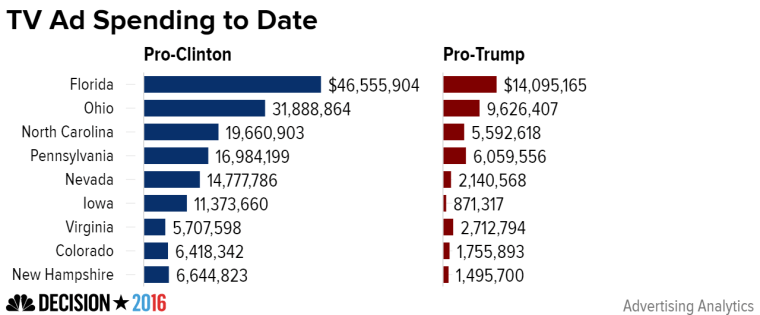 Total spending through this week
Clinton campaign: $113.3 million
Pro-Clinton outside groups: $75.8 million
Team Clinton total: $189.1 million
Trump campaign: $27.3 million
Pro-Trump outside groups: $22.5 million
Team Trump total: $49.8 million