The Democratic Party establishment's long, awkward, and occasionally frightening nightmare is over — or at least just about.
Hillary Clinton was declared the winner of the final primary in the Democratic Party's presidential nominating process Tuesday night, just as she sat down for a highly anticipated summit with rival Bernie Sanders.
The carefully choreographed meeting ran for nearly two hours at the neutral territory of the Capital Hilton in Washington, D.C.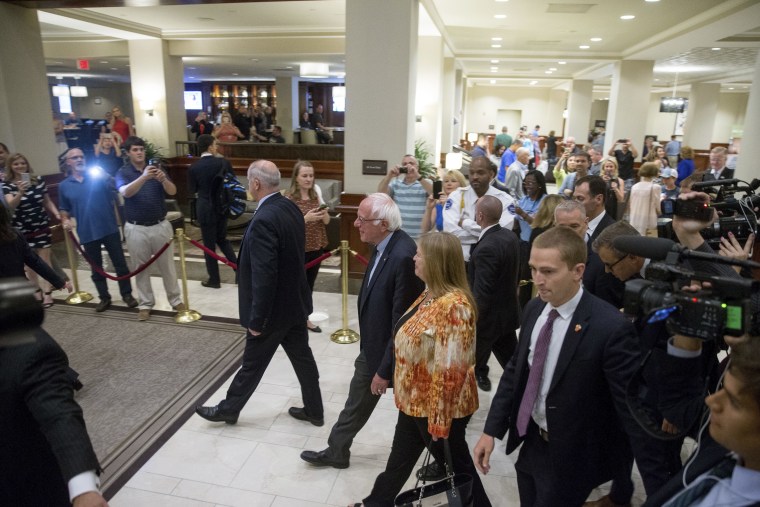 Afterwards, both candidates released nearly identical statements calling the meeting "positive" and saying they had agreed to work together to defeat Donald Trump.
"The two discussed a variety of progressive issues where they share common goals like raising wages for working families, eliminating undisclosed money in politics and reducing the cost of college for students and their families," a Clinton official said, echoing the same policy items listed in Sanders' statement.
However, while Clinton's statement discussed "unifying the party," Sanders' made no mention of the "u" word.
Sanders' wife and campaign manager attended, along with Clinton's campaign chairman and campaign manager.
Related: Clinton and Obama Team Up Against Trump
As the sun set over the capital city, which had the unpleasant distinction of voting after every other state and territory in the country, it was easy to forget how close the 2016 presidential contest came to going sideways for Democratic Party elders.
They had so carefully cleared the way for Clinton to be their next leader. But if a few votes had gone differently in Iowa's exceptionally tight caucus, or if Bernie Sanders had run a more effective campaign in Nevada, the insurgent could have given Clinton a real run for her money.
Instead, the forever front-runner ended up taking 34 contests to Sanders' 23, including the biggest prizes, and winning millions more votes and hundreds more pledged delegates. Meanwhile, the most recent general election polls show Clinton well ahead of Donald Trump — despite holdout Sanders supporters.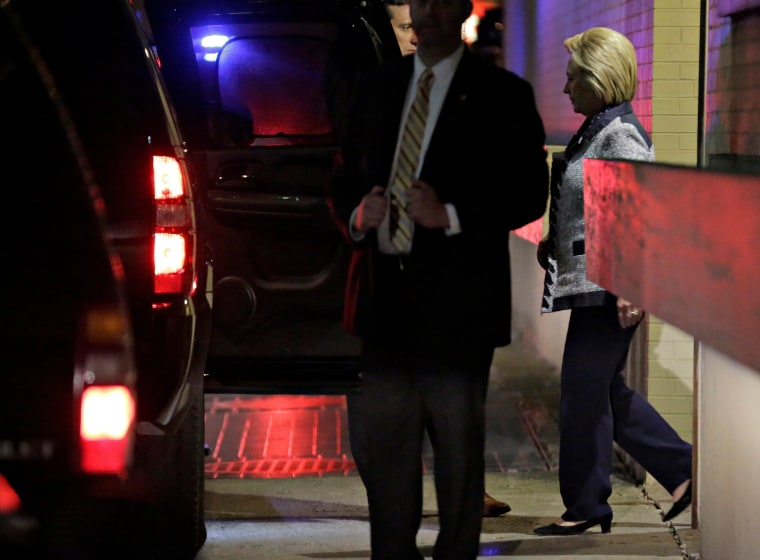 Still, Sanders has refused to concede the race. He hoped to extract concessions from Clinton on the Democratic platform and other issues during Tuesday's confab, their first face-to-face meeting in months.
Earlier in the day, despite being hours away from losing his ninth contest out of the last 12, Sanders issued a series of demands ahead of the meeting.
He called for a replacement to Debbie Wasserman Schultz, the Democratic National Committee chairwoman with whom his campaign has often feuded, an end to superdelegates, more open primaries, and the most progressive platform in the party's history.
"The time is long overdue for a fundamental transformation of the Democratic Party," Sanders said.
Those issues and more were likely discussed inside the conference room at the Hilton, where Sanders and Clinton met behind closed door and away from the throng of reporters who crowded into an alley to catch a glimpse of the candidates entering the hotel.
Related: Republicans Run From Donald Trump's Orlando Response
After the meeting, aides gave little hint about what went on in the room where it happened.
Sanders' actions in recent days have made it clear he is no longer really trying to win the presidency.
There are no events on his calendar, no more talk of flipping superdelegates, and almost no fundraising emails. He's said repeatedly that he's prepared to help the Democratic Party stop Donald Trump.
The question is how. Aides say they're still working that out, aware that some of his most die-hard supporters will view an endorsement of Clinton as capitulation.
Sanders will address supporters Thursday on a teleconference, during which he's expected to discuss his future. No matter what, he has earned a place in shaping the future of the Democratic Party.
This weekend, many of his top outside allies will convene in Chicago to plot the future of the Sanders movement, with or without the Vermont senator.
Sanders' half-alive candidacy has left the rest of the party in a state of limbo.
In a statement marking the end of the primaries, Wasserman Schultz made no declaration that Clinton had clinched the nomination, as her Republican counterpart had done weeks ago for Trump, even though John Kasich was still in the race.
"We congratulate both Hillary Clinton and Bernie Sanders," Wasserman Schultz said.
The uncertainty is tolerable — at least for for now — say Democrats, who want to give Sanders and his supporters space to heal.
But the party has already moved past the primary in almost all ways but officially.
President Obama proved an effective attack dog for Clinton Tuesday, as has Elizabeth Warren. Both endorsed Clinton last week.
Next, the party hopes to add Sanders to its roster.