Throughout the 2016 campaign much has been made of Donald Trump's challenge in reaching minority voters, but the latest NBC News/Wall Street Journal poll shows he may have a deep challenge looming with white voters.
The NBC/WSJ poll shows a divide within the white vote along educational lines. Trump holds a big lead among white voters without a college education, a 23-point edge, but he narrowly trails Hillary Clinton among college-educated whites by a single point.
That is a break from recent presidential elections. Consider 2012 where Republican Mitt Romney was dominating across the board with white voters.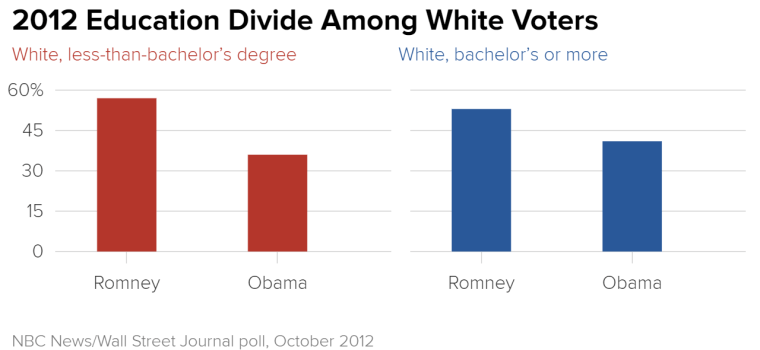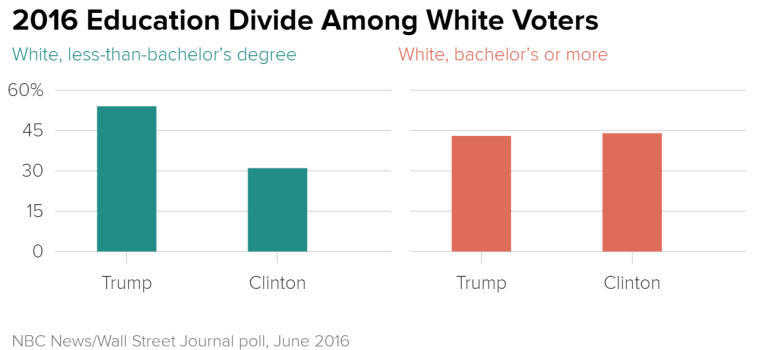 Trump's margin with non-college educated white voters is actually slightly better than Romney's 2012 number. In October of 2012, Romney held a 21-point edge among those without a college education.
But Trump's net-negative standing with college-educated whites is awful compared to Romney's 2012 margin. Romney actually led with college-educated whites in October of 2012 by 12 points.
That white-vote split has very real implications for November particularly in the big metro areas in the Industrial Midwest around cities like Philadelphia, Pittsburgh, Cleveland, Columbus, Detroit and Milwaukee. In all those metro areas a large bloc of college educated white voters could present a real challenge for Trump.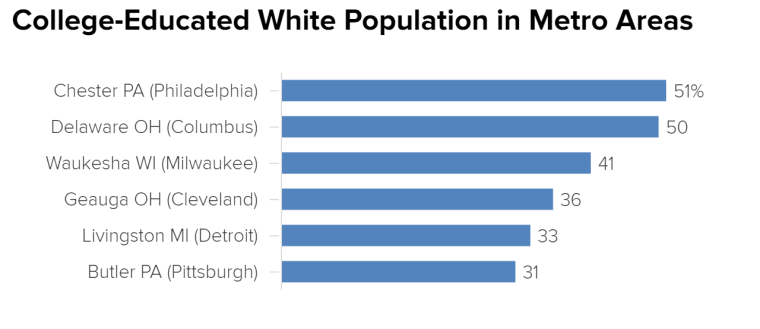 In 2012, Mitt Romney won all the counties above, some by very large margins. But Trump's troubles with college-educated whites suggest he could be in danger of losing some of them – Chester was very close – and seeing much closer margins in the others.
This is no small thing. Remember these places are part of large metro areas and therefore tend to hold a lot of votes. Closer margins in these places mean Trump would have to find many more votes elsewhere, mostly in more rural places where there are fewer votes available.
Democrats already hold a big advantage in carrying densely populated places. In 2012, Barack Obama won Pennsylvania even though he only won 13 of its 67 counties. Obama won Ohio by carrying just 17 of the state's 88 counties.
And dense metro areas tend to have higher levels of educational attainment. In other words, Trump's struggles with college educated whites feed into the Democrats inherent advantage in the big metropolitan counties where Barack Obama won in 2012.
The latest poll numbers suggest Clinton could possibly draw bigger margins out of those places – Montgomery County in Pennsylvania, Oakland County in Michigan, Franklin County in Ohio. In all those counties, more than 40 percent of the white, non-Hispanic population has at least a bachelor's degree.
The larger point of Trump having a hard time winning over minority voters still holds. In the latest NBC/WSJ poll he's only winning about 16 percent of non-white voters. But if he can't make up ground with college-educated white voters, it likely won't matter.