The Congressional Black Caucus PAC endorsed Hillary Clinton on Thursday in an effort to help her campaign win over minority voters in upcoming primary contests. NBC News was first to confirm the news Wednesday.
Rep. Gregory Meeks announced the unanimous decision by the CBC board, saying that Clinton has always been a champion for the CBC and its candidates.
"In our deliberations we believe that the partner that the CBC PAC has had for years to elect Democrats across this country is Hillary Clinton," he said. "Where we need someone to come to rally Democrats and especially African Americans, and at the request of the CBC PAC, Hillary Clinton has been there."
He added, "When the issues are important to our constituents Hillary Clinton has been there. She has been outspoken person in regards to the empowerment of Democrats and the Democratic agenda in its entirety.
Meeks noted that no votes were cast for Sanders by the seventeen of nineteen board members present during deliberations.
Rep. John Lewis, a prominent civil rights leader, unloaded on the Vermont senator, saying that he "never saw" or "never met" Sanders while actively participating in the Civil Rights Movement. He did, however, meet the Clinton's.
"I was chair of the student non-violent coordinating committee for 3 years, from 1963 to 1966. I was involved in the sit-ins, the freedom ride, the march on Washington, the march from Selma to Montgomery," he said. "I directed that board of education project for 6 years. But I met Hillary Clinton. I met President Clinton," he said.
In response to Lewis' comment, Sanders' campaign spokesperson Michael Briggs told NBC that "Bernie is a great admirer of Congressman Lewis."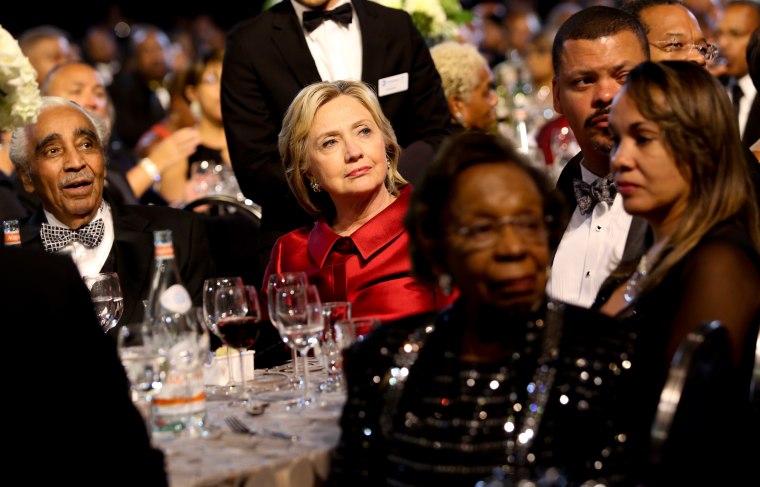 Rep. G.K. Butterfield, who chairs the Congressional Black Caucus, also hinted that Sanders is too new an advocate for the Afircan American community.
"We must have a president that understands the racial divide, not someone who just acquired the knowledge recently, but someone who understands the racial and lived in it and worked through it down through the years," he said.
Clinton already has a strong advantage over rival Bernie Sanders among black voters, polls show, and the CBC endorsement could help her solidify that support in states where the voting group plays a key role — like in the upcoming South Carolina Democratic primary.
The influential endorsement comes as the once clear front-runner in the Democratic race is reeling from a 22-point loss to Sanders in New Hampshire.
Still remaining neutral is South Carolina Rep. James Clyburn, the third-ranking Democrat in the House and an influential voice in the Palmetto State.
Though Clyburn originally said he would not endorse anyone ahead of the South Carolina primary, he told NBC News' Andrea Mitchell he may soon change his mind.
"We'll be meeting with family and friends this weekend when I get down to South Carolina and I'll make some decision after that," Clyburn said on MSNBC. "I won't be making any endorsements today or this week."