INDIAN WELLS, California — Most of the 500 wealthy conservatives gathered at a Southern California retreat this week know they want to see a Republican back in the White House, but many don't know what to do with the billionaire who wants to "make America great again."
Republican presidential front-runner Donald Trump was not at the biannual Charles and David Koch-organized conference over the weekend, but he was a constant presence on the minds of many here at the seminar hosted by the billionaire executives known for their active role in Republican politics.
"We had a bet — I think I'm losing right now — how far we could go before the name of the Republican front-runner was mentioned," said Sen. Ben Sasse of Nebraska, a Trump critic who participated in a panel discussion at the opening dinner Saturday evening.
Iowa Caucus: Click here for complete coverage and live updates
The Koch network is unlikely to endorse a Republican presidential candidate in the primary, but what is less clear is if the conservative activists who spent $400 million in the last presidential election will actively try to defeat Trump in the primary. It's possible that they will and it's a decision that will be made after the early primary states have voted, a senior official at the Koch-backed political action committee Freedom Partners Action Fund told NBC News.
This was only the second seminar that has allowed reporters. A small number of journalists were invited to cover the event. Six news organizations, including NBC News, accepted in exchange for following some guidelines that included preserving participants' identity. Attendees were able to speak to the press if they chose.
Trump, who is maintaining a solid lead in most national and early primary state polls on the eve of the Iowa caucuses, is not supported by the Kochs. He doesn't even rank in the top five of top Republican presidential candidates that the billionaire brothers have publicly considered supporting, the officials said.
The Kochs believe that Trump's positions don't align with their federal fiscal restraint and free-market priorities.
Related: We Are Not 'Some Secret Cabal,' Charles Koch Says
On a questionnaire submitted to presidential candidates over the summer by the Koch-backed political action committee Freedom Partners Action Fund, Trump said he opposed ethanol subsidies — the preferred position of the Kochs, according to a senior official at Freedom Partners. But while campaigning in Iowa, Trump said the opposite, regularly touting the importance of ethanol subsidies, a critical position to Iowa's farmers.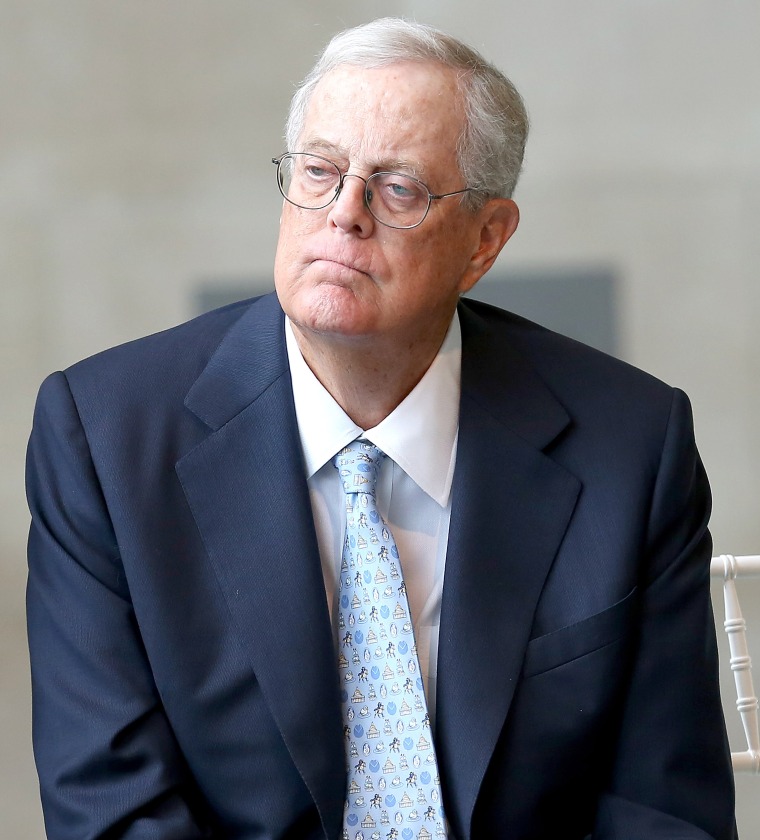 The seminar attracts some of the wealthiest conservative activists in the country. Attendees make up a large portion of the Koch network of 700 donors who pay a minimum of $100,000 per year for membership.
The Koch brothers and their network have invested hundreds of millions of dollars into a network of organizations that work in electoral politics, community organizing, think tanks and higher education to advance the causes of smaller government with less regulation and an unfettered free market. The actual amount is unknown and untraceable because of its tax structure, which enables donors to be kept secret.
If they choose, the Kochs could unleash a sizable war chest against Trump. Of their $889 million budget for the 2016 election cycle, they've spent less than half of it — $400 million — in 2015. While none has been spent on presidential politics, that could change depending on the course of the race, according to the super PAC officials.
While the Kochs might not outright endorse a candidate, they do have sway over his or her donors — many of whom contribute independently to presidential campaigns.
Marc Short, head of Freedom Partners, led a popular breakout discussion where nearly half of the retreat's participants attended on presidential politics. Short and a Freedom Partners policy expert outlined the records of all the candidates and pointed out where each align with the Kochs on critical issues of taxes, spending, government subsidies and more. While all the candidates have policy differences with the Kochs, Trump's positions veer far from the Kochs'.
The five candidates that the Koch's do prefer include Sen. Marco Rubio of Florida, former Florida Gov. Jeb Bush, Sen. Rand Paul of Kentucky, Sen. Ted Cruz of Texas and former Hewlett-Packard CEO Carly Fiorina.
Although attendees at the conference are not monolithic in who they support in the primary, it appeared few in the crowd support Trump.
"It's awful," Liz Wright, a member of the Koch network attending the retreat said about Trump's lead.
There was some frustration that the super PAC backing Jeb Bush, Right to Rise, has spent a large portion of its financial arsenal — more than $20 million — attacking Rubio instead of trying to take down Trump.
"It's unfortunate," Wright added.
As the Kochs are trying to expand their army of supporters by doing outreach to targeted constituencies, including veterans, millennials, and Latinos, Trump is not helping their goals.
Daniel Garza, head of LIBRE Initiative, which is doing Hispanic outreach on a much grander scale than any other component on the right, even the Republican Party, said, "It doesn't matter what Donald Trump says or his harsh rhetoric on immigration" because he's still going to preach his message to his community.
After being pressed on whether Trump makes his job harder, Garza said, "clearly."
However, even Sen. Sasse of Nebraska, who has engaged in a Twitter war with Trump and hit the campaign trail with other candidates to oppose him, had some praise for the bombastic candidate.
"I believe Mr. Trump is a very smart and articulate man and I think he is very strategic in what he's doing. There's a lot that's terribly broken in Washington and he's very good at diagnosis," Sasse said.
But Sasse cautioned that his solutions to the problems aren't necessarily the right ones.
"The dangerous thing is to give the guy a pass when we really don't know what he's for."
This story originally said Concerned Women for America is a Koch-backed group. A spokesman for the organization says they no longer are.