It's been the Summer of Bernie Sanders.
Thousands are turning out at his campaign events, his poll numbers are skyrocketing and the New York Times is now raising the question: What if Bernie Sanders wins Iowa?
But here's a different question: Can he win a general election?
While no national poll has yet to test Sanders in a trial heat against the Republican field, a June 2015 Gallup poll found that being a self-described socialist -- as Sanders is -- is more unpopular for a presidential candidate than being an evangelical Christian, Muslim or atheist.
According to the poll, 50 percent said they wouldn't vote for a socialist, compared with 40 percent who wouldn't vote for an atheist, 38 percent for a Muslim and 25 percent for an evangelical Christian.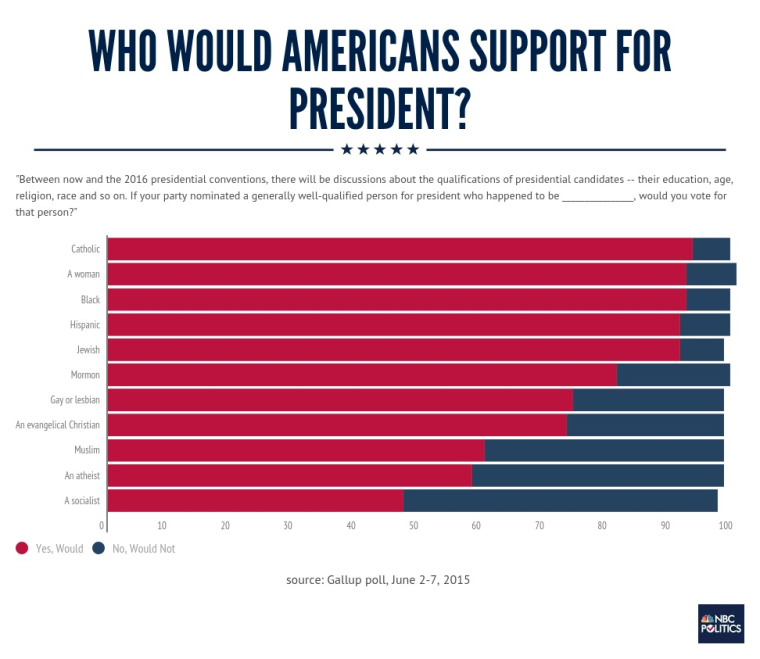 "Bernie is too liberal to gather enough votes in this country to become president," Sen. Claire McCaskill, D-Mo., said last month on MSNBC's "Morning Joe."
When CNN asked Sanders about McCaskill's remarks, he responded that what voters truly care about are the issues. "I think people are coming out to our meetings because they want to hear some straight talk. They want to hear some truth about what's going on in America today."
There is one other factor to consider: Iowa Democratic caucus-goers have been much more pragmatic than their GOP counterparts have been in recent years.
While the last two Republican winners in Iowa (Mike Huckabee and Rick Santorum) ultimately didn't win the GOP presidential nomination, the last three Democratic winners of Iowa (Al Gore, John Kerry and Barack Obama) did win their party's nomination.