Trump University salespeople were instructed to play to peoples' emotions and suggest that potential customers rely heavily on credit card debt or retirement funds to pay for the classes, according to documents unsealed by a federal judge Tuesday.
"You don't sell products, benefits or solutions — you sell feelings," Trump University salespeople were counseled.
Another document related to a lawsuit against the for-profit university advises: "This sales process is based on managing the emotions of the client by focusing on the psychology of the sale. The metaphor we use for this process is the Roller Coaster of emotions."
Those marked just a portion of the tips and tricks outlined in the Trump University "playbooks," manuals that comprised the bulk of the nearly 400 pages released by Southern California District Judge Gonzalo Curiel's order.
Little of the records unsealed Tuesday was new, as Politico had already released the entire 2010 Trump University playbook. The cache of court documents also includes the 2009 playbook, which was far shorter and less extensive than its followup, but included many of the same guidelines.
These playbooks offer a fuller accounting of the tactics Trump University used to find and secure new students for courses that many critics and former students allege amounted to little more than fraud.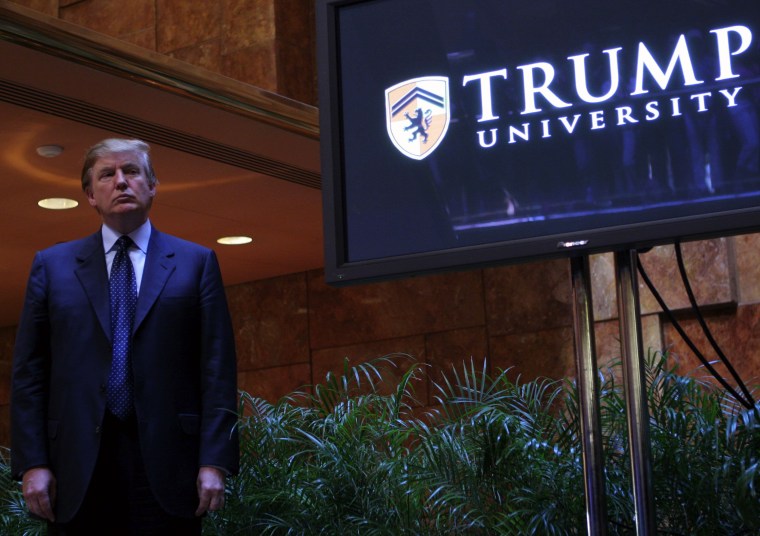 The for-profit university closed in 2011, but is now ensnared in three lawsuits — two class-action suits brought by former students, including the one to which these documents were related, and a civil case brought by New York State Attorney General Eric Schneiderman.
The university has become a point of controversy for Trump as he navigates the presidential race.
Former GOP primary opponents Ted Cruz and Marco Rubio held up Trump University as a "con-job" perpetrated against vulnerable buyers, and Hillary Clinton's campaign has already been poring over documents related to the courses for potential targets.
While the documents unsealed Tuesday didn't reveal any bombshells, they did outline aggressive sales tactics that could provide further fodder for opponents' attacks.
The Clinton campaign has been building a case against Trump based on past comments expressing "excitement" over the 2008 housing market crash, and the new documents could add to that case.
An advertisement from 2009 — following the housing market crash, amid the foreclosure crisis and economic recession that gripped the nation for years — pitches potential clients to "be Donald Trump's guest at a free investor workshop and learn how you can profit from the largest real estate liquidation in history!"
"We help you by teaching you how to profit from the $700 billion bailout that has opened the door for unprecedented investment opportunities," the advertisement reads.
The 2009 playbook also counsels Trump University salespeople to tell potential buyers that "you've found an answer to their problems and a way for them to change their lifestyle." Documents from both years advise salespeople to negotiate around the price — which could be as much as $34,995 for the "Gold Elite" package — while suggesting buyers without available means rely on credit cards or savings to fund the course.
"If they complain about the price, remind them that Trump is the BEST!!" one document counsels Trump University staffers.
Another document, which outlines a sample script a salesperson could use when confronted with a cash-strapped buyer, tells Trump University staffers how to sell potential buyers on paying for the course with credit.
"We teach the technique of using OPM … Other People's Money," the script reads.
"Most students who are invited to this program use established lines of credit, like a credit card, utilizing the bank's money, OPM, to handle their tuition. I'm not talking about tens of thousands of dollars, but on the other hand, not a couple of hundred dollars either."
The documents also suggest students borrow from their retirement accounts and dip into savings to pay for the classes.
The Washington Post requested access to the documents in April, but Judge Curiel's order to unseal the records came this weekend, after Trump lambasted him as "very hostile" on the stump in California Friday. The GOP presumptive nominee suggested the judge's Mexican heritage could make him biased and may be cause for him to be removed from the case.
"The judge was appointed by Barack Obama, federal judge. Frankly, he should recuse himself because he's given us ruling after ruling after ruling, negative, negative, negative," Trump said Friday.
At a press conference on Tuesday, Trump was unapologetic for his attacks, calling Curiel a "hater" and stating, simply, "I don't care" when asked why he attacked the judge.
In his order, Judge Curiel hinted at Trump's attacks, noting that the Republican nominee has "placed the integrity of these court proceedings at issue."