APPLETON, Wisconsin — In a week full of headlines emphasizing Donald Trump's problems attracting the support of women voters, the Ted Cruz campaign turned to its new tandem of Heidi Cruz (the candidate's wife) and Carly Fiorina (his former primary foe) to present a distinctly different message ahead of Tuesday's Wisconsin primary.
"What I think is happening with women – as well, frankly, as with men – is the more people see of Donald Trump, the less they like him," Fiorina told NBC News after a campaign stop in Appleton, Wisconsin, on Thursday.
Trump's difficulties in winning over women has been apparent throughout the primary season but new polling from Wisconsin indicates he may be headed into trouble in that state's primary next Tuesday. And the Cruz campaign appears poised to be the beneficiary.
The Marquette Law School poll released this week gives Cruz a 10 percentage point overall advantage on Trump in the state – 40 percent to 30 percent -- but that spread is rooted in the stark gap between the number of men (35 percent) and women (24 percent) who back Trump's candidacy. Nationally, the picture is even more dim for Trump. An NBC/WSJ poll in March found that 70 percent of women among the general electorate hold a negative view of him.
Related: Trouble for Trump? National Poll Numbers Hit New Lows
Just this week, Trump made waves for initially advocating "punishment" for women who have abortions should the procedure be banned (as he supports). The candidate later reversed his position to say physicians, not women, should be the target of punishment in that circumstance. And Trump's campaign manager was charged with assault for allegedly grabbing a reporter and the candidate faced criticism for a roundtable of national security advisers void of women.
Those apparent stumbles are being met by an intentional advancement by the Cruz campaign to expand its engagement with women. For most of this year, until Fiorina's endorsement, the campaign had relied nearly entirely on white men as outside surrogates: Glenn Beck, Phil Robertson, Rick Perry, fmr. Sen. Bob Smith, Bob Vander Plaats, and Reps. Steve King and Louie Gohmert.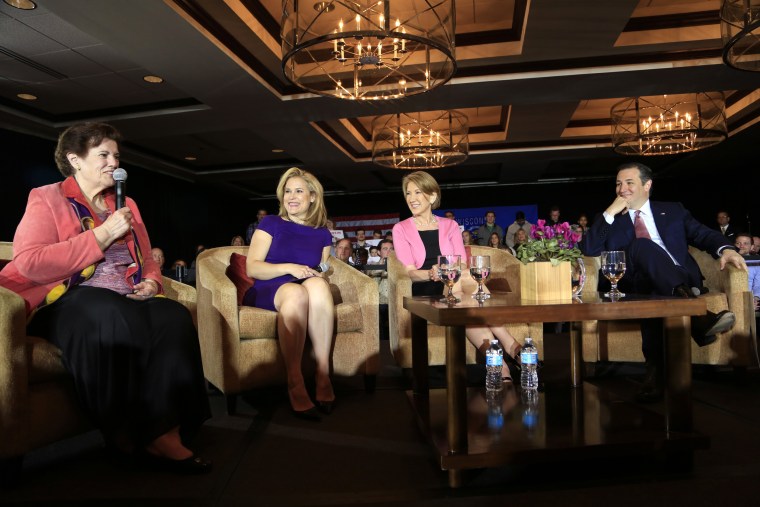 That's changing. On Wednesday, Cruz hosted a program hailed as a "Women's Event" that featured his wife, Fiorina and his mother, Eleanor Darragh, in front of several hundred in Madison. "Every issue is a women's issue," said candidate Cruz, sitting next to the trio.
When Cruz traveled on Wednesday and Thursday to California, standing in his place in Wisconsin was the tandem of Heidi Cruz and Carly Fiorina – who embarked on a six-stop tour together on the Cruz bus across Wisconsin, hitting local campaign offices and retail stops at the likes of The Creamery in Der Pere.
"What a team, what a team!" exclaimed Patti Blank, an occupational therapist in Appleton, after Heidi Cruz and Fiorina stopped at her lunch table at Stuc's Pizza.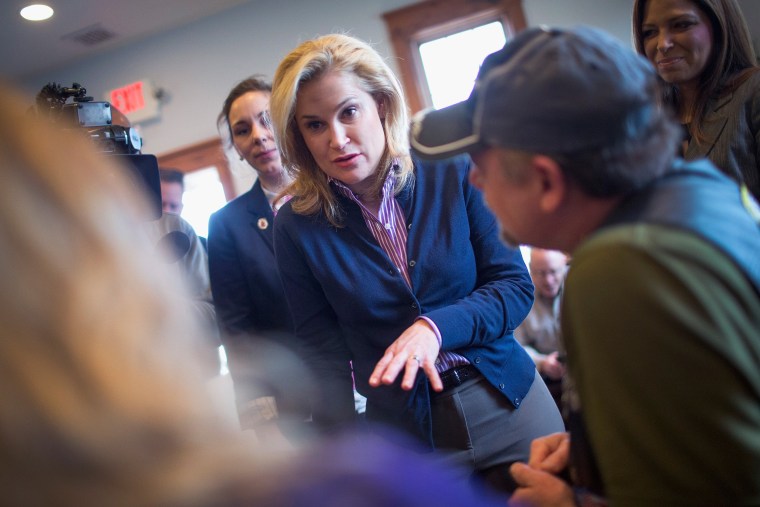 Cruz approached Blank, who immediately expressed her concern about Trump's presence in the race. Cruz, leaning across the table, told her their campaign would continue to focus on a "positive message and treating people well, fairly and with respect – as we've always done. And I think that will win the hearts of the American people."
Blank responded, referring to Heidi, "You can tell [Ted Cruz] has great things behind him – and it helps that you're really pretty, too."
After spending the initial months of the campaign primarily helping to build its fundraising infrastructure, Heidi Cruz has progressively increased her solo efforts on the road, helping to soften the image of her husband.
At a pep rally inside the campaign's Fond du Lac field office, Cruz called him "the kindest person I know" and suggested, "That's not really the husband that I married – someone who is really far right."
Just as prevalent on the stump for Cruz is Carly Fiorina, who hears shouts of "VP!" at nearly every rally since her endorsement on March 9.
Fiorina has stepped onto the trail sounding like a vice presidential candidate – using populist-driven riffs while lashing out at Trump ("He's not an outsider – he is the system!") and praising the "fearless fighter" Cruz who she is "proud" of for "making enemies."
But she has also taken on the role of interjector-in-chief. Standing by Cruz's side at a press conference earlier this week, a Daily Mail reporter challenged Cruz on unsubstantiated National Enquirer allegations that he was involved in extramarital affairs. But before Cruz could let out a word, Fiorina jumped in – "If I may—"
The reporter responded, "No, I asked the senator that question, Mrs. Fiorina." Fiorina refused to yield, "Well, I'm going to comment, okay." The reporter tersely fired back, "Do you have first hand knowledge of his marriage?"
Not flinching, Fiorina took over the conversation, calling Trump "a serial philanderer" and redirecting the attention to Obama's foreign policy.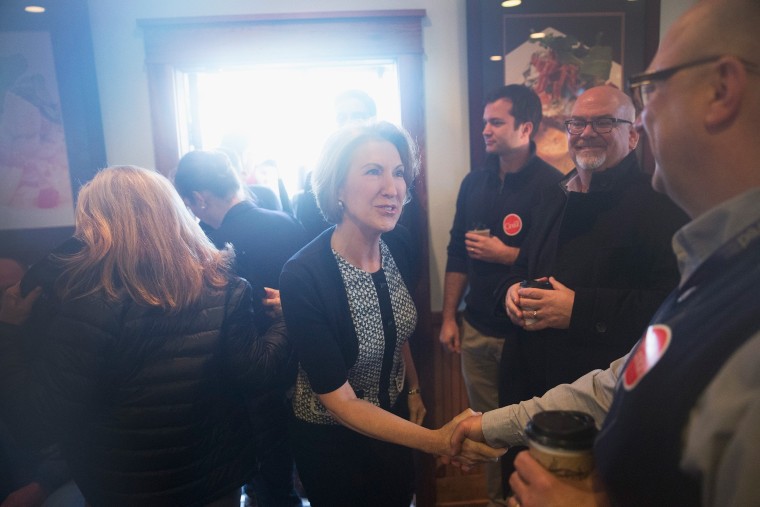 Fiorina told NBC News on Thursday that she feels she can "help him out" during these exchanges.
"Let's face it – sometimes the questions that the media asks are absurd, and as you have come to know me on the campaign trail, I don't shy away from taking it on," Fiorina said. "So there are times when I think someone other than Ted can say things that he can't say. And in that particular case, it was just an outrageous, absurd question."
It mimicked an exchange just hours earlier inside a Milwaukee pub, where Cruz and Fiorina stopped for lunch. When a National Review reporter inquired about the prospects of Fiorina as his vice presidential pick, Cruz responded for less than 20 seconds – though first offering up that Fiorina would "make an incredible "VP" – before Fiorina stepped in.
"Wisconsin has a really important role. Let's get him the nomination first," Fiorina interjected before adding, "The media keeps jumping ahead."
Fiorina's continued to carry the back-and-forth with the reporter for the next two minutes alongside a silent Cruz, who, sensing the discussion's end, then crossed between the two to shake the hands of the restaurant staff.