MILWAUKEE — A roomful of Wisconsin Republican Party faithful gave Ted Cruz a standing ovation on Friday night before offering Donald Trump surrogate Sarah Palin a chilly welcome.
Wisconsin Gov. Scott Walker, appearing with Cruz on stage for the first time since announcing his endorsement on Tuesday, embraced the Texas senator at the GOP's Milwaukee County Fish Fry. Cruz now holds a double-digit lead over Trump in Wisconsin ahead of the state's primary on Tuesday.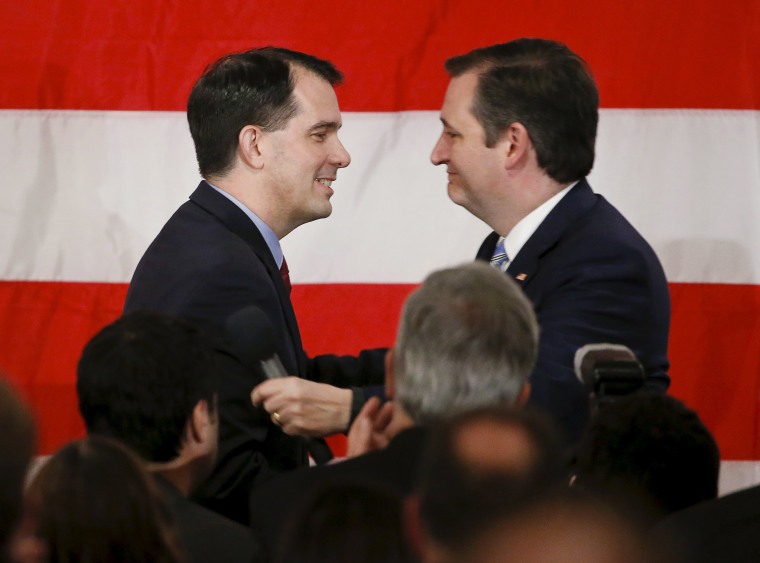 "My reasons are all about who I'm for, not about who I'm against," said Walker to his home state crowd, taking a veiled shot at Republican front-runner Trump. "I think that's important in Wisconsin — we like to be for something, not against something."
Upon taking the microphone, Cruz then took several swipes at Trump, suggesting it's "actually not fair to train wrecks" to compare the nomination of Trump to one. Trump is leading nationwide but plunged in the polls during the last week.
"That is the very real manifestation of the unity we need across this country," Cruz told the crowd, giving a subtle nudge to Ohio governor and rival John Kasich, who spoke earlier in the evening and remains in the GOP race despite mathematically having no path to the nomination outside of an open convention stunner.
Trump said on Twitter Friday night that he would be in Wisconsin until the state's primary and vowed to "bring jobs back home."
"Wisconsin has suffered a great loss of jobs and trade, but if I win, all of the bad things happening in the U.S. will be rapidly reversed!" he then tweeted Saturday morning.
Later remarks by Palin defined the night with the crowd sitting silent at one point for 16 straight minutes without an applause.
Related: Cruz's Dynamic Duo Counter Trump's Women Woes
Palin began by praising former Green Bay Packers Jerry Kramer and calling for a "unity pledge" to "do whatever it takes" to get Kramer into the NFL Hall of Fame.
She then panned from a perceived hit on Cruz over "gift baskets of teddy bears and soccer balls" for undocumented children entering the country to praising Ronald Reagan for saving the "Harley Davidson" by implementing a tariff on foreign motorcycles.
Palin also quipped that establishment Republicans should start a #NeverReagan movement because their views, according to her, run counter to Reagan's.
The response from the locals in attendance was not favorable to the former Alaska governor.
"If this is the energy level of the person that you send to represent you, that doesn't bode well for people to vote for him on Tuesday," said Carol Boettcher, a Republican from Cedarburg.
For her part, Palin said she "felt a lot of seriousness" in the crowd, "which is really good in a presidential race at this stage." And when whether the crowd responded well to her, she added: "Well, I think so — I didn't get booed."