Thanks to Shelby County v. Holder, the Supreme Court's 2013 ruling weakening the Voting Rights Act, a slew of restrictive voting laws will be in force this fall for the first time in a presidential election.
But now the Shelby ruling is putting voting rights at risk in a whole new way: Citing the ruling, the Justice Department recently announced that it would significantly reduce the number of federal observers that it deploys at polling places to guard against voter suppression and intimidation. The impact of the cutbacks could be particularly severe this year, when several states will be asking poll workers to implement new voter ID laws, upping the chances that on-the-ground errors or other problems keep voters from the polls.
Meanwhile, some voting rights advocates are critical of the Justice Department's decision to reduce the number of monitors, saying it relies on an overly conservative reading of the Shelby decision.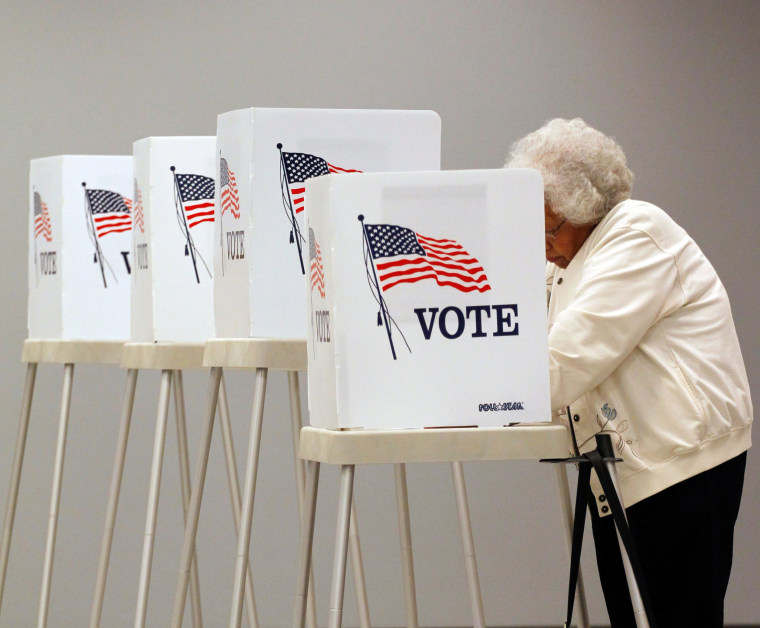 The ruling's main impact was to invalidate the coverage formula that determined which areas of the country had to submit any voting changes to the federal government for approval before they went into effect. It's allowed southern states from Texas to Virginia to impose voter ID laws and other restrictions that previously would have been blocked because they affect minorities more than whites.
But in a speech earlier this month to a Latino civil rights group, Attorney General Loretta Lynch said Shelby had also "severely curtailed" the department's ability to deploy election monitors. As a result, she said, "we will be sending out fewer people with fewer capabilities this November."
Related: Texas Voter ID Ruling Offers Stinging Rebuke to Law's Backers
That's bad news for efforts to protect voters, said Gerald Hebert, who supervised federal election monitors over a long career as a top official in the voting section of the Justice Department's civil rights division. On-the-ground snafus or suppression at polling places often fly under the media's radar, but can have just as big an impact in keeping voters from the polls as better publicized factors like voter ID laws.
Hebert said monitoring allowed the feds to address problems in real time, rather than after the fact, which is usually too late to prevent a voter being disenfranchised.
"Let's say you have an official inside [a polling place] that is saying you need to show ID, when it's not required," said Hebert, now the executive director of the Campaign Legal Center. "The observer is going to call DOJ right away, and they'll go down to the polling place and yank that person out. That's why it was such a check on discriminatory conduct."
"Without a federal presence in the voting booth, I don't think there's a real check on that kind of discrimination," he added.
The department's authority to send observers came from Section 8 of the Voting Rights Act. Shelby invalidated the VRA's coverage formula, Section 4(b), and didn't address Section 8. But in a fact sheet accompanying its announcement, the DOJ said its decisions on where to send monitors were based in part on the now invalid coverage formula.
Related: Murky Picture on Voting Rights for Virginia's Ex-Felons
"In light of the Shelby County decision, the department is not relying on the Section 4(b) coverage formula as a way to identify jurisdictions for election monitoring," it said. "This means that the department will be able to send fewer people than in similar past elections to watch the voting process in real-time."
The fact sheet said the department would continue to send out monitors in jurisdictions where a court order allows it to do so.
But both Hebert and Kristen Clarke, the executive director of the Lawyers Committee for Civil Rights, said it's by no means clear that Shelby mandated the cutbacks.
"I don't believe this policy change was required," said Clarke, whose organization conducts similar "voter protection" work at polling places. "I think they took a very conservative reading of the Supreme Court decision on Shelby, which was silent on election observers."
"This really is a position that changes the landscape for this election cycle and future elections," Clarke added.
Hebert called the decision "overly narrow," and also faulted the department for announcing it publicly.
"By signaling that they are not going to be assigning poll watchers into voting booths, they've created an open season for those who want to intimidate voters—that there will be no federal observers to protect them," Hebert said, "I just don't think it was necessary to issue such a major public proclamation."