Donald Trump's vulgar and sexist comments that surfaced years after they were caught on a hot mic more than a decade ago weren't the first disparaging comments Trump had made about women, and they weren't the last.
In the 2005 conversation, Trump said his fame allows him the freedom to make advances on "beautiful women" of his choosing. "I don't even wait. And when you're a star, they let you do it. You can do anything," he said. "Grab 'em by the p****."
The GOP candidate's defense of the video, which has drawn sharp criticism and an exodus of campaign supporters, was partially that the "words don't reflect who I am."
Related: Analysis: Deconstructing Donald Trump's Apology Video
But Trump's crude and degrading comments are reminiscent of a long history of remarks Trump made over years of visits to "The Howard Stern Show."
Trump bragged again in 2008 that his fame and wealth made him irresistible to women. "Some incredible beautiful women. They'll walk up and they'll flip their top, and they'll flip their panties," Trump told Stern, claiming that women throw themselves at him.
His confidence was demonstrated during another interview, when Trump said he was pretty sure Princess Diana would have slept with him. The comments were made weeks after her death.
In an interview years later, Trump said that he would have slept with her "without even hesitation."
"She was super-model beautiful, she had the height, she had the beauty, she had the skin, she had the whole thing," Trump said.
Trump also often rated and ranked women on the show, on a scale of one to ten, and picked on the appearances of female celebrities, who he didn't deem attractive, like Rosie O'Donnell and Angelina Jolie. Sometimes he would criticize women's physical features, like Jennifer Lopez's backside.
Carmen Electra's breasts, he said, looked like "two light posts coming out of a body."
He said he had high standards for someone who would get his highest score. "A person who is flat-chested is very hard to be a 10," he once told Stern.
Trump also expressed that he thought "Desperate Housewives" actress Marcia Cross was unattractive, asking Stern if he would sooner "turn gay" or go out with the actress.
And when Stern asked if he ever had sex with an overweight woman, Trump laughed as he said, "I've had sex with women that got fat."
Trump made no secret over his years visiting "The Howard Stern Show" that he judged women primarily based on their looks.
He once recalled telling Katie Couric that a change he made to the Miss Universe and Miss USA pageants after he purchased them in 1996 was making sure the contestants were attractive before anything else. "Look, if you're looking for a rocket scientist, don't turn (sic) in tonight. But if you're looking for a really beautiful woman, you should watch," Trump remembered saying.
Trump also told Stern of some other alterations he planned to make to the pageants, concerning the contestants' wardrobes. "They said, 'how are you going to change the pageant?' I'm going to get the bathing suits to be smaller and the heels to be higher," Trump said, according to audio uncovered by Buzzfeed.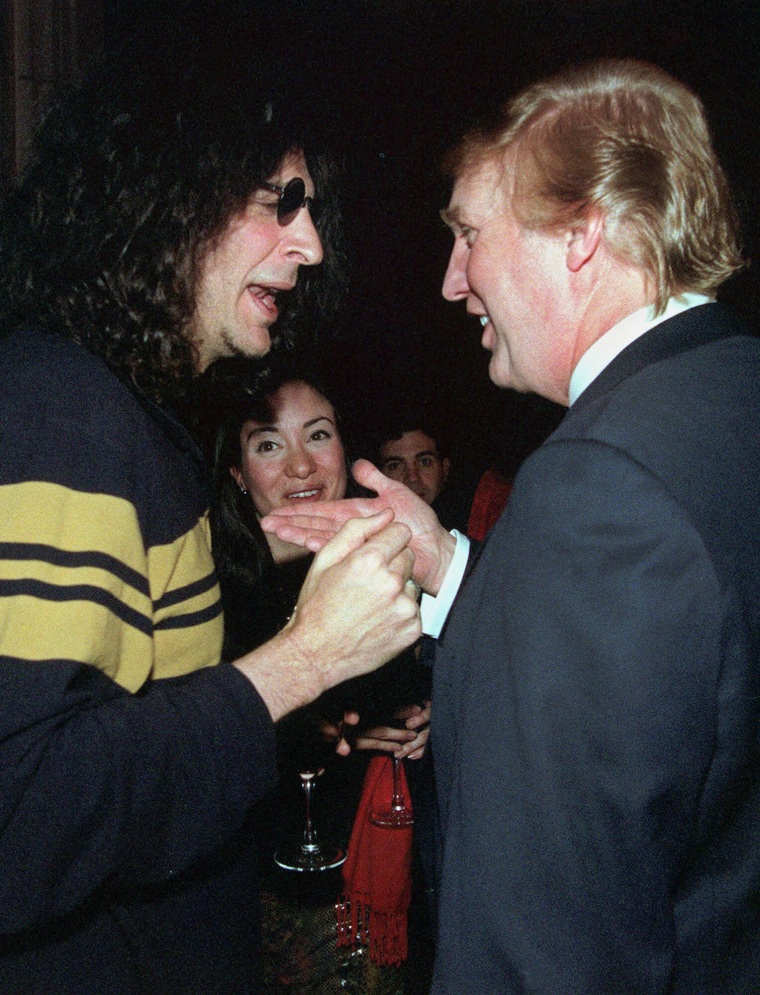 In 2005, while promoting the pageants, Stern asked Trump if he had ever slept with any of the contestants, according to audio discovered by CNN. Trump said he couldn't comment, but when pressed said, "I don't want to hurt their feelings."
"It could be a conflict of interest," Trump added. "But, you know, it's the kind of thing you worry about later, you tend to think about the conflict a little bit later on."
He then bragged that he was allowed backstage while the women were getting dressed — because he owned the pageant.
"You know, I'm inspecting because I want to make sure that everything is good," Trump said.
And two years later, Trump expressed excitement about a different aspect of the Miss Universe pageant — the location, according to more audio posted by CNN.
"The contest of all places was in Vietnam, which was very nice, I got a case of the shakes," Trump said. "It was in Vietnam. Vietnam's a hot country."
Time after time, Trump seemed to abandon any sort of a filter when talking about women he thought were attractive.
One such woman he mentioned was Paris Hilton, who he said he had known since she was a child. "I've known Paris Hilton from the time she's 12, her parents are friends of mine, and the first time I saw her she walked into the room and I said, 'Who the hell is that?' At 12, I wasn't interested ... but she was beautiful," Trump told Stern in 2003, according to The Daily Beast.
Trump was also not shy about commenting on his own daughter's figure. He told Stern in 2006 that Ivanka Trump has "always been very voluptuous," according to CNN. "She's got the best body," Trump continued.
In an interview two years earlier, Trump allowed Stern to call Ivanka "a piece of a**."