Donald Trump's presidential campaign filed its first report with the Federal Election Commission on Thursday, providing a rare look inside the mogul's unusual political operation and revealing a campaign powered more by grassroots donors than the famous billionaire at its helm.
Trump has stressed that he is willing to self-fund his campaign with up to $100 million, but through September, his campaign actually spent slightly more money from Trump supporters than from Trump himself. The filing shows Trump has invested $1.9 million of his own money into running for president, while his campaign spent $4.2 million this quarter, drawing from $3.9 million in mostly online donations.
Trump officials said they collected 73,942 "unsolicited donations" from supporters. And while Trump has not prioritized fundraising events like other candidates, his website features a prominent "donate" button.
Compared to his Republican rivals, Trump's $4.2 million spending is lower than Ben Carson's ($14.2 million this quarter) and Ted Cruz's ($6.9 million). It is also dwarfed by Democratic front-runner Hillary Clinton's spending — a whopping $25 million.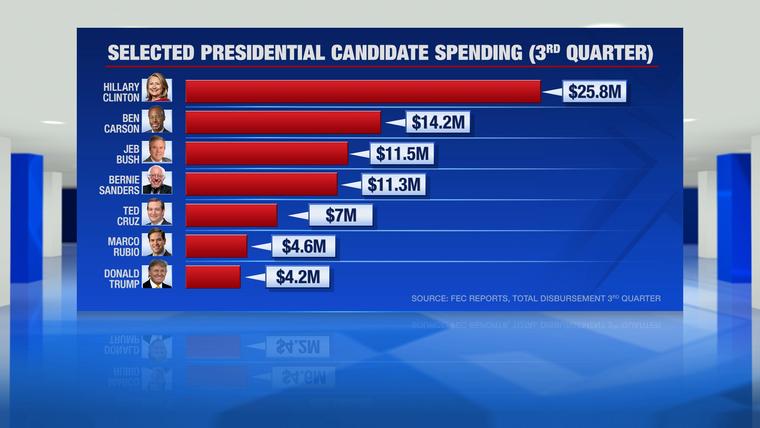 Trump touts that gap as a strength.
"To be No. 1 in every poll," he said in a statement Thursday, "and to have spent the least amount of dollars of any serious candidate is a testament to what I can do for America." Trump said he initially planned a "substantially higher" initial budget, but "good business practices" have kept costs in check. He has previously cited his extensive media attention as another reason not to waste money on ads, telling supporters in Waterloo, Iowa, last week that running TV ads now would make people "O.D. on Trump."
Trump's campaign manager, Corey Lewndowski, told NBC the large grassroots support was humbling, and the campaign "will be as judicious as possible" in allocating money raised from voters.
The filings also reveal new facts about the timeline for Trump's operation. While the billionaire candidate has been a constant media presence, he has not actually directed any of his own money to the campaign in the past four months. The last time Trump personally funded the campaign was in June, with a $1,081,647 interest-free loan. When he began funding the campaign in April, he allotted a modest $292,650 through two loans, and his only other loan was $430,540 in May.
That's a contrast to self-funding candidates who have come before, like Mitt Romney, Steve Forbes and Ross Perot, each of whom swiftly invested tens of millions of dollars into their presidential campaigns.Some Republican operatives say the Trump campaign's financial picture, revealed in the new filing, begs larger questions about Trump's intent.
"We don't know if Donald Trump is willing to open his pocketbook," says former Romney deputy campaign manager Kate Packer, until he "demonstrates he's willing to actually spend significant dollars."
"Just because someone's rich," she told NBC, "doesn't mean they're completely liquid, and it also doesn't mean that they're willing to write a blank check to support their campaign. So we just don't know."
Packer is not working for any presidential candidate this cycle; colleagues at her consulting firm are working for GOP campaigns.
Other campaign veterans said Trump is currently competitive.
"Based on the amount he is spending," says former Romney CFO Bradley Crate, "I don't think he's spent much less than what other candidates did, who are trying to build out state operations as well."
Crate has not endorsed a campaign this cycle, while colleagues at his consulting firm are working for GOP campaigns, including Trump's.
The Trump campaign's expenditures reflect some conventional parts of retail campaigning, like travel, venues, and law firms, plus some less traditional spending.
For typical costs, the campaign spent over $160,000 on legal advice from the firm Jones Day; $30,000 for online fundraising from Piryx; over $37,000 for "strategy consulting" from Alan Cobb & Associates; $40,000 for South Carolina's ballot access fee and $7,500 for "policy consulting" from the JBC Research firm. Trump's campaign also spent over $51,000 on security services, including about $45,332 to 26 different security staff, and tens of thousands of dollars to a handful of consulting firms.
The campaign also spent a considerable amount on merchandise, devoting $504,192 to hats and t-shirts. That's roughly 12 percent of the campaign's total spending this quarter. Trump's red baseball cap, emblazoned with "Make America Great Again," is a fixture of the 2016 campaign, and it retails for $25 on Trump's website. (The camouflage edition is $30.)There are also a series of payments between the Trump campaign and various Trump entities, such as the Trump Corporation ($45,000 for rent), Trump Restaurants ($2,185), a Trump Hotel ($1,138), and "in kind" payments for items from Trump Tower, Trump Payroll Corporation and Donald J. Trump himself.
The breakdown of Trump's spending is also notable for what's missing: The campaign is not paying traditional pollsters or major strategists in Washington, D.C.
Trump argues that is another strength.
"I don't want pollsters," he told NBC News this week, saying his opponents "pay pollsters hundreds of thousands of dollars."
In Hillary Clinton's new filing, one of her single largest expenditures is $413,972 for a polling firm, Benenson Strategy Group, which received another $752,825 from her last quarter.
While every other major candidate released a financial report this summer, Trump's late entry into the race makes this his first filing. Under federal campaign finance law, campaigns must file an itemized list of every donation and expenditure.