TURNBERRY, Scotland — Donald Trump was grilled about "claims you're a racist" by a combative pack of British reporters moments after arriving by helicopter at his golf resort in Scotland on Thursday.
The Republican presidential hopeful was taking a short break from the campaign trail for the Women's British Open being held at his Turnberry resort, which is southwest of Glasgow.
Trump has drawn widespread criticism following a speech in June in which he referred to Mexican immigrants as "rapists" and accused them of "bringing drugs [and] bringing crime" into America.
He was asked if he regretted his comments.
"A poll came out two days ago where I am number one with the Hispanics," Trump told the crowd of reporters. "I know you are surprised to hear that. But I am number one with the Hispanics. And I said that if I get the nomination I will win with the Hispanics."
On immigration he said it was "a huge subject" but that he "brought it to the fore, and everybody is thanking me for it."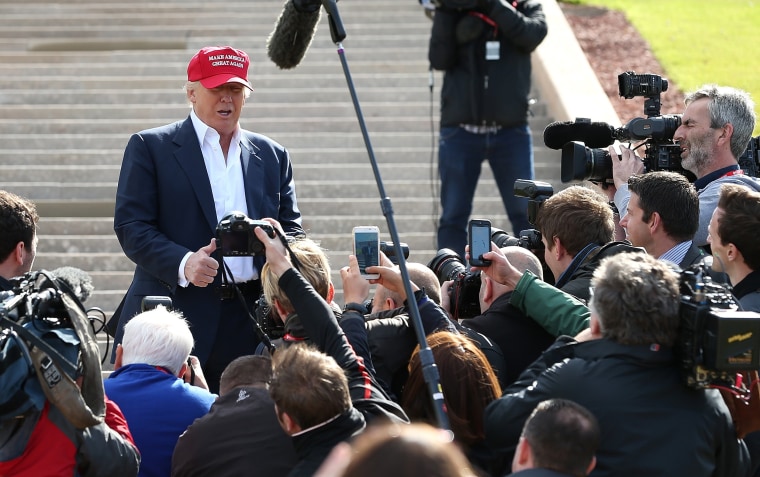 Another reporter asked him about "claims you're a racist," to which Trump replied: "Excuse me?" The reporter reiterated the question as: "Why have you come here, Mr. Trump?"
Trump said he was visiting Scotland "because I love Turnberry and we're doing a lot of work on Turnberry and we have the British Open, the Women's British Open, here. It's going to be a really exciting weekend."
The real-estate tycoon was also asked whether Lizette Salas, the American golfer currently ranked 29th in the world whose parents are Mexican, was "not too pleased you're here?"
He replied: "Don't know who she is."