Mexican immigrants. John McCain. Megyn Kelly.
While Donald Trump's comments in recent weeks have made him a political punching bag, the GOP presidential front-runner isn't referring to those campaign controversies as "mistakes."
Instead, during the Iowa State Fair on Saturday, Trump was quick to point out the errors that he believes his biggest opponents have made.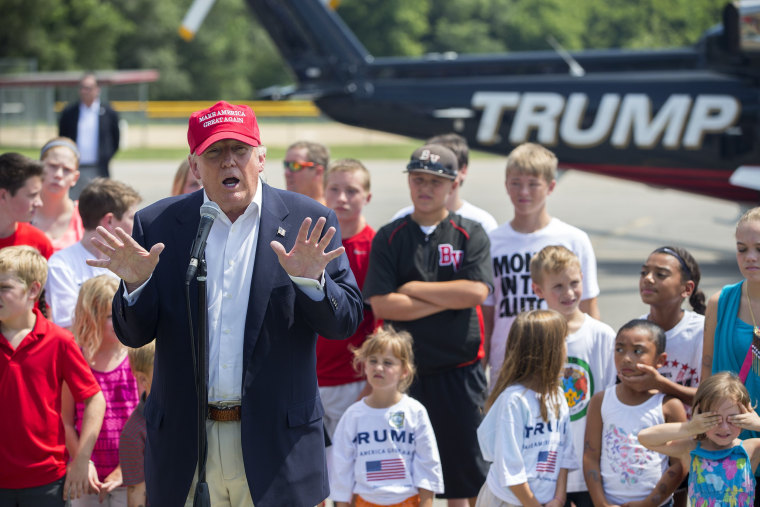 "I don't think I've made mistakes," he told reporters while standing in front of a helicopter emblazoned with his name.
"I'm sure I will at some point, but so far you have to say it hasn't worked out badly, right," said Trump, alluding to numerous polls that have him at the top of the crowded field.
He said his controversial remarks about Mexicans, Sen. McCain and Kelly, a Fox News anchor, have only boosted his poll numbers — and therefore, can't be mistakes.
But he called out Republican rival Jeb Bush for his comments in recent days when the former Florida governor said the U.S. has to prove that "we have skin in the game" in Iraq.
"It was one of the dumbest things ever," Trump said. "We've lost all of those lives and all of that money. I think he should apologize to the families" of the veterans.
Trump also said Bush is a "puppet" controlled by lobbyists. "I'm turning down so much money," Trump said. "I'm going to do the right thing for the people of the United States, and I don't want to have to insult" lobbyists.
Trump accused Hillary Clinton of also appealing to lobbyists and added that his potential Democratic rival has "got a lot of problems with the email situation."
During earlier remarks Saturday at the Iowa State Fair, Clinton addressed the controversy about using private email while serving as secretary of state, saying that she has never received or sent classified emails, which remains under investigation.
"I think it's going to be very tough for her," Trump said.
Related: Donald Trump to Report for Jury Duty
But he doesn't think the race for the White House will be tough for him. He touted his business record and dealings with U.S. and international politicians as experience that would make him a viable president.
Trump hasn't presented any solid policy intentions, but he said he would be releasing his immigration policy on NBC's Meet the Press on Sunday and putting out a tax policy within the next couple of weeks.
"I think the press is more eager to see it than the voters," he said. "They (the voters) know I'm going to do the job."
Trump ended his remarks by taking a group of children — some wearing Trump campaign T-shirts — on a brief helicopter ride.