SIOUX CITY, Iowa — As more polls find him trailing Ben Carson in the Hawkeye State, Donald Trump wasn't subtle in his appeal to Iowans when he returned to the state Tuesday night.
"Iowa, will you get your numbers up please?" he asked the crowd of almost 2,400 gathered in West High School's gym in Sioux City. "Will you get these numbers up? I promise you I will do such a good job."
Trump, always a fan of touting his high poll numbers, told the Iowa crowd that he used to be able to say he was leading everywhere — "until Iowa came along, I said every poll. What the hell are you people doing to me?"
To those who say Trump should sit Iowa out and focus on other early primary states, the former Iowa Republican front-runner says no way.
"I think we're gonna win Iowa," the real estate mogul maintained. "I don't wanna skip Iowa."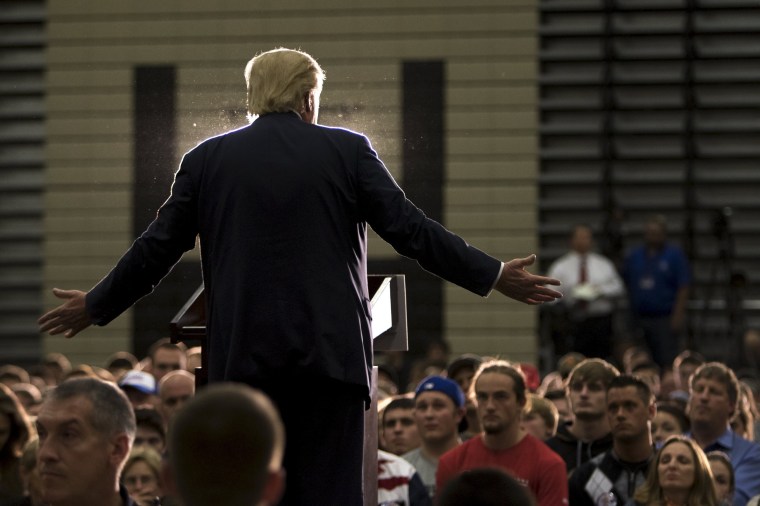 His reason for optimism in the first caucus state? "I think a lot of things are going to come out over the next period of time that are not gonna be so good for opponents, honestly," he said. "And I think I'm gonna do great with Evangelicals. Because I am the real deal, I will tell you that. I'm the real deal."
Trump maintained he would win the state and said he intended to double-down his efforts in the state. "When I heard the poll today, they said what are you going to do? I said I'm going to work harder in Iowa, I'm not leaving Iowa. Now if I lose Iowa, I will never speak to you people again, that I will tell you" his joked.
Whereas Trump usually touts national and state polls that show him ahead of the pack, Tuesday night in Iowa he shifted his strategy slightly — noting that he gets "high marks" in polls for being strong on the military, leadership, and job creation. On these numbers Trump polled the crowd themselves, "very important, don't you think?"
Another shift came when Trump decided to take questions from the crowd, a sign of more typical retail politics in the early primary state that isn't often seen from the former "Apprentice" star at his rallies.
At one point Trump even stepped off the stage to speak more closely with a wounded veteran and his wife about their struggles working with the U.S. Department of Veterans Affairs — a frequent target of Trump's barbs. "I want to come, I got to say hello to this guy," he said.
"Is the VA not doing it's job?" he asked, later telling the couple to write out their information so he could pressure the VA. "As president, I can guarantee" the help will come, he said. "As Trump, I can say I'll probably be able to pull it off anyway because they know it won't stop."
A new CBS/New York Times national poll out Tuesday morning showed Trump trailing Dr. Ben Carson, 22 percent to 26 percent, though that number lies well within the poll's margin of error. The most recent Quinnipiac, Bloomberg, and Monmouth polls show Trump down to Carson in Iowa.
"So will you please do me a favor," Trump asked the crowd. "And work with my people and go out on February 1st and vote and give us a victory?"