Mitt Romney emerged smiling Saturday from a closed-door meeting with President-elect Donald Trump — a face-to-face sit down he called "thorough and in-depth" after they traded bitter barbs with one another during a divisive election.
Taking a softer tone, Trump and Romney seemed to bury the hatchet at the Trump National Golf Club in Bedminster, New Jersey — where the businessman-turned-politician moved his White House transition team for the weekend — in a meeting that lasted about an hour and a half.
Trump is considering Romney for secretary of state, a source close to Trump told NBC News, although the president-elect has not publicly said what role, if any, Romney could play.
Related: Analysis: Trump Charges Ahead With Hard Line With Sessions, Flynn Picks
"It went great," Trump told the press after walking the former governor of Massachusetts outside.
Romney, also addressing the press, added that "we had a far-reaching conversation with regards to the various theaters in the world where there are interests of the U.S."
He said it was a "very thorough and in-depth discussion in the time we had and appreciate the chance to speak with the president-elect and look forward to the coming administration."
The 2012 Republican presidential nominee ignored questions from reporters about whether he would take a position in the administration if offered one, and if he and Trump apologized for their months-long war of words.
Romney was then whisked away by his white Buick. Trump returned outside and greeted former Washington, D.C., schools chancellor Michelle Rhee for another private meeting.
Related: Mike Flynn, Jeff Sessions, Mike Pompeo: Meet Trump's Latest Top Picks
Such a move to incorporate Romney would be a stark reversal following the name-calling over the past year — and one that would build out Trump's inner circle that includes retired Gen. Mike Flynn in a national security adviser post, Alabama Sen. Jeff Sessions as attorney general and Kansas Rep. Mike Pompeo as head of the CIA.
On Friday, members of Trump's transition team arrived in Washington, D.C., to begin working with the State Department.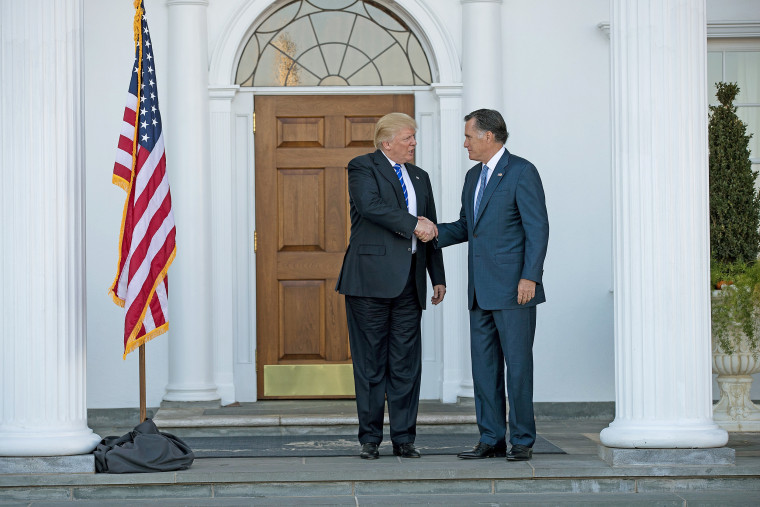 Before the meeting started, Romney shook hands with Trump and Vice President-elect Mike Pence, and entered what was sure to be a difficult and awkward meeting. The two sides came together after feuding during the presidential election.
Romney had ripped Trump as a "phony" and a "fraud," and said a presidential nominee should be disqualified for not releasing his tax returns — criticism he wrote in a Facebook post in May. The former governor also wrote that given Trump's refusal to release his tax returns, there was certain to be a "bombshell" within them.
Trump responded on the campaign trail, claiming that Romney was "irrelevant" and "a choke artist." The president-elect also routinely took to Twitter to share his blustery criticism.
The president-elect shared on Twitter, his favored social media platform, that he planned to work through the weekend:
Trump is scheduled to meet with more than a half-dozen people Saturday, including: Retired Marine Corps Gen. James N. Mattis; Center for Neighborhood Enterprise president and founder Robert L. Woodson Sr.; Chicago Cubs owner and director of the Ending Spending Super PAC Todd Ricketts; chief executive officer of CKE Restaurants Andy Puzder;and RNC finance chief Lew Eisenberg.