Donald Trump has named Reince Priebus, chairman of the Republican National Committee, as his White House chief of staff, NBC News has learned.
Trump's transition team confirmed the appointment Sunday afternoon, but sources said that the decision was finalized Saturday night
The Republican, who is serving his third term with the RNC, was reported to be at the top of Trump's shortlist for the key White House position in the days following the election. That list also reportedly included Steve Bannon, Trump's controversial campaign CEO whose website, Breitbart News, has espoused anti-Semitic and nationalist views.
Instead, Bannon will serve as chief strategist and senior counselor to the president, Trump's transition team announced Sunday. Under Bannon, Breitbart.com has embraced racist conspiracy theories and become what Bannon termed "a platform for the alt-right."
Related: 'Drain the Swamp'? Trump's Potential Cabinet Fills Out With Washington Insiders
The choice of Priebus is certain to comfort establishment Republicans wary that the unpredictable candidate Trump will make a reappearance in the White House — but one that could fuel resentment among the grassroots.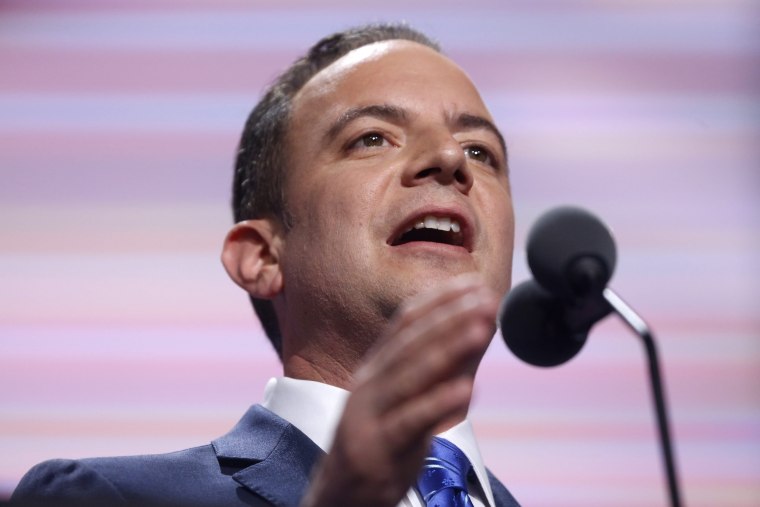 Priebus earned respect from Republicans over the course of his six-year tenure as head of the RNC, proving to be a powerful fundraising force who deftly navigated the party through the internal squabbling sparked by the rise of the conservative Tea Party movement following the 2010 election.
Priebus, once Wisconsin's GOP Chairman, has close ties to House Speaker Paul Ryan, also a Wisconsin Republican, and could serve as a liaison to Capitol Hill who's trusted by both sides.
Sen. Lindsey Graham, a staunch member of the #NeverTrump movement, tweeted his own congratulations to Trump for selecting Priebus, but made no mention of Bannon.
Bannon's new role could in fact cause tension in many corners of the GOP. In an internal Breitbart email leaked to The Hill in early October, Bannon said that "the 'long game' for his news site was for Ryan to be 'gone' by the spring."
Ryan congratulated Priebus on Twitter, but made no mention of Bannon.
Earlier Sunday, Ryan told CNN that he has never met Bannon, and was not concerned about the Breitbart chairman's potential role in a Trump White House.
"I don't know Steve Bannon, so I have no concerns. I trust Donald's judgment," Ryan said of the man whose website claimed in late October that Ryan was working to elect Democrat Hillary Clinton.
While establishment Republicans applaud Trump's choice of Priebus, his appointment is likely to fuel concerns among grassroots conservatives who believe Priebus moved too aggressively to consolidate power among the GOP establishment during his tenure as RNC chairman. In fact, former Trump adviser Roger Stone tweeted this weekend the pick "would cause a rebellion in Trump's base."
Tea Party Patriots Citizens Fund co-founder Jenny Beth Martin also warned in a statement that naming Priebus, a "Washington insider," as chief of staff "would make it more difficult, not less, for President Trump to achieve the change the people voted for."
A campaign source with knowledge of the decision said, "Instead of draining the swamp, we just put in the head alligator."
Related: Policy Divisions Between Trump and GOP Persist After Election
Indeed, the pick of Priebus marks a remarkable turnaround in their once-fraught relationship that reflects Priebus' careful and persistent efforts to gain Trump's respect and confidence over the course of the general election campaign.
During the primary fight, Trump railed against Priebus and the GOP for party rules concerning selection of the nominee that Trump insisted were unfair.
"It's a disgrace for the party. And Reince Priebus should be ashamed of himself," Trump said of the rules in April.
At the time, Priebus tweeted in response: "Nomination process known for a year + beyond. It's the responsibility of the campaigns to understand it. Complaints now? Give us all a break."
But since Trump won his party's nomination, Priebus became one of the candidate's closest advisers and was seen as one of the forces that helped reign Trump in and keep him on-message — one of the small group of advisers dubbed the "Trump Whisperers."
The pick opens up the RNC chairmanship, but Trump is expected to have significant influence over who is eventually chosen by RNC membership as chair.
Senior Trump adviser Dave Bossie, who was recently elected Republican National Committeeman from Maryland, is seen as a potential pick, and is said to be privately jockeying for the chairmanship.