LAS VEGAS — One night before Nevadans head to caucus, Donald Trump made his final pitch with more of the no-holds-barred rhetoric that earned him so much attention in the first place.
The real-estate tycoon said he'd like to punch a protester in the face and fondly recalled the "old days" when "guys like that" who disrupted a political rally would "be carried out on a stretcher."
While protesters and disruptions are now standard fare at Trump events, the candidate's rhetoric on such interruptions had softened in recent months.
He also called rival Ted Cruz "sick," criticizing him for what Trump feels were unfair and dishonest robo-calls and ads in South Carolina. "There's something wrong with this guy," Trump said.
Trump also questioned the Texas senator's religious beliefs, alleging that Cruz "holds up the Bible and he lies."
Fewer than a half dozen protesters punctuated Trump's Las Vegas rally, which attracted more than 5,000 people.
One man held a sign that read "Veterans to Mr. Trump: End hate speech against Muslims." Another interrupted while Trump railed against Obamacare.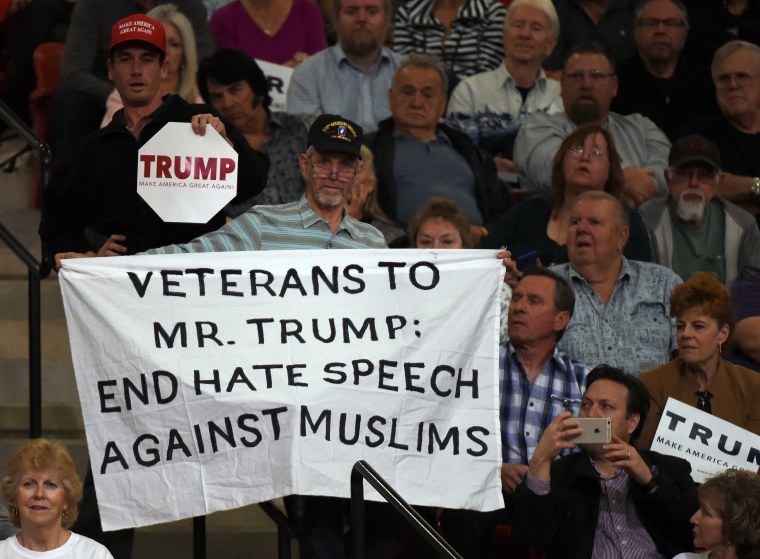 But the demonstrator who drew Trump's ire emerged toward the end of the rally as the Republican talked about unemployment and slow GDP growth.
"He's smiling. See, he's having a good time," Trump said before going on the offensive. "Oh, I love the old days, you know? You know what I hate? There's a guy, totally disruptive, throwing punches, we're not allowed to punch back anymore. I love the old days, you know what they used to do to guys like that when they were in a place like this? They'd be carried out in a stretcher, folks. Oh, it's true."
And while Trump explained that "the guards are very gentle with him," his own reaction would've been different. "I'd like to punch him in the face, I'll tell you," Trump said to cheers. It's unclear, however, if the protester was actually throwing punches, though he was smiling as guards escorted him out.
Trump also gave a new hint as to what his infamous border wall might look like — and his inspiration comes from a somewhat unexpected place. Citing his recent and short-lived feud with Pope Francis, Trump said that his he wants to use the Vatican's walls "as my model for the wall we want to build."
The caucus wasn't far from Trump's mind either. Trump, who is leading by wide margins in the Silver State, told his audience to "assume we're going to tie" and get out to vote for him.