Donald Trump dismissed allegations of impropriety on Monday, saying his foundation's $25,000 donation to Florida's attorney general had nothing to do with her office mulling an investigation into Trump University.
The Republican candidate's press secretary confirmed to NBC News that Trump paid a $2,500 fine over the donation to a campaign group linked to AG Pam Bondi.
News of the fine — levied after an ethics group complained that the donation had not been disclosed to tax officials — was first reported by The Washington Post. A Trump Organization confirmed the candidate reimbursed the foundation for the fine.
The newspaper also reported that Trump's foundation listed the donation as intended for a charity with a different — albeit similar — name to Bondi's political group.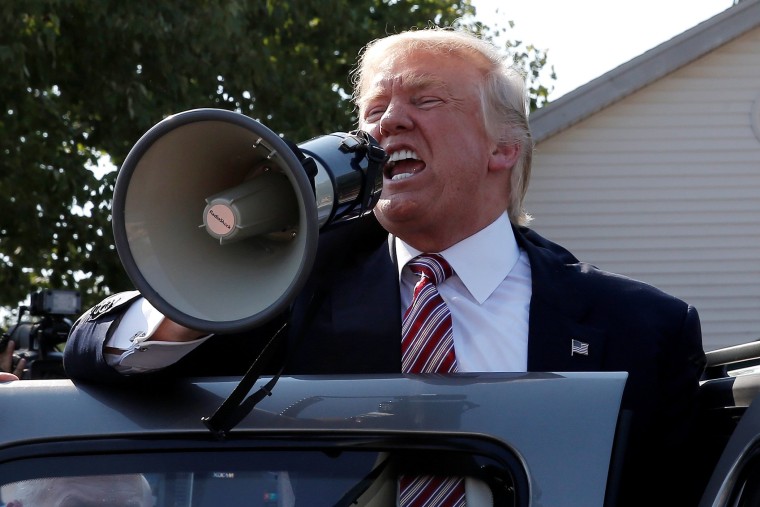 Trump spokeswoman Hope Hicks confirmed to NBC News that Trump had paid the fine but dismissed the incident as "minor."
"This was a minor issue that was brought to the attention of the Foundation and addressed immediately," Hicks said in a statement.
The $25,000 donation came from the tax-exempt Donald J. Trump Foundation on Sept. 17, 2013, four days after it was reported that Bondi's office was considering whether to investigate fraud allegations against Trump University, the Associated Press reported earlier this year.
Bondi, who has endorsed Trump, did not open a case against the tycoon. In a written statement to NBC News, Bondi spokesperson Whitney Ray said, "While there was never an investigation, staff, doing due diligence, reviewed the complaints and the New York litigation and made the proper determination that the New York litigation would provide relief to aggrieved consumers nationwide.
The spokesman said neither Bondi's office nor Florida residents needed to join the lawsuit because Florida residents would be protected by the suit in other states.
The AP's report said Bondi had solicited the donation from Trump's foundation.
However, Trump on Monday insisted he "never spoke to her about that at all."
"I've just known Pam Bondi for years," he added. "I have a lot of respect for her."
News of the IRS fine came amid ongoing controversy around the Clinton Foundation — tied to Trump's opponent. The Clinton Foundation has come under fire in recent weeks amid questions over whether donors sought access to Hillary Clinton during her time as Secretary of State.
No evidence of any illegal activity or clear impropriety has been found, but the developments — spurred by the release of Hillary Clinton's emails — have provided fodder for Republicans to attack the Democratic presidential candidate.
When asked about the Trump foundation's IRS fine, Hillary Clinton said she was "quite taken aback."
"There's so many things that are questionable about that and the IRS certainly thought so and said it was illegal and fined Trump for that set of facts," she told reporters Monday.
Bill Clinton also noted the controversy on Monday by contrasting his foundation to Trump's.
The Clinton foundation has "gotten the top ratings from every one of these rating agencies…and all we've done is save lives and create jobs all across America and all across the world," compared to the IRS fine, he said at a campaign event.
"The rules are clear: a tax-exempt charitable foundation cannot support a political group"
Trump's donation, made to a political group called And Justice for All, was in apparent violation of rules surrounding political activities by charities, the AP reported.
The Post said Trump's foundation made another error by declaring the donation as being to Kansas charity with a name similar to that of Bondi's political group.
The tax complaint [PDF link] was filed in March by the Citizens for Responsibility and Ethics in Washington (CREW).
"The rules are clear: a tax-exempt charitable foundation cannot support a political group," its executive director Noah Bookbinder said in a news release at the time of the complaint. "The apparent failure to tell the IRS about this political activity makes matters worse and is something we've seen too many organizations doing lately."