Donald Trump's favorite topic on Twitter is himself.
A little over a year after making his campaign announcement, NBC News analyzed more than 6,000 tweets from Trump, including retweets, to learn about how the presumptive Republican nominee uses the platform.
Trump's most frequently used words
Trump's most commonly used word, excluding filter words like "the" or "and," is "I." Following that is "Thank," which Trump uses about half as often. "#Trump2016" comes in third.
Overall, Trump tends to talk about his main campaign theme ("making America great again"), his opponents and his national media appearances. As the graphics below demonstrate, Trump tends to use different language depending on whether he is talking positively or negatively about these topics.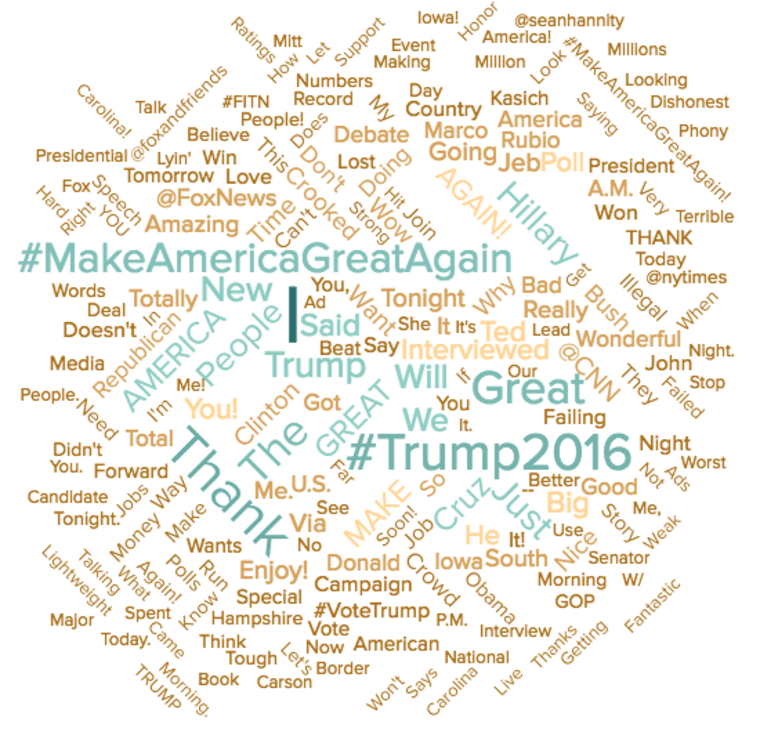 Words used when tweeting negatively
Trump tends to use the word "bad" when he wants to point out something he feels negatively about. He also tends to use adjectives that underline an opponent's lack of strength or integrity. Honesty and legality are major themes for Trump, and he tends to point out where he sees them lacking in harsh tweets about Ted Cruz, Hillary Clinton, Marco Rubio or Jeb Bush.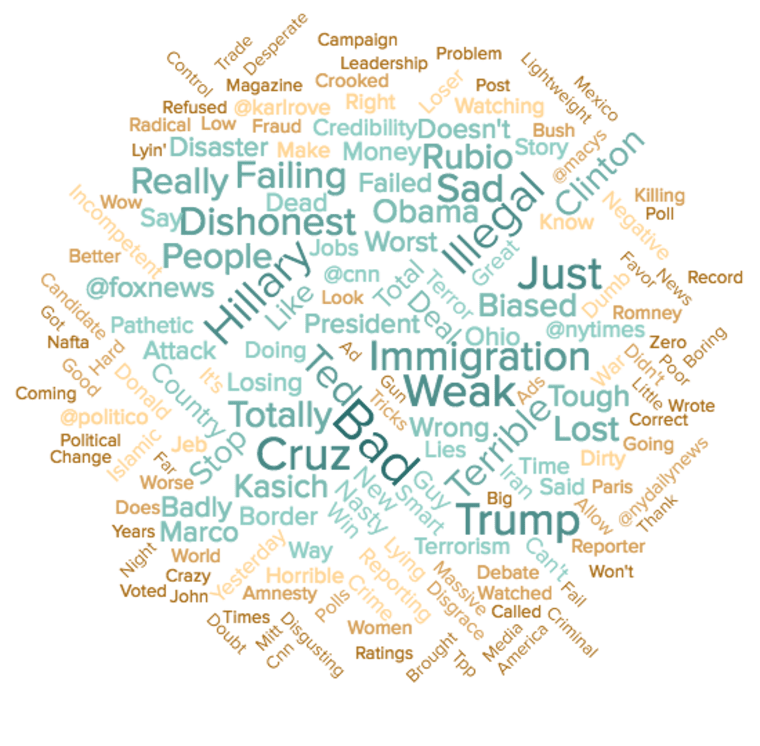 Words used when tweeting positively
Trump uses positive language most often when reinforcing his campaign. He emphasizes experiences he finds "amazing," like his campaign rallies or some media appearances or articles. Sean Hannity, Piers Morgan, Gene Simmons and the conservative news site Brietbart make frequent appearances in these tweets, as do the debates and states where he wanted to perform well during the primaries.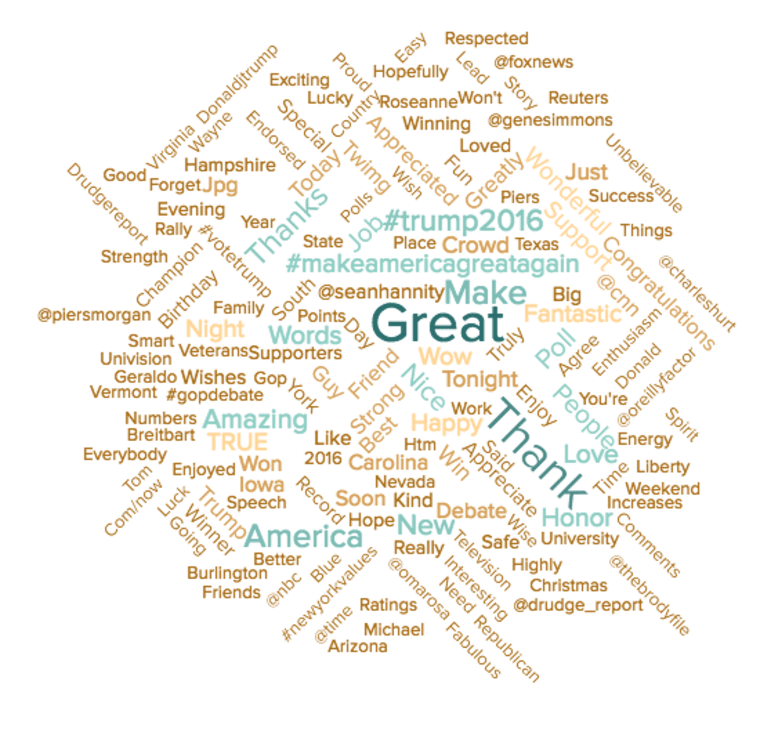 Trump often uses exclamation points to announce events or to dismiss a person or idea.
Trump's Twitter style is famous for its exclamation point-ending sign-offs. He uses exclamation points to reinforce his campaign slogan -- "Make America Great Again" -- and to emphasize ideas he believes in. He also uses them often to dismiss people and media organizations.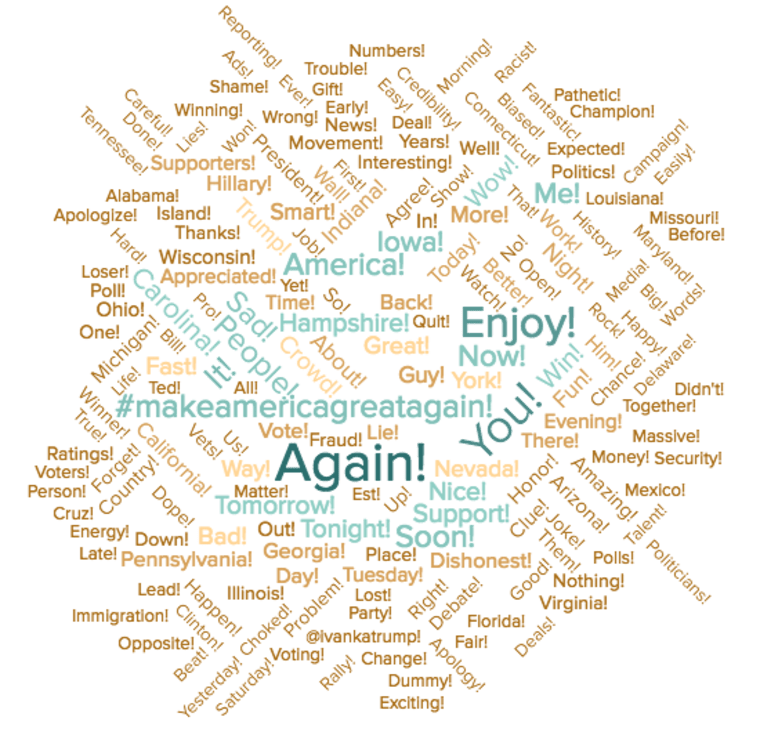 Trump talks about Trump a lot
An analysis by Andy Guess, a postdoctoral fellow in data science at New York University, found that Trump is using the words "I" and "Me" at much higher rates than his Democratic opponent, Hillary Clinton. Trump's use of these words has been steadily declining since the primaries started.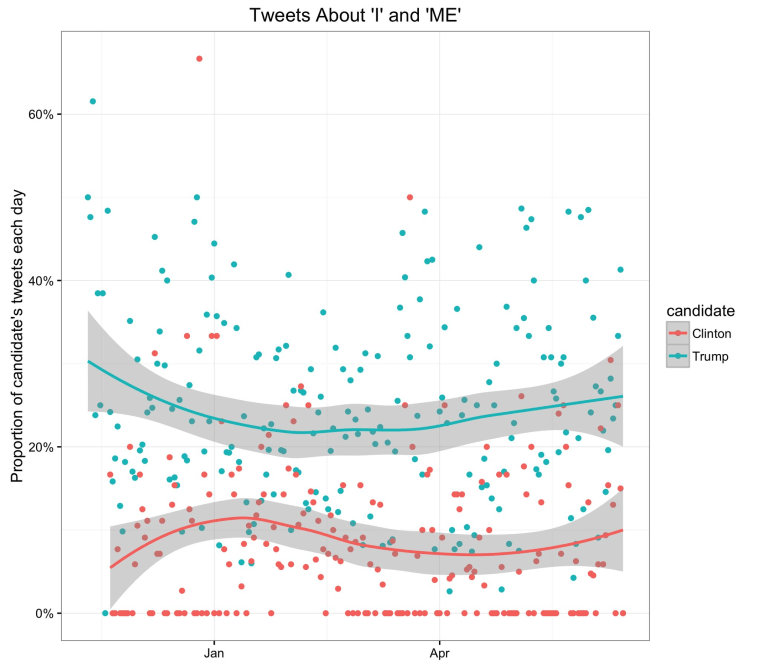 How Trump uses Twitter to attack
An analysis of tweets before and after Trump's feud with Fox News host Megyn Kelly shows a shift in language. Before, he went negative and attacked the Fox News brand.
Tweets about Megyn Kelly before their truce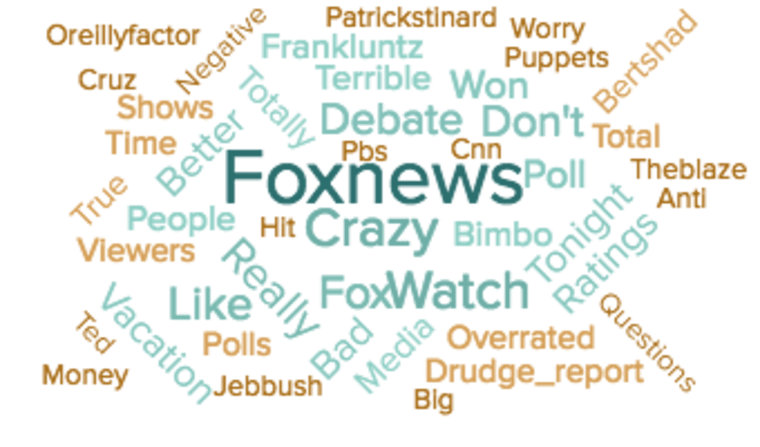 After his Truce with Kelly, he has lavished more praise on her and Fox News.
Tweets about Megyn Kelly after their truce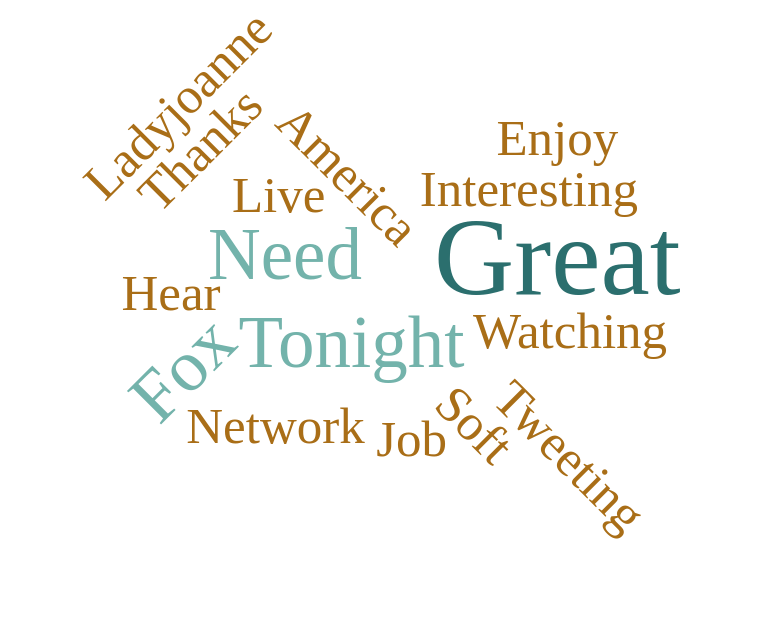 Trump's most frequent phrases tend to be his campaign slogan or announcements about interview appearances.
He also tweets often about Clinton and Massachusetts Sen. Elizabeth Warren, who in turn has attacked the GOP candidate on social media.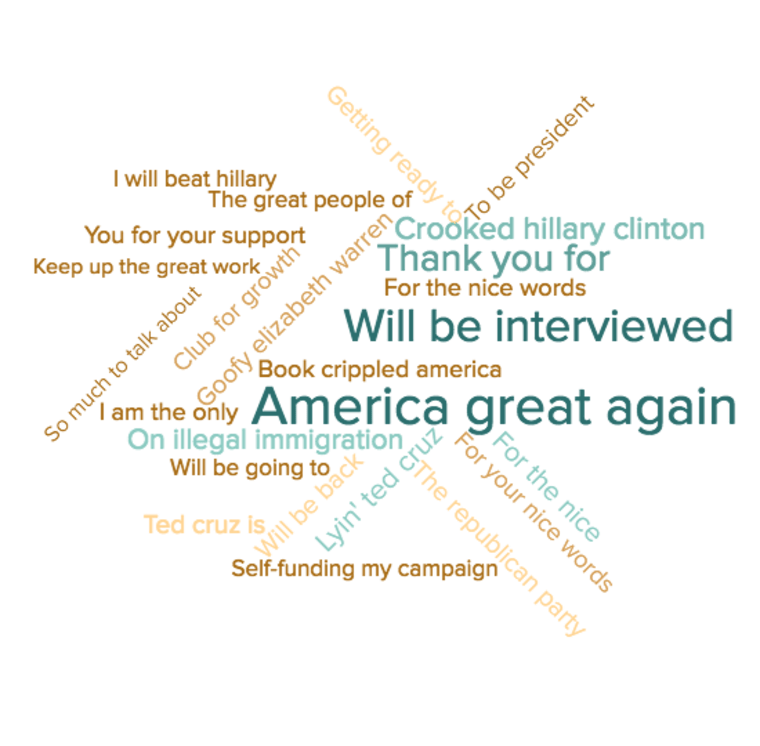 Trump's most popular retweets (without quotes)
Trump tends to use retweets to amplify his campaign, family or right-leaning media.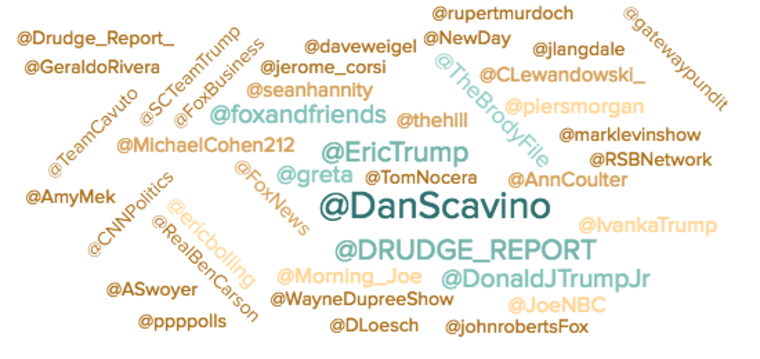 Trump's use of quote retweets
He tends to use "quote retweets" -- a less direct form of retweeting a message -- to boost the signal of his followers. Often he mistakenly posts messages from "bots" -- software-driven accounts that automatically send messages.