DENVER — Even before Donald Trump made the case that the staggering financial loss reported on his leaked 1995 tax return is evidence of his business prowess and resiliency, his supporters were doing it for him.
Trump appears to have reported a loss of $916 million on his 1995 filing, a portion of which was leaked to the New York Times. Three tax experts hired by the Times said the size of the deduction and tax rules governing wealthy filers could have allowed Trump to legally pay no federal income taxes for 18 years.
More than half a dozen Colorado voters Tuesday across two different rallies who spoke to NBC News, spun the narrative as one of a financial comeback akin to what America needs, led by a man who has mastered the system.
RELATED: Trump: I Have 'Brilliantly' Used Tax Laws To My Benefit
The supporters echoed some of Trump's top surrogates, who made the Sunday talk show rounds to proclaim Trump's apparent income tax maneuvering "genius."
Tom Prater of Pueblo, Colorado, called Trump's filing "just good business."
"Any business that knows what they are doing does the exact same thing," Prater said before Trump's rally in Pueblo. "You lose, you are allowed to carry that money over to your next business, to your next year… Any business in the world does it."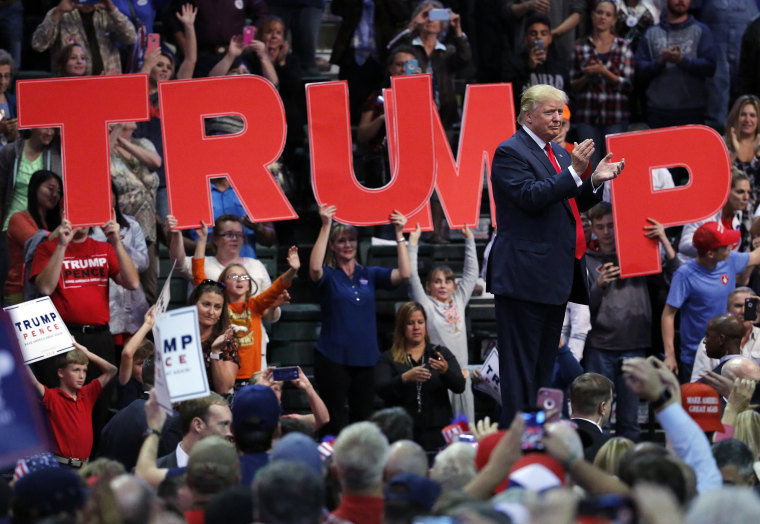 Joe Golik, an electrical contractor standing nearby, picked up Prater's mantle, calling the Times story and its revelations "an irrelevant thing" that "just doesn't matter."
Hours later in Loveland, Kate Borkowski said she found Trump's write off and attempts to use the system in his favor relatable.
"As a businesswoman, I pay as little to no taxes as possible," she told NBC News. "So I'm sure a man in Trump's position, making a lot more money, would have more deductions."
While most Trump supporters who spoke to NBC News voiced support for what they see as his business acumen — an argument Trump himself made at both of his Colorado rallies — some also wondered if it wouldn't just be better to release the rest of the tax returns. "Why not?" asked Toby Stubbings, who attended the Loveland rally with his daughter.
RELATED: Trump Surrogates Say Manipulation of Tax Law Shows 'Genius'
Stubbings already plans to vote for Trump but said that if releasing his entire tax history would bring more voters on board, Trump should get it over with. "Be done with it," he said. "Why not just go for it? His vice president's done it, time for him to do it."
Sandra Lull, some feet away in the crowded standing room area of the rally, felt she'd seen what she needed to in order to vote for Trump. "I think he's disclosed enough," she said, calling Trump a "good businessman."
Lull said she is confident that "when he feels it's a good time and his attorneys tell him it's time," Trump would release his returns "in a timely manner." That is what the campaign has repeatedly said to NBC News when asked. Still, an ongoing audit does not legally preclude Trump from releasing his tax returns.
Golik said there is nothing the candidate could do to lose his support. "He can come out in a tutu and Mickey Mouse ears on, and I will still vote for him," Golik said.