CLEVELAND – Donald Trump, or else.
The Republican nominee, who usually peppers speeches with improvised humor, used his nationally televised acceptance speech Thursday night to lay out a darker version of his core message. Trump described an America awash in blood and corruption that only he can prevent from sliding into the abyss.
After months of speculation that he might eventually soften his tone, broaden his message or roll out policy details, the speech made clear that Trump is going to be Trump — and unapologetically so.
There was little new material to entice groups Trump has struggled to court like women, Latinos, African Americans, and young people. Instead Trump focused on revving up his blue-collar base with his core message of strong borders, resentment towards elites and protestors, and an "America first" plan to protect manufacturing jobs from the forces of globalization. In doing so, he placed a bet that the voters who took him to this point can carry him all the way.
"These are the people who work hard, but no longer have a voice," Trump said. "I am your voice."
Related: Fact-Check: How Did Trump's Claims Hold Up?
Trump telegraphed for days that he planned to borrow heavily from Richard Nixon's 1968 nomination speech, which appealed to white Democrats rattled by rapid social change, rising crime, and riots in cities. Sure enough, Trump's speech repeatedly referenced Nixon's "law and order" slogan and described "a moment of crisis for our nation."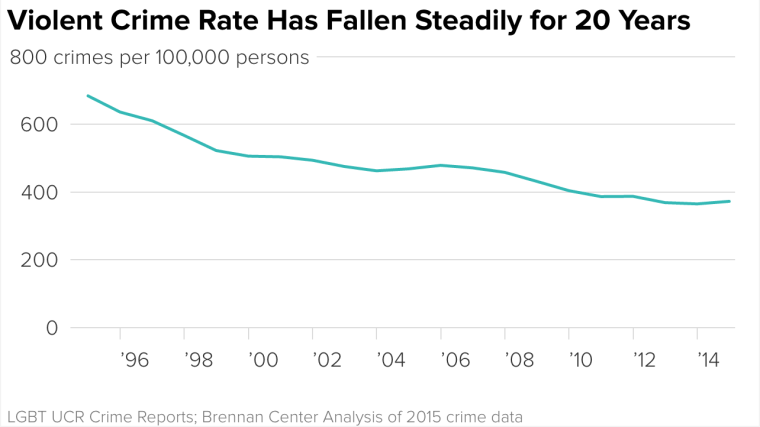 A big question, however, is whether Trump's throwback message, which worked so well for Nixon, can translate to success in a very different country and with a very different kind of candidate. It's not clear a majority of Americans will recognize the terrifying picture he painted.
Trump railed against "terrorism and lawlessness that threatens [American] communities," "violence in our streets," and undocumented immigrants with criminal records "tonight roaming free to threaten peaceful citizens." He denounced "child sacrifice on the altar of open borders."
"The attacks on our police, and the terrorism in our cities, threaten our very way of life," he said.
His speech put a notable emphasis on ordinary street crime; a once-potent political issue as recently as the 1990s that fell off national radar over two decades of falling crime rates. He decried a spate of recent shootings in Chicago and warned of a rise in murders in major cities.
"I have a message for all of you: the crime and violence that today afflicts our nation will soon come to an end," he said. "Beginning on January 20th 2017, safety will be restored."
While Trump cited an uptick in murders in major cities, overall crime is at near historic lows and the electorate is far more diverse than when Nixon's made his appeal.
PHOTOS: Trump Takes Center Stage on Final Night of RNC
Illegal immigration is also well off its peak – the undocumented population in America has declined since President Obama took office based on the most recent available estimates – and polls suggest Trump's base is unique in their intense concern. A Gallup poll this week found that 66% of Americans opposed building a border wall and 84% of Americans favored a path to earned citizenship for undocumented immigrants.
Trump's political style is also different than Nixon in key ways. Nixon ran as the ultimate square: A dependable known quantity who would pursue incremental improvement instead of sweeping change. "I do not promise the millennium in the morning," he said in his 1968 convention speech.
Trump, by contrast has positioned himself as a revolutionary figure taking on entrenched institutions who will bring near-miraculous results while Hillary Clinton -- like Nixon, a familiar and less-than-popular figure -- criticizes him as unhinged and dangerous.
In his speech on Thursday, Trump promised instant relief from crime and terror, to "make our country rich again" and to add "millions of new jobs and trillions in new wealth." While he kept his pledges relatively subdued on Thursday, he has previously said he will deport all 11 million undocumented immigrants within two years, eliminate the entire national debt in eight years (he later walked it back), and even make Americans say "Merry Christmas" instead of "Happy Holidays."
But the focus was less on what Trump could do for America, and more on the rolling horrors inflicted upon it today and the worse ones he promised to stave off.
He recalled the victims of the Benghazi attack, who he said were "left helpless to die at the hands of savage killers" by Clinton, the Secretary of State at the time. He described her legacy as "death, destruction, terrorism, and weakness" and warned she would bring in refugees with radical Islamist views. Her policies, he said, added up to "mass amnesty, mass immigration and mass lawlessness."
"Anyone who endorses violence, hatred or oppression is not welcome in our country and never ever will be," Trump said.
RELATED: At End of Convention, Trump Is Still Trump
The speech was especially jarring coming after remarks by Ivanka Trump, who presented an upbeat spin on her father's agenda that bore little resemblance to his own speeches and rallies. She devoted extended time to celebrating equal pay for women and indicated Trump would help mothers pay for daycare, topics that are mainstays of many Democrats' platforms but rarely associated with her father's campaign. It's yet to be seen whether Trump can incorporate his daughter's softer approach and new emphasis on women into his own agenda.
But any change will be at the margins. Trump delivered a speech that no other Republican could give and that remained true to the tone of his earliest days, when he surged to the front of the GOP field warning of a Mexican plot to send "rapists" across the border. America can take it or leave it.