Donald Trump posted a tweet Tuesday featuring a Nazi swastika next to a picture of GOP rival Jeb Bush.
The outspoken candidate for the Republican presidential nomination — who recently lost his lead in the polls to Ben Carson — has come under fire for inflammatory statements about women and immigration during his campaign.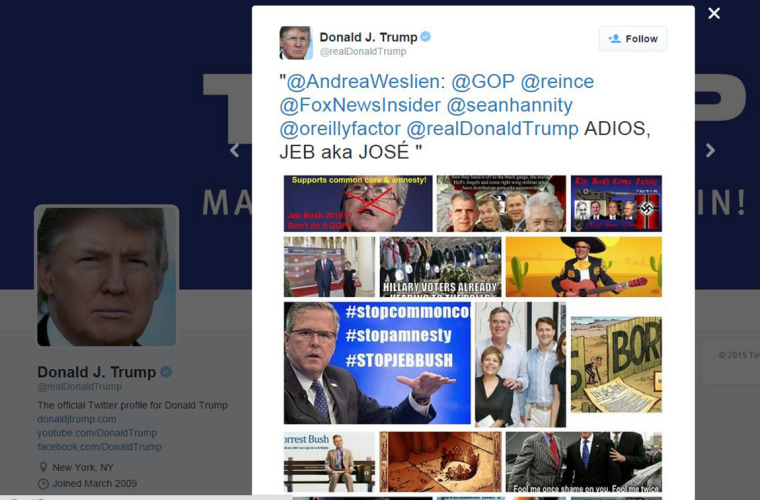 Tuesday's tweet from Trump appeared to be quoting from — or a partial retweet of — a supporter's message with a photo collage of anti-Bush imagery. In addition to the Nazi swastika, the montage featured an image of Bush in a sombrero next to a cactus.
Bush, whose wife is Mexican, has slammed Trump's statements on immigration.
Social-media users were quick to zero in on the controversial imagery.
"Tweeting out swastikas and racial stereotypes to attack @jebBush. Very grown up," one Twitter user wrote.
"You just reposted a photo montage that called Jeb Bush a Nazi AND had him dressed as a mariachi," another added.
Trump's campaign said the candidate had not seen the accompanying image when he retweeted the Tweet "like hundreds of others" and said the post has since been deleted.
Related: 'I Do My Own Tweets 90 Percent' of Time, Trump Says
It wasn't the first time Trump's social-media machine come under fire. In July, his campaign tweeted an image featuring Nazi uniforms. A month later, one of his aides was fired over racially-charged statements on Facebook.