Hillary Clinton is crushing Donald Trump on the fundraising front, electoral filings show, casting doubt on the Republican's claims that money is "pouring in" for his campaign.
Trump raised just over $3 million in May — the month he secured enough delegates to win the Republican nomination — while Clinton raked in more than $26 million, according to the latest filings from the Federal Election Commission.
Those numbers — weak for a Congressional campaign, let alone a run at the White House — have put Trump and the Republican Party at an extraordinary financial disadvantage heading into the general election. And that's not all.
Clinton didn't just out-raise Trump 9-1: She also entered June with much more cash in her coffers.
Trump started the month of June with just $1.29 million cash on hand — compared with Clinton's $42 million.
Related: Seven Takeaways From Trump's Fundraising Report
The candidate brushed off questions about the disparity on Tuesday, telling NBC's TODAY that he's "raised a lot of money" in the past week and will dip into his own pockets if needed.
"I understand money better than anybody," Trump said.
His campaign on Tuesday also sent out a fundraising email from Trump himself saying he would be "personally matching" every dollar pledged within the next 48 hours up to $2 million.
The latest numbers come as Trump's campaign battles turmoil both from outside and from within its ranks.
The candidate's poll numbers have slumped, criticism from Republican officials has continued unabated and rumors of a rebellion at the national convention have swirled.
On Monday, Trump fired his controversial campaign manager with just one month to go before the party's nomination convention.
The fundraising filings released on Monday will likely only add to the scrutiny of Trump's viability as a candidate.
Trump campaign spokeswoman Hope Hicks shrugged off the numbers, saying "there are no concerns" about her candidate's funding.
"The money is pouring in," she told NBC News.
A senior campaign source, meanwhile, stressed that fundraising efforts only kicked in in earnest in late May.
"It has been an exceptionally successful operation," the source told NBC News.
But his paltry $1.29 million in the bank pales in comparison not just to Clinton's but also to Ted Cruz, who despite dropping out of the race on May 3 still had $6.8 million, and beleaguered Democratic hopeful Bernie Sanders' $9.2 million.
Special Report: The United States of Trump
Looking back even further, Mitt Romney's failed campaign in May 2012 by comparison had raised $23.4 million and finished the month with $17 million on hand.
Trump has said he doesn't need GOP funds to win. The candidate pledged to self-fund his campaign of Republican support dries up.
The FEC filings released Monday show that last month he loaned his campaign another $2.2 million — which means he's now transferred the campaign about $46 million over the past year.
But where is the money going? Not a dollar was spent on TV ads — despite an on-air blitz from the Clinton campaign in battleground states.
Much of it went back into Trump corporate products and services, according to The Associated Press. It reported that a review of Federal Election Commission filings shows $6.2 million — or about 10 percent of total campaign expenditures — had been disbursed to the candidate's corporate products and services through the end of May.
The campaign has paid $423,000 to Trump's private Mar-a-Lago Club in south Florida for rent and catering and an additional $135,000 in rent and utilities to Trump Restaurants LLC.
Even $4.7 million spent on campaign swag has a tie to Trump: The provider, Ace Specialties, is owned by a board member of son Eric Trump's charitable foundation.
One receipt from May 16 in the latest FEC filings, for example, shows $31,579.20 paid to Ace Specialties for T-shirts, mugs and stickers.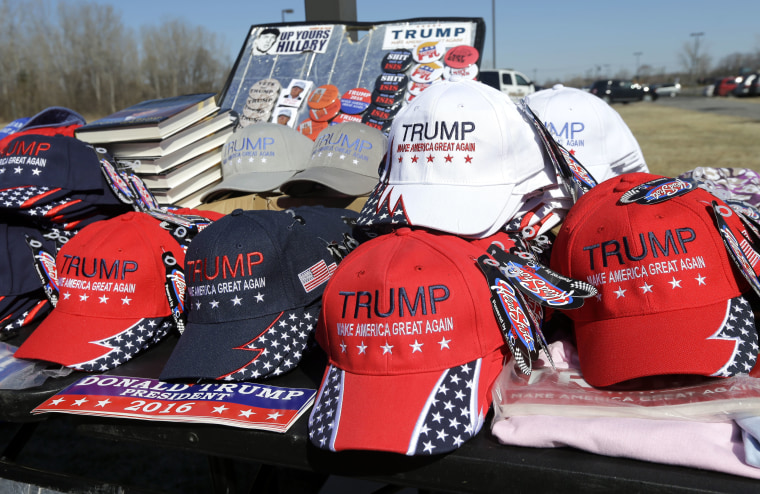 Not all of the spending, of course, has ties to Trump corporate interests.
The latest FEC filings also show receipts for American Express travel insurance — $914.20 — and $1,608.80 to rent the JetSmart Aviation Services facility for a rally in Rochester, New York. Another facility rental, billed on May 26, came in at $791.33 for a space in Syracuse.
Details of the filings — and Trump's shortage of cash — have sparked about the campaign's viability but also a trending hashtag on Twitter.
#TrumpSoPoor was trending in the U.S. early Tuesday, hours after the filings were released.