EAU CLAIRE, Wisc. — If Donald Trump wins Wisconsin, it's all over. At least, that's the way he told it to a packed auditorium on his third and final campaign stop on Saturday.
If he doesn't win, on the other hand, "I don't think it's over because we are way up in New York and New Jersey and Pennsylvania." Regardless, Trump thinks he'll win the nomination before the GOP convention.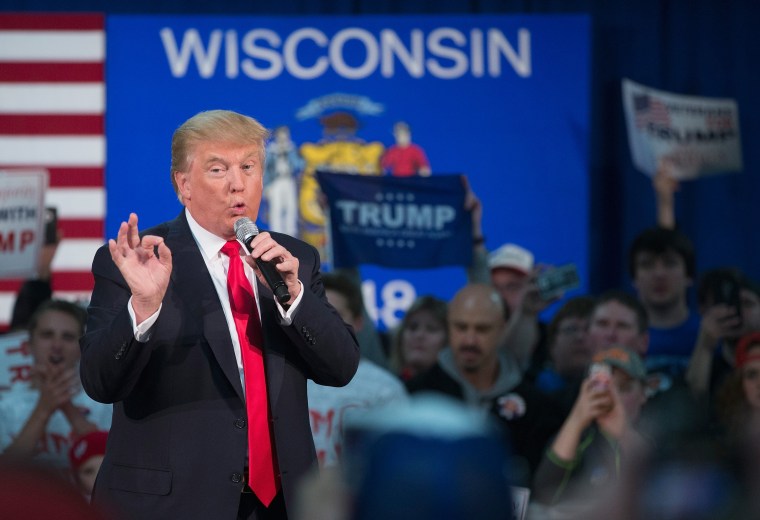 But that doesn't mean he thinks he'll win it because the process is fair. Rehashing a prior win in Louisiana, Trump blamed a corrupt party structure for a loss of delegates to Ted Cruz. "It's not fair, folks. This is not fair," Trump said. "Cause I'm the outsider, and what they do is they want to knock out the outsider because they want to keep their little party going."
Not that Trump wasn't once part of the "little party" himself. Frequently casting himself as a member of the establishment before joining the race for the White House, Trump on Saturday declared he was "like the King of the Establishment, in a certain way," citing past donations to the Republican Governor's Association as an example. Now, he's cast those old ways aside. He told the crowd: Trump is here to work for you.
Trump trails Cruz by double digits ahead of the Wisconsin primary on Tuesday. The candidate plugged a jobs-and-economy message for most of the day, deviating from his pro-jobs, pro-middle-class talking points only to talk about foreign policy, the "obsolete" and outdated notion of NATO, and the absurdity of the Iran Deal.
In light of Wisconsin Gov. Scott Walker's endorsement of rival Cruz, Trump took a few minutes at each rally to read aloud some statistics about Wisconsin's lagging job creation statistics and to knock Walker for how he fared in the early phases of the campaign. "Turmoil" was how Trump termed Walker's Wisconsin as he closed out his final rally, adding that the sitting governor "hasn't done a great job."
Trump also had words for President Obama, who earlier in the week called out Trump for know-nothing foreign and nuclear policy. "The man is incompetent," Trump said. Then, responding to the president's Friday comments, Trump retorted: "I know more about nuclear than he'll ever know. I know what's right and wrong."
The GOP frontrunner then pivoted to discussing Japan and South Korea — who he says we protect for nothing — and their relationship with North Korea. At his rally just a few hours earlier in Wausau, Trump said that Japan should protect themselves against North Korea. "And if they fight, you know what, that would be a terrible thing, terrible. Good luck folks, enjoy yourself. If they fight, that would be terrible, right? But if they do, they do."