Sen. Elizabeth Warren excoriated Donald Trump as "a loud, nasty, thin-skinned fraud who has never risked anything for anyone and who serves no one but himself" and warned of a "full-scale assault on the integrity of the federal judiciary and its judges."
While Vice President Joe Biden said Trump's behavior threatens the independence of the judiciary and added, "It is racist."
For both Biden and Warren — the former chair of the Senate Judiciary Committee and a former Harvard Law School professor, respectively — speaking Thursday evening at the liberal law group the American Constitution Society's convention was a sort of homecoming. It was also an opportunity to tie Trump's recent attacks on Judge Gonzalo Curiel to the broader refusal among Republicans to confirm Barack Obama's judicial nominees, especially Merrick Garland, his pick for the Supreme Court.
"We are losing the fight over whether our courts will remain a neutral forum," Warren said. She said the American ideal is that "if you break the law, you can be held accountable, even if your name is Donald Trump. But Trump doesn't think those rules apply to him."
Related: Elizabeth Warren Endorses Clinton on Rachel Maddow Show
Just in case there was any ambiguity in how Warren sees Trump, she called him "a total disgrace" and "a thin-skinned, racist bully," adding, "You shame yourself, and you shame this great country."
It can be hard for politicians to rally voters around the judiciary, but Warren was careful to put her words in the context of her broader economic populism. "Understand what this is," she said. "Trump is criticizing Judge Curiel for following the law instead of bending it to suit the financial interests of one very wealthy and oh-so-fragile defendant." She said Republicans want to "pound the courts into submission for the rich and the powerful."
On Garland, she said Republicans and conservative groups like the Judicial Crisis Network had criticized him for siding with agencies, which she described as, "He doesn't bend the law to suit giant corporations … And for that sin he faces a nonstop national campaign of slime."
So far, Garland has faced more of a national campaign of being ignored. But Democrats are hoping to shame Republicans, especially vulnerable senators in blue or purple states, into acting by tying the Supreme Court vacancy to Trump.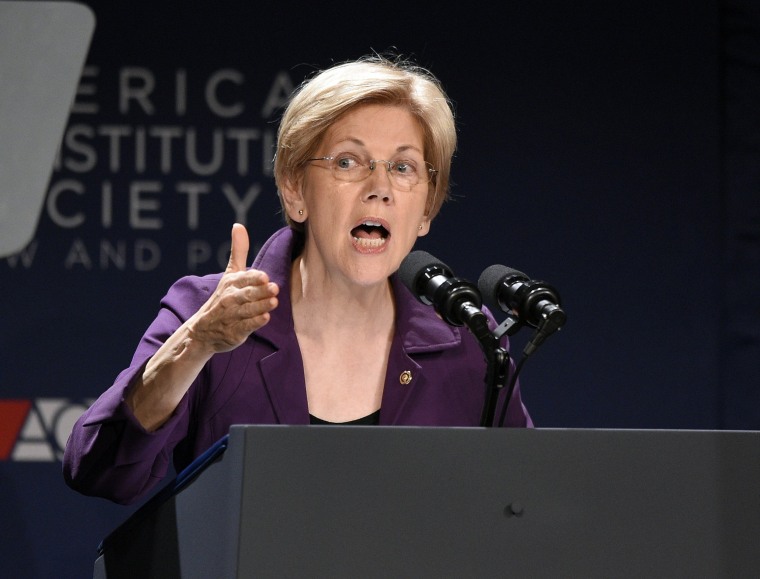 In contrast to Warren's energetic attacks, Biden was somber and furious on Thursday, mentioning at one point that his role as vice president had constrained him.
But Biden said that Trump's comments about the courts showed that he views the judiciary as "a tool for him to manipulate." "These are words, in my view, of one who would defy the courts if they ruled against him as president," Biden said.
He pushed back at Republicans' use of his own past speech to coin the so-called "Biden rule," pointing out that every single Supreme Court nominee that came before him got a hearing — even Justice Anthony Kennedy in an election year. "They started to call it the Biden rule," he said, "and then they realized the Biden rule was the Constitution."