Computer anti-virus creator John McAfee, the self-described "eccentric millionaire"-turned-fugitive from Belize, filed paperwork Tuesday to run for president of the United States as a third-party candidate.
"I am founding a new party yet to be announced," McAfee, who turns 70 next week, said in a statement of candidacy filed with the Federal Election Commission, which was first reported by the political newspaper The Hill. A campaign website soon appeared.
Details on the new party could come as early as Wednesday, when McAfee — who's no longer associated with the software that bears his name — has promised an "official announcement."
McAfee has led a colorful and highly public life since he sold the last of his shares in McAfee Associates almost 20 years ago.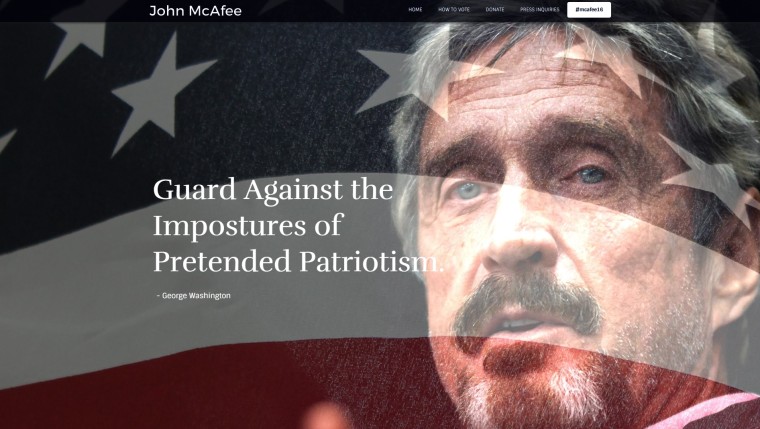 Just last month, he was arrested in Tennessee on charges of driving under the influence and possession of a handgun under the influence. But it was his detention in Guatemala in late 2012 on suspicion that he'd entered the country illegally that made McAfee's name widely known outside technology circles.
McAfee crossed into Guatemala to evade investigators in Belize who wanted to question him in connection with the death of his neighbor. He was deported to the U.S. a few weeks later.
McAfee denied any involvement in the slaying, and he was never declared a suspect by Belize authorities — although they did sell off his seized assets in the country.
Related: 'Dateline NBC': The Fugitive Millionaire
McAfee's blog became a must-read as he posted frequently about his escapades as a fugitive, detailing the many disguises he adopted.
Dean Barrow, Belize's prime minister then and now, described McAfee at the time as "extremely paranoid, even bonkers."
McAfee — whose Twitter biography reads simply "Eccentric Millionaire & Still Alive" — listed his current address in his FEC filing as Opelika, Alabama. His case was chronicled on "Dateline NBC" in March.