Facing a growing backlash over his dispute with the parents of a Muslim American Army captain killed in Iraq in 2004, Donald Trump has continued to defend his proposal to ban all Muslim immigrants from entering the U.S.
Khizr Khan, the father of the late Humayun Khan, blasted the potential ban in his speech to the Democratic convention last week, saying if it were up to Trump, his son "never would have been in America."
The personal dispute has placed a spotlight back on what might be Trump's most controversial proposal.
Leaders in both parties have condemned the ban as discriminatory, counterproductive and probably unconstitutional.
There is another major problem with it, however.
A religious ban would be virtually impossible to implement and would cripple the current immigration system, according to more than 20 security and immigration officials surveyed by NBC News for a special report on how the proposal would actually work.
"You are never going to be able to block the lawful migration of people based on their religious views," said John Sandweg, former Acting Director of U.S. Immigration and Customs Enforcement (ICE).
Asked how a Muslim ban could be implemented, Sandweg said, "It's impossible."
"The volume is probably too significant" to administer a ban, said Don Crocetti, who created the fraud detection and national security program for the Department of Homeland Security (DHS).
"I don't think it's doable," said Michael Cutler, who spent 30 years as a special agent for the Immigration and Naturalization Service (INS).
A Bureaucratic Nightmare
Unlike a resident's nationality or criminal history, only a handful of countries, including Jordan and Turkey, actually track religion, according to immigration experts consulted by NBC News.
Of the 10 countries with the largest Muslim populations, seven simply do not track religion at all. Another three track religion internally, but only one, Pakistan, lists it on passports.
For U.S. customs agents trying to carry out a Muslim ban, that basically leaves no place to start.
Most experts consulted by NBC News stressed that their assessment of Trump's idea was not an endorsement of the ban.
As a practical matter, many hit the same point: The lack of verifiable religious data would make executing the ban a bureaucratic nightmare.
"You would have to start revisiting programs that have been in place for many years," said Michael Cangemi, a former Special Agent in Charge at ICE.
Cangemi, who held a top secret clearance serving on the Joint Terrorism Task Force, said the U.S. would have to question every applicant who might be one of the world's 1.6 billion Muslims.
It would be a massive, unprecedented undertaking.
To reliably verify religion, the U.S. would have to establish new religious "criteria," as Cangemi put it, that "officials would be obligated to ask" in order to ferret out an applicant's beliefs.
Trump has alluded to that approach, when pressed on how the ban would work.
In December, in an interview on MSNBC, Trump said customs agents would say, "Are you Muslim?" during screenings, and then reject anyone who said yes.
'Absolutely Unworkable'
Officials with screening experience say it wouldn't be that simple.
Any applicant bent on criminal activity can foil a generic screening that relies on the honor system.
"The difficulty is if people lie," said Doris Meissner, who served as INS Commissioner for seven years.
"I don't know how you would check against that — it is impractical," Meissner told NBC News.
Proving applicants are lying about their belief system is "an impossibility," said Michael Wildes, an immigration expert.
"This is new territory and you will have prejudice involved," he said, adding, "there is no way" to individually question every visitor on their religion.
David Leopold, former president of an association of immigration lawyers, said enacting a religious test would require "a massive interrogation machine."
"At least with criminal history, there are databases," he said, while vetting applicants' beliefs "is completely subjective."
Depending on how the ban is described, it polls well with Republicans and some other voters.
Leopold said it doesn't matter whether people like the idea or if Trump genuinely thinks he can implement it — an accurate screening of all Muslim immigrants "is absolutely unworkable."
Leopold compared implementing the proposed ban to the special inquiries used for asylum and refugee matters, which can take "months and months" for a single case. Applying that timeline to all entries, he said, would grind all travel into the U.S. to a halt.
'Are You Nuts?'
Other former line agents were more direct.
"What are we going to do, tattoo the crescent on those who are Muslim — are you nuts?" said John Sampson, a former ICE agent.
The image is reminiscent of badges religious minorities have historically been forced to wear, from the six-pointed star Jews wore in Nazi Germany, to clothing Muslims and Jews were required to wear in Medieval Europe.
An 'Uncountable' Price Tag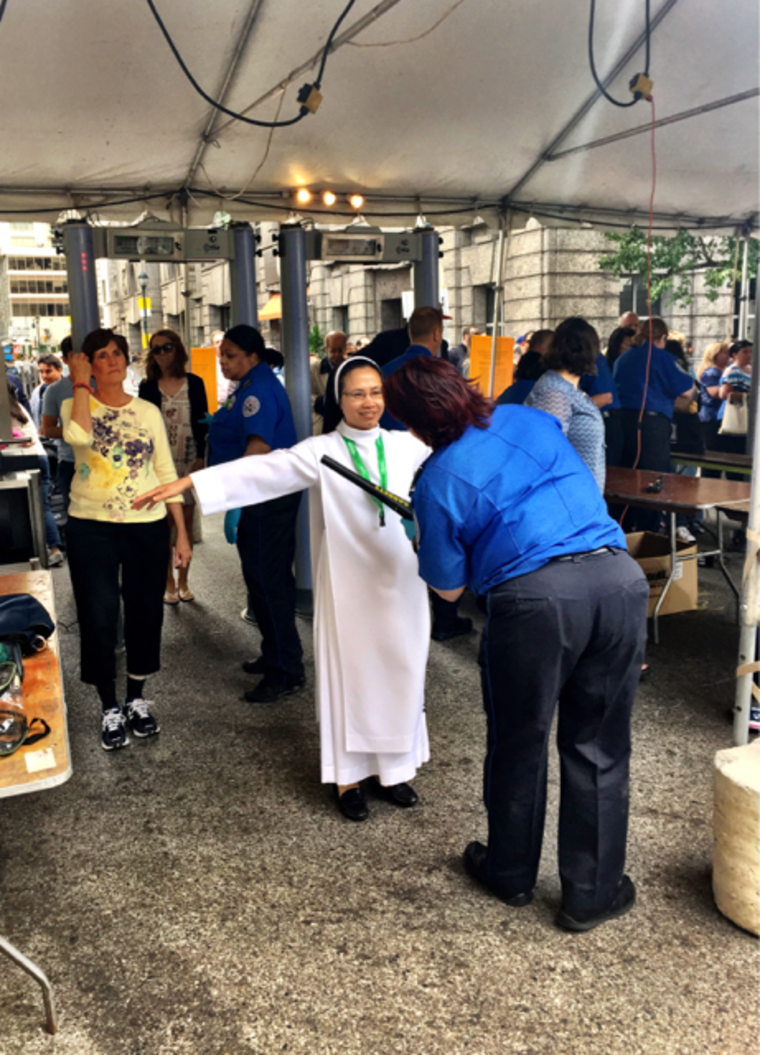 In the nine months since Trump proposed "a total and complete shutdown of Muslims entering the United States," his description of the plan has varied widely.
He said it would be "temporary," without defining a timeframe, and talked about exceptions for Muslim political and sports figures. More recently, he's suggested it may focus more on geography, curtailing immigration from specific countries with links to terrorism.
To be clear, though, Trump has never withdrawn the actual Muslim ban proposal.
He recently told NBC News' Chuck Todd that his comments about geographic targeting are an "expansion" of the original Muslim ban — not "a rollback."
Contacted about this report, a senior Trump campaign aide told NBC News the candidate is focused on suspending immigration from countries with links to terrorism.
The aide repeatedly declined to say whether Trump had withdrawn the Muslim ban, refused to list the countries that would be suspended, and declined to provide a cost estimate for the plan, other than to say it would "save several hundred billion dollars in recouped funds" from benefits provided to long-term immigrants.
The aide's reference to government benefits is relevant to long-term immigrants, while Trump has described a blanket ban that would bar all Muslims from entering the country, be they tourists, diplomats, temporary workers or long-term immigrants.
The policy vagueness is compounded by Trump's decision not to release a written plan or cost estimate. By contrast, Trump released an estimate for his plan to build a wall along the southern border — at $8 to $12 billion — and a two-page memo asserting Mexico will "contribute $_billion" for it.
So, with no plan in writing, few immigration experts were willing to project its exact cost when consulted by NBC News.
Several agreed, however, that the shift in enforcement would be so massive, the plan could easily require multiples of the current spending on immigration — doubling, tripling or quadrupling the current budget.
"You are looking at a five-fold increase" in spending, said Bernard Alter, the former U.S. consul general for Pakistan.
The former counterterror chief for U.S. Customs, Joseph King, estimated it could mean "hiring 100,000 agents" to screen all applicants.
Currently, the U.S. immigration system costs over $21.5 billion per year, counting spending by Homeland Security and the State Department.
Experts said actually implementing a global screening test for Muslim immigrants could swell that cost to $40 billion, $60 billion, or far more.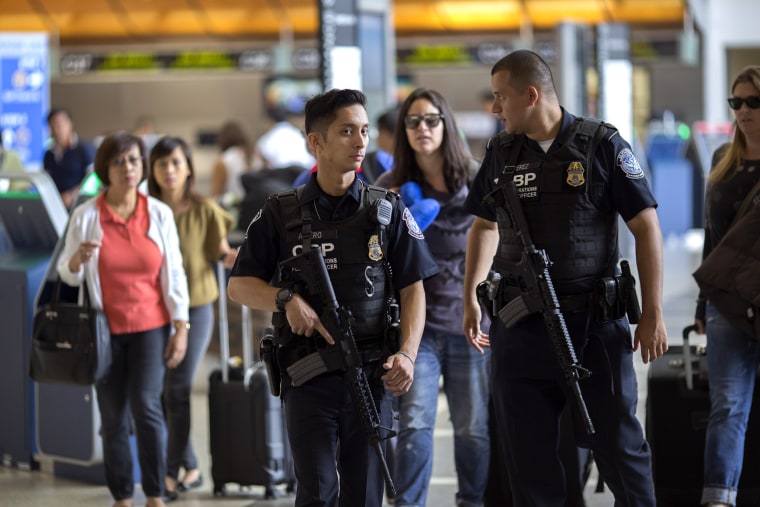 "It would be uncountable," said Philip French, a 30-year veteran of the Foreign Service.
Even if Congress granted that new funding, budget experts say it would be hard for the government to grow at that scale.
"It's hard to do — there's no entity that can double or triple its scale overnight easily," said Douglas Holtz-Eakin, a former Director of the Congressional Budget Office and aide to John McCain.
"If it's done too quickly," he warned, "a lot of the money will be wasted."
French, who worked as a U.S. diplomat on four continents, including a 2008 stint in Fallujah, Iraq, said it would take untold "billions" to launch some kind of "Muslim Determination Department," with a staff to personally vet applicants.
"If you are willing to put in the resources to do a background investigation on every single person, then it can be done," he said, adding, "The more you think about it, the more preposterous it becomes."
'Cripple The System'
Beyond the cost, Trump's proposal also departs significantly from how the U.S. actually vets visitors.
A religious ban would place a new requirement across all immigration screening, upending safeguards and policy priorities that have been decades in the making.
The current model for immigration screening is a tiered process, not one-size-fits-all.
The government turns the intensity of vetting up or down, based on its threat assessments and policy goals.
At one end of the spectrum, the U.S. offers smoother entry for applicants considered high-value and low-risk.
A British executive on a business trip, for example, gets to skip basically all visa vetting. Thanks to the "Visa Waiver Program," citizens of favored countries get to temporarily enter the U.S. without a visa.
At the other end of the vetting spectrum, the U.S. requires strict checks for applicants deemed lower value and higher risk.
A Saudi college student on a tourist trip, for example, faces more hurdles.
An applicant from any country on the U.S. list of state sponsors of terrorism, based on the risk, is simply barred from entering the country on a temporary visa. (Congress passed that law in 2002, four months after the 9/11 attacks.) Indeed, to the extent that Trump simply wants to tighten vetting for those terror countries, the U.S. enacted that policy 14 years ago.
'Chaos'
A Muslim ban could seriously hinder the U.S. economy, which benefits from a constant flow of people entering and exiting the country.
Last year, people legally entered the U.S. 189 million times, according to a U.S. Customs estimate provided to NBC News.
Ten percent of those admissions come through the Visa Waiver Program, which cuts down screening for visitors from favored nations, mostly in Europe.
Experts say the program would have to be scrapped for a Muslim ban, since those visitors would have to be screened.
Ending that single program, which has fostered commerce between America and Europe for 30 years, would cost the U.S. billions in lost business and tourism. It "would be chaos," said former customs official Joseph King.
The U.S. government estimates travelers who came to the U.S. through the program spend an annual $84 billion, which would be jeopardized.
Losing all Muslim tourists would immediately cost the U.S. economy another $18 billion, according to a tabulation by travel reporter Nikki Ekstein.
An Immigration and Trade War
Former ICE officials also caution that immigration policy often triggers retaliation by the countries affected.
"Just about everything on immigration — whatever we do — the host countries reciprocates," said Sandweg, the former ICE Director.
The foreign response to a Muslim ban could range from new rules for religious Americans abroad to trade retaliation.
"You would really have to run the numbers," said former DHS official Julie Myers. "How much revenue will we lose because people are offended?"
The U.S.'s four top trading partners in the Middle East account for about $131 billion in annual trade, according to the U.S. Trade Representative. Barring Muslim executives from the U.S. could hamper that commerce, or they could pull business in response to the ban.
'A Stasi Approach to Government?'
American immigration law is built, like most legislation, on precedent. When Congress tightened immigration rules after the 9/11 terror attacks it didn't start from scratch. It amended an immigration law from 1952. But a Muslim ban would start as a blank slate.
The very idea of the government categorizing people by religion, for the purpose of discrimination, carries dark associations.
Jack Rice, a former CIA officer, said Trump's ban is such a "massive expansion of government" to investigate people's beliefs, any guideposts would likely come from repressive regimes abroad.
"It's almost like a Stasi approach to government," he said, referring to the former East German secret police. "Germany needed so many people to keep a finger on every other person to assure loyalty — are we going to have a loyalty test for everyone?"
To find a precedent for a religious ban, one must look either back in time or beyond America. Today, no country formally bans immigrants based on religion.
A handful have tried.
Saudi Arabia publicized a policy to ban Jewish immigrants until 2004. (It was not actually "enforced in practice" at the time, according to the U.S. State Department)
In Germany, where Muslim immigration is a major political issue, officials have pushed some rules to vet Muslims.
One state introduced a loyalty tests for Muslims in 2005, but later narrowed it. Germany's federal government also enacted a policy scrutinizing some Muslim residents as potential terrorists, which a German Court overturned in 2006 as too focused on religion.
As for America, a search of the U.S. code — all federal laws on the books — shows every reference to religion functions to welcome religious adherents, not discriminate against them.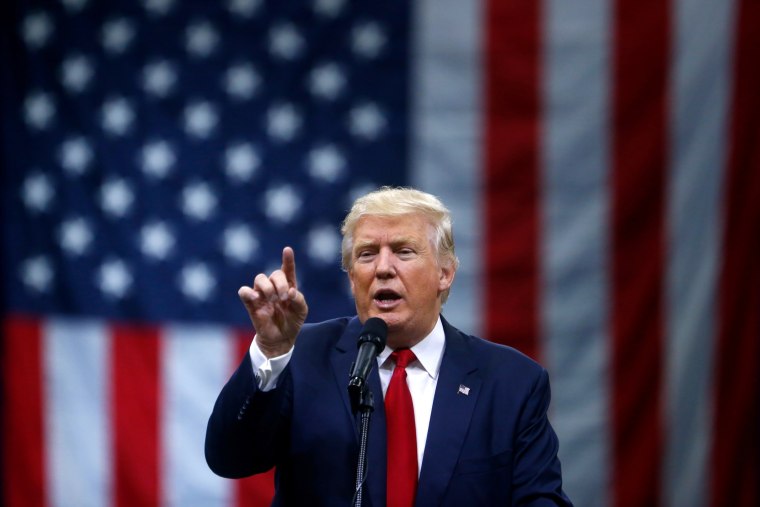 There are laws welcoming ministers to worship in America with "religious worker visas," for example, and laws granting immigrants admission if they face persecution for their religion.
To find laws invoking religion to limit immigration, you have to go back in time.
In 1891, Congress banned polygamists from entering the country, an attempt to limit Mormon immigration, according to research by Harvard historian Nancy Cott.
During the refugee crisis after World War II, Congress also restricted Jewish and Catholic migrants.
"The consensus of Congress was that too many Southern and Eastern Europeans, predominantly Catholics and Jews, were coming into the country," explains historian Roger Daniels, who wrote an official account of the period for a State Department publication. (The restrictions used quotas to limit entries, not a ban of any religion.)
The U.S. has also long used immigration restrictions against ideologies deemed threatening to national security.
There are bans against admitting anarchists, communists and enemies of the U.S. For example, an applicant with loyalty to ISIS, or adherence to the sect of militant Sunni Islam practiced by its leader, Abu Bakr al-Baghdadi, can be flatly rejected on national security grounds.
Popular Policy
By historical precedent, Trump's Muslim ban is one of the most stringent proposals ever offered by a major party nominee.
That doesn't mean it's unpopular.
In recent polling, support for the policy ranges from about 20 percent to 50 percent.
The popularity depends on whether its described as a ban of "all Muslims from entering the U.S." — a bridge too far for many — or whether the plan is narrowed to "temporarily banning" non-citizens who are Muslim.
If nothing else, Trump's unusual campaign appears to have normalized the once-maligned notion of the government applying a religious test. Millions of Americans are now intrigued by the idea, which has largely been debated without any detailed effort to reckon with its implementation or cost.
According to the officials who handle U.S. immigration and security, however, the most practical problem with Trump's plan is not about social controversy or discrimination.
It's about governing — and whether a plan that may cripple the immigration system could actually be implemented.
It is a major question in this year's politics, a field long known as the "art of the possible."