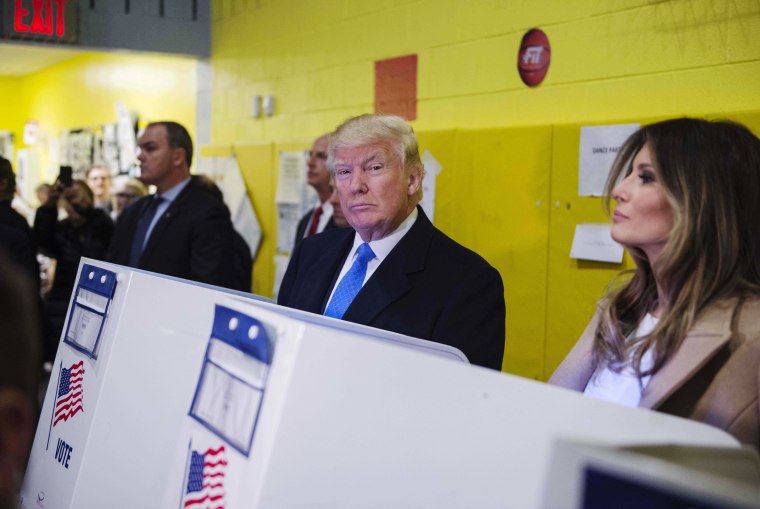 Republican nominee Donald Trump continued to question the integrity of American elections throughout the day Tuesday, repeatedly claiming without evidence that the polling places and electoral system is "rigged."
"We have to keep the system honest. We have a very, very, we have a very, very serious situation with the whole process, and I've been talking about the rigged system for a long time," Trump said on Fox News on Tuesday afternoon, adding moments later: "It's largely a rigged system. And you see it at the polling booths, too."
You don't, actually: Voter fraud in person is extremely limited.
One Loyola researcher tracked a billion ballots and found 31 credible cases of voter fraud. The Brennan Center for Justice at New York University School of Law found it more likely for an individual to be struck by lightning than commit in-person voter fraud.
Long lines, broken machines, and problems with voter rolls are typical on a day when millions cast their ballots. Nearly everyone agrees the voter rolls are riddled with inaccuracies and out-of-date voter information, but what is missing from Trump's argument is any evidence that those problems are being used to falsify or defraud election results and ballots.
A Nevada judge refused to issue an order to seize ballots after a lawsuit by Trump's lawyers alleging that polling places — including one in a heavily Hispanic neighborhood — were improperly kept open late. The state defended its actions, explaining that voters who are in line at the time of poll closings are allowed to vote. The judge ruled that she would not punish or open up poll workers to harassment for trying to help people vote properly.
"I have great representatives in Nevada, and a lot of other places, and they felt it was a pretty bad situation out there," Trump said.
Later in the afternoon, Trump tweeted that there were problems with voting machines in Utah "just now," referring to problems Utah officials say occurred with touch-screen voting machines that were resolved before noon. Utah officials confirmed to NBC News that paper ballots were used in the interim. There's no evidence that anyone was disenfranchised, or allowed to vote improperly.