Mary Fallin, the two-term governor of Oklahoma, returned this weekend from an informal meeting in Washington, D.C., with members of the RNC platform committee, which she will co-chair at the GOP convention in Cleveland next month.
But Fallin has the potential to personally take a much greater role in expanding that platform if she is asked by Donald Trump to serve as his vice presidential running mate.
The presumptive nominee has indicated that Fallin could be among those he would consider asking to join the ticket but one individual close to Fallin said again this week that the campaign had still yet to directly reach out to the governor or request personal information for a vetting process.
Fallin, however, met Trump two weeks ago at Trump Tower in New York City as part of a meeting with several other GOP governors.
Fallin endorsed Trump's candidacy enthusiastically in May and said "I would be very honored if I were to receive a call saying I need you to help make America great again."
Several individuals close to Fallin are painting her as a pick who would effectively complement the free-wielding, unvarnished Trump on the campaign trail and in the White House.
They laid out a litany of qualities to NBC News that, they suggest, situate her as an attractive running mate.
This is Fallin's sixth year as governor of Oklahoma after winning re-election in 2014. She previously served four years in the U.S. House.
Fallin, 61, could fit Trump's descriptor of a "winner" -- she has never lost an election, winning both races for governor and both for the U.S. House. She also succeeded in three elections for the Oklahoma lieutenant governorship and twice in runs for the Oklahoma state House.
RELATED: Who Will Donald Trump Pick as His Running Mate?
Those close to the governor suggest Fallin would bring a "softer touch to the face of the [Trump] campaign," as noted by her former chief of staff of seven years, Nate Webb, suggesting Fallin's "folksy" style would make her the "complete antithesis" to Trump.
"She discusses policy issues in a manner that you can relate to," Webb said. "They walk away saying, 'I like her.' Everyone thinks of her as a friend -- and that's gold in this world."
One source close to the governor described her as someone who may "disagree politically, but it's not a personal vendetta."
Alex Weintz, her former communications director during her time in Congress and first five years as governor, asserted Fallin's "charismatic, telegenic" and "sincere" appeal would complement Trump well.
"There may be some yin and yang there with Donald Trump, who is very forceful in his delivery -- an alpha dog," Weintz said. "Governor Fallin is more low-key and nuanced."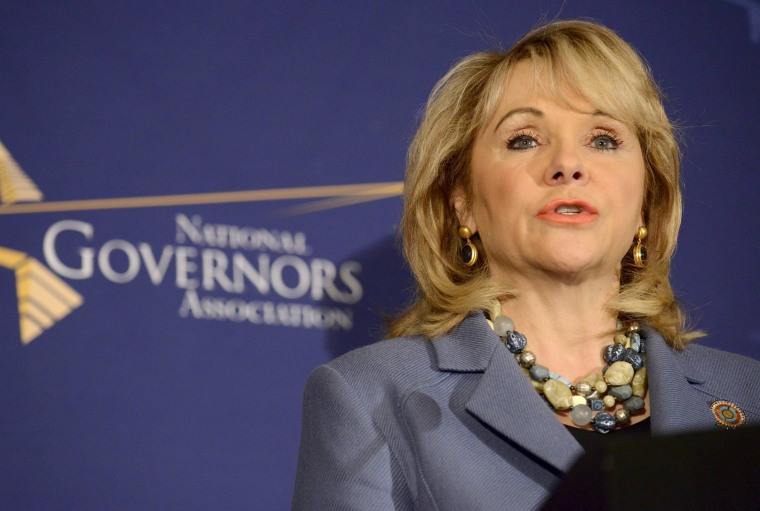 The selection of Fallin would also provide a female counter to Hillary Clinton, the first woman to headline a major party's presidential ticket. The list of women floated as consideration for Trump's running mate is thin – among those considered top contenders, Fallin is the only woman who has openly expressed a willingness to join Trump on the stump.
Fallin's former aides do not envision her playing the role of attack dog against Clinton – a contrast to the role that Carly Fiorina thrived in for Ted Cruz's bid. And in the case of Trump, he has already shown little hesitancy to fill that position himself.
Those close to Fallin, instead, believe her personality -- an inverse to Clinton's "wonkish and technocratic" tendencies, they suggest -- will speak for itself.
Glenn Coffee, former secretary of state and a close adviser during her first term as governor, said Fallin's knack for "building relationships" would aid Trump in moving his legislative agenda, "much like the current vice president does for President Obama."
Fallin also served as the head of the National Governors Association from 2013 to 2014.
If selected, the governor, however, would be a relative unknown nationally. A Morning Consult poll released last month found she is unknown to 46 percent of Republicans in the country.
And Fallin's home state would bring little in the form of electoral significance to the Republican ticket -- the last time Oklahomans did not side with the Republican nominee in November was 1964.
However, Fallin could help Trump shore up support in other traditionally conservative states, like Texas and Utah, where he's struggling to whip up the support of a constituency that found itself inclined to the likes of Ted Cruz, who garnered seven million votes during his primary run.
Oklahoma Troubles
But Fallin is not without her detractors. She has an approval rating in the state of just 42 percent, according to a May poll by Morning Consult, leaving her presently with the tenth-worst approval rating among governors in the country.
Much of the public scorn corresponds with the severe drop in the demand for the state's oil and natural gas, which ignited a sharp decline in production, the loss of thousands of energy-sector jobs and a plummet in tax revenue for the state coffers.
Consequently, Fallin was left with a $1.3 billion shortfall in the state budget to deal with this spring.
Observers acknowledge the energy downturn was of no fault of Fallin's, but they suggest she bears part of the responsibility for the state's unpreparedness to handle its fiscal crisis.
"It is also due to a significant extent to policies that she and others in office have been pursuing in recent years," said David Blatt, the executive director of the left-leaning Oklahoma Policy Institute and a persistent voice challenging many of the governor's efforts.
Two years ago, Fallin controversially backed the continuation of markedly low tax rates for the oil and gas companies and also signed into law an income tax cut -- which, together, left the state devoid of hundreds of millions in revenue.
The state's financial crisis and, particularly, its struggling health care system has led to one hospital shutting down because of financial instability. Others are now trying to veer away from similar fates.
Earlier this month, Fallin signed a state budget that excluded key, controversial elements she had pushed hard for. A source close to the governor acknowledged frustration that the budget failed to include key – though controversial -- proposals she hoped would shore up the state's deficit.
"She did everything she could do," the source said. "Her style, some could argue, is one in which she is not going to criticize, belittle legislators in public. She's trying to work together with them."
Fallin attempted to negotiate the expansion of the state's Medicaid program in order to receive the federal funds offered by Obamacare. She also efforted the implementation of a cigarette tax and other expansions to the state's tax structure that would have helped generate an additional several hundred millions of dollars in new revenue for the state.
The policies, not in step with a large contingency of her fellow Republicans, were rejected by the Legislature.
The governor's efforts over the last month to negotiate with lawmakers were viewed as a test for Fallin's ability to sway her colleagues in the legislature.
One month ago, several close to the governor hailed to NBC News Fallin's ability to win over her legislative body counterparts in Oklahoma -- and her potential ability to replicate that as vice president with members of Congress. And Blatt, the frequent critic, suggested, in fact, Fallin has been "fairly pragmatic" as governor.
But during these budget negotiations, which resulted in the rejection of her tax and Medicaid expansion efforts, Keith Gaddie, the chair of the University of Oklahoma's political science department, raised questions of whether that translated into an effective ability to press her agenda.
"When your own party controls 75 percent of the seats in your legislature -- how are you going to move an agenda in Washington, D.C., when it's much more polarized and the stakes are even higher?" Gaddie questioned.
Fallin has relented to other demands of the legislature in the past. In the summer of 2014, she signed a law repealing the state's adherence to Common Core educational standards despite lauding them just months earlier.
"Common Core, obviously, she supported it," an individual close to Fallin noted. "But again, social media drove people to think Common Core was a federal government idea. And President Obama is one of those buzz words in Oklahoma -- once somebody gets suspicious of something, say, 'Barack Obama.'"
This April, however, her allies attest, Fallin effectively persuaded the Oklahoma legislature to buy into her criminal sentencing reform legislation. It repealed mandatory minimum sentences for drug possession and gave greater discretion to prosecutors on filing charges as misdemeanors instead of felonies.
Weintz suggested Fallin's willingness to take sometimes unpopular positions on an array of issues exhibits a "pragmatic, results-oriented conservative" who is "not necessarily as focused on the ideological dogmas."
Perhaps at the forefront of Fallin's rejection of "ideological dogmas," she, again, ruffled some conservatives last month when she vetoed a bill approved by the state House and Senate that would have made it a felony for a doctor to carry out an abortion.
And on immigration, drawing a contrast to Trump, a source close to Fallin suggested this would be Fallon's approach: "Instead of coming out with a statement or policy that, 'Anybody like this is bad. We're going to deport them. We don't want these people to come in -- they're bad.' I think maybe she'd bring, you know, 'Let's take a look at some individual cases instead of stereotyping people.'"
Public Perception
Fallin's introduction to the country would bring instant inspection into a life that has largely stayed out of national headlines.
She was heralded in 2013 for her response to the tornado in Moore that killed 24 and ravaged the city's neighborhoods.
A year later, however, Fallin faced backlash when she issued an executive order to defy the state supreme court's stay on the pending execution of death-row inmate Clayton Lockett despite questions over the effectiveness of the drug that would be used for the lethal injection. The state's corrections department subsequently botched the execution in which Lockett verbalized and writhed over the course of 43 minutes.
The state has also been panned for its dramatic increase in earthquakes -- tied to the injection of wastewater from fracking into the ground -- during Fallin's tenure as governor. Last year alone, 585 earthquakes of a magnitude 3 or greater were recorded compared to an average of less than two a year prior to 2008. Fallin acknowledged the connection last year but then signed a law that prevented local governments from banning fracking to protect the fundamental industry.
But Fallin would face even greater inquiry beyond her tenure in the Sooner state.
Fallin's former aides assert she could slide in comfortably into foreign policy discussions after having served on the House Armed Services Committee while in Congress.
"You wouldn't have these VP foreign policy moments where she's been unable to identify being involved in foreign policy lines," Weintz said.
But in perhaps her most controversial vote in Congress, Fallin voted in 2008 for TARP, the Troubled Asset Relief Program, which designated $700 billion to bailout the U.S. financial system.
Fallin married her second husband in 2009 after divorcing her first husband in 1998. And Fallin's daughter, one of two children, has frequented Oklahoma headlines, including wearing a headdress that unnerved many of the state's Native Americans and living in a trailer on the property of the governor's mansion.
The governor's path has also evolved around her evangelical Christian faith, an aide said, attending Crossings Community Church, a megachurch in Oklahoma City, where last month one particular Sunday, at a service attended by NBC News, her senior pastor, Marty Grubbs, delivered a message at seemingly a befitting time for the possible Republican running mate.
"We believe the Bible teaches very clearly that God calls women to be in ministry and to lead," Grubbs said. "It's woven through the Bible."