Hillary Clinton did not know that "c" stood for confidential.
That was one of the revelations in the notes the FBI released Friday from their interview with Clinton about her use of a private email server while she was Secretary of State.
The notes which total 58 pages, including 14 that are redacted in full, provide more insight into the email scandal that has left a shadow over her campaign.
Documents reveal that Clinton, who as secretary of State bypassed her State Department email and installed a private email server at her home in Chappaqua, New York, was not aware of the challenges, questions and problems that could result from a high level U.S. official sidestepping security and archival guidelines.
But they also show Clinton's lack of understanding of standards that govern government officials, especially those with top security clearances.
Email Archive Deleted
The FBI notes show that the deletion of emails began after the New York Times first reported Clinton's use of a private email server, which could be a violation of public records' laws.
Someone the FBI interviewed, but who was redacted in the released documents, said he had an "oh sh--" moment around March 25, 2015 when he deleted Clinton's archive mailbox after realizing that he forgot to implement an "email retention policy changes" that had been requested in December 2014, several months prior, by Clinton's top aide, Cheryl Mills.
The New York Times released their story March 2, three weeks before this individual began deleting the archive.
Security Breach
The FBI found no evidence confirming that Clinton's email accounts or mobile devices were compromised, but efforts to penetrate her email did occur.
The FBI notes indicate that they found phishing emails sent to Clinton's private account on multiple occurrences. At one point, she opened an email that "contained a potentially malicious link" and she replied to the email asking if "is this really from you? I was worried about opening it!"
In the notes, the administrator of the server, Brian Pagliano, told the FBI that while no security breaches occurred, "he was aware there were many failed login attempts, which he referred to as brute force attacks."
Furthermore, the FBI found, according to their investigation, that Clinton's email traffic "was potentially vulnerable to compromise when she first began using her personal account in January 2009" until late March of that year, when Pagliano set up login credentials and encryption.
However, as FBI Director James Comey reported on July 5, the FBI's inability to obtain all mobile devices and various computer components associated with the personal email systems prevented them from determining conclusively that classified information transmitted and stored on the personal systems were not compromised.
"The FBI did find that hostile foreign actors successfully gained access to the personal email accounts of individuals with whom Clinton was in regular contact and in doing so obtained emails sent to or received by Clinton on her personal account," Comey said.
In addition, of the 81 classified emailed chains sent on Clinton's private server, two were among the most sensitive because they are released only to a group of English-speaking countries who share a joint-intelligence sharing arrangement, also known as FVEY. Under FVEY, the U.S. provides some of its most sensitive electronic eavesdropping to the intelligence services of partner countries.
'Not Aware'
The FBI notes said that Clinton "never deleted, nor did she instruct anyone to delete" her email to avoid compliance with the Federal Records Act or official requests for information. Clinton said she "trusted her legal team" to "comply with the request" to obtain pertinent work-related information.
The secretary also mentioned in her interview that she had communicated with former Secretary of State Colin Powell about the use of a non-state email, and he said that anything in writing would be a government record so she wasn't concerned about bypassing government record-keeping guidelines.
At least one State Department employee, according to the 58-pages of notes written by FBI investigators, was concerned with Clinton's use of a private server, but Clinton said she was "not aware" that the concern existed.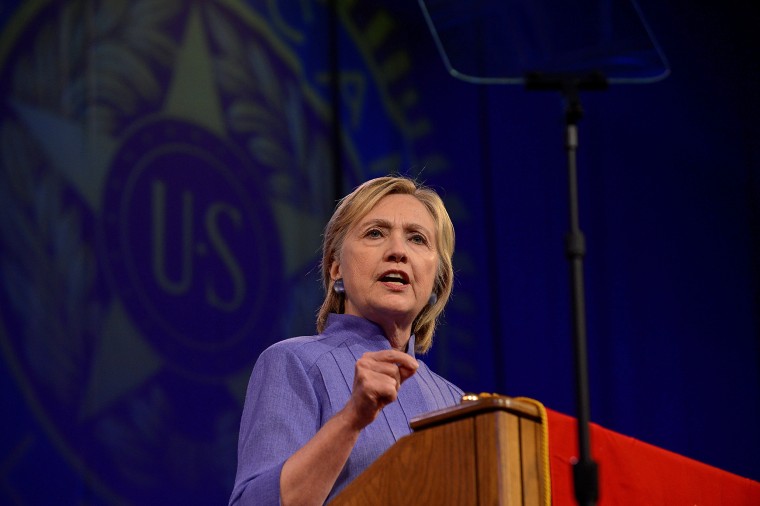 Clinton also told FBI investigators that she wasn't sure what the "c" meant next to paragraphs in one email that was used to designate confidential information. She said she didn't know the difference between different levels of classification but that she took them all "seriously."
The State Department has previously said that officials can "confirm that a sentence in a document released in our online collection of former Secretary Clinton's email includes a marking to indicate that the sentence was classified at the confidential level, the lowest level of classification. However, given the context of the document it appears the marking was no longer necessary or appropriate at the time it was sent."
Clinton was also questioned about training for handling classified information, but she couldn't recall receiving any training.
She told investigators that she did not intend to use the server to evade historical records act and that she requested a secure BlackBerry device when she first arrived at state but she was denied one, for reasons she couldn't remember.
The FBI notes that for their investigation they requested all 11 of Clinton's BlackBerry's used with her private server, including eight from her time as secretary of State, but her attorneys said that four years after her service ended, they couldn't locate any of the devices. The FBI did obtain two of her five iPads, but Clinton aide Justin Cooper told them that twice he destroyed old devices by breaking them in half or smashing them with a hammer.
The Donald Trump campaign said that the latest documents further show that Clinton was "reckless" and "dishonest."
"Clinton's secret email server was an end run around government transparency laws that wound up jeopardizing our national security and sensitive diplomatic efforts," Trump spokesperson Jason Miller wrote in a statement.
The FBI had already granted Congress access to the documents with the understanding that some of the material would be made public.
The release detailed the FBI's 3.5-hour interview with Clinton on July 2 and the FBI's memo to the Justice Department recommending that no one be prosecuted.
The FBI does not produce verbatim transcripts of its investigative interviews. Under the FBI's long-standing policy, agents do not make audio or video recordings of their interviews. Instead, summaries of the interviews are written on FBI Form 302, and have come to be known as "302's."
An FBI policy paper explains that "the presence of recording equipment may interfere with and undermine the successful rapport-building interviewing technique which the FBI practices.
Two years ago the Justice Department said FBI agents should begin recording interviews, but only involving "individuals in federal custody, after they have been arrested but before their initial appearance" in court. That rule did not apply to the Clinton interview, which was voluntary.
The State Department on Friday said that it doesn't have full insight into the FBI's investigation and therefore "it would be inappropriate for us to comment on their findings or their recommendations."
"It's important to remember that the FBI memo and 302s are not transcripts — they are summaries. Furthermore, it is not appropriate to consider pieces of evidence outside of the broader context. So the State Department is not going to parse every individual piece of evidence that may be characterized through the media. As Director Comey noted in his July press conference, the FBI's view was that 'no charges are appropriate in this case,'" State Department spokesman John Kirby said in a statement.
Clinton Campaign 'Pleased'
The Clinton campaign said they are "pleased" the FBI has released the documents.
"While her use of a single email account was clearly a mistake and she has taken responsibility for it, these materials make clear why the Justice Department believed there was no basis to move forward with this case," Clinton spokesperson, Brian Fallon, said in a statement.
Clinton's interview with the FBI, which took place July 2, was the culmination of a year-long investigation into Clinton's email practices. The head of the FBI, James Comey, recommended that no charges be filed because, in part, there was no "clearly intentional and willful mishandling of classified information."
The controversy over Clinton's private email server — and the deletion of about half of her emails because her attorneys deemed them personal in nature — has dogged Clinton throughout her presidential run. It has led to ongoing questions about her trustworthiness and an appearance of entitlement that has contributed to the lowest favorability ratings of any recent presidential candidate — other than her opponent, Donald Trump.