The field of candidates interested in chairing the Democratic Party as it rebuilds after Donald Trump's surprise win is growing quickly, despite strong early support for Rep. Keith Ellison.
The list expanded rapidly on Friday, and is likely to continue to grow, as Democrats consider who they want filling what will become a central role in shaping the Democratic Party's future.
Labor Secretary Tom Perez is considering the post, according to a source familiar with his thinking, as is former Maryland Gov. Martin O'Malley, South Carolina Party Chair Jaime Harrison, New Hampshire Chair Ray Buckley, Missouri Secretary of State Jason Kander, and former DNC Chair Howard Dean.
"I think it's fair to say he will want to play a leading role in the fight against hatred, bigotry, sexism, and woefully misguided foreign policy that Donald Trump has espoused and many of his fellow Republicans have supported," a source close to Perez told NBC News.
Chairman of the Democratic National Committee is "a good platform for all of that, and he has plenty of experience rebuilding dysfunctional organizations," the source added, pointing to Perez' tenure leading the Department of Labor and the Civil Rights Division of the Department of Justice.
Perez was a loyal Clinton ally during the Democratic primary, but is one of progressives' favorite Obama administration officials. He's Hispanic at a time when many Democrats want a person of color to lead the party, and brings the weight of his cabinet post, executive experience, and ties to Obama.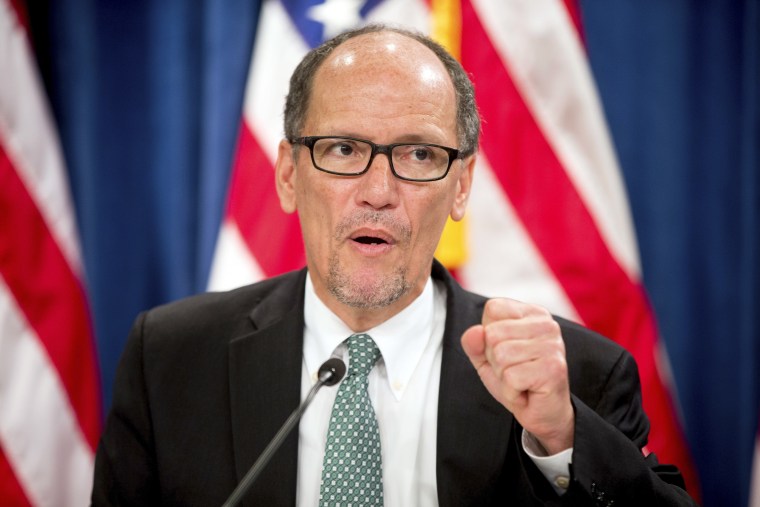 Some party leaders and liberal groups have moved quickly behind Ellison, hoping to avoid bitter fight that would reopen the wounds of the Democratic primary between Hillary Clinton and Bernie Sanders.
Ellison's backers include incoming Senate Majority Leader Chuck Schumer, Sanders, the Communications Workers of America union, and the political arm of MoveOn.org and the environmental group 350.org.
Warren has also expressed kind words for Ellison, while Sanders is using his massive email list to boost the African-American congressman from Minneapolis.
Related: Could The Left Stage a DNC Coup? 'There Has to Be a Complete Restructuring'
But others are warning the party to avoid rushing into the decision for an election that will likely not take place until February or March.
They say the chairmanship is a full-time job so it should not be held by an elected official, while others still argue it needs to be someone familiar with the operations of the party — and especially state parties, since they do much of the organizational work.
State party chairs have tentatively agreed to vote as a unified bloc for chairman, according to several sources, making their votes critical to any candidate.
And some chairs are considering runs themselves.
"I'm thinking about it. I'm thinking long and hard. I haven't made a decision," said Harrison, the first African-American Chair of the South Carolina Democratic Party and former aide of Rep. Jim Clyburn, the third-ranking Democrat in the House.
"I understand what state parties need. Particularly state parties that aren't in battleground states," Harrison told NBC News. "I would be full time. That would be my job ... I don't want to go back to a sitting member of congress being the chair. As someone who worked and served as state party chair, it is hard to do both well."
New Hampshire Party Chair Ray Buckley, who heads the Association of State Democratic Chairs, has also been fielding supportive calls, according to a source familiar with his thinking. But he has not indicated his interest level in the national chairmanship.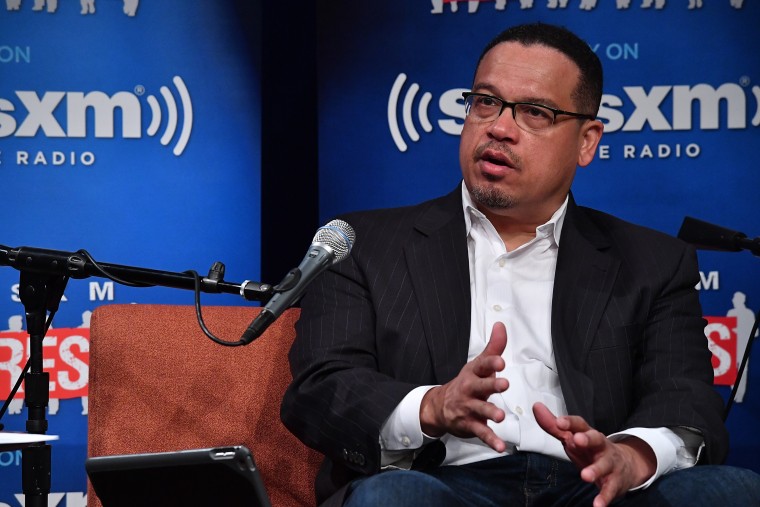 "The entire DNC building needs to be turned upside-down," Buckley said on a conference call with other state party chairs Thursday night, according to a source on the call. "The DNC must move away from a DC-centric image. We need to have the DNC investing in state parties brick and mortar, in our communications team, in our digital presence, so that the people know we are in our local communities and working hard to push back on Donald Trump and what is shaping up to be our worst nightmare: his Cabinet, his Congress, and regretfully his Supreme Court."
Given the immense task ahead for Democrats, some have floated the idea of splitting the chair into two jobs — one more public-facing and one more operational.
Meanwhile, O'Malley, who announced his interest Friday morning, is spending the weekend making calls to some of the several hundred other Democrats who make up the committee, according to a source close to O'Malley.
O'Malley allies believe he can straddle the Clinton-Sanders divide, since he was in neither camp, and argue that he can do both the public aspect of job that Ellison might excel at and the more tactical party-building job that Buckley and Harrison call for, given his work as chairman of the Democratic Governors Association. And they note he'd be a full-time chair.
Dean, meanwhile, remains a force to reckoned with and some Democrats think he would not jumped into the race so aggressively if he didn't believe he had the votes.
He's well regarded by many state party chairs and party operatives for his time helming the party, when his 50-state strategy pumped resources and attention to state parties. And he has a national brand that would make him a capable fundraiser from both small-dollar grassroots contributors and wealthy donors.
"I am very interested in the chairmanship of the DNC, not so much because I think I'm the only person that can fix it, but I think we need a full-time chair," he said on MSNBC Friday.
But some progressives warn he's lost touch with them, pointing to his opposition of Obama's Iran nuclear deal, and work for a law firm that does lobbying. And critics say the party should not be run by a middle-aged white man from a previous generation of leaders.
Democracy for America, the group that grew out of Dean's presidential run, officially parted ways with the former governor Friday, according to a source with the group, which could pave the way for them to endorse Ellison or another candidate. DFA supported Sanders in the primary while Dean backed Clinton.
Others are warning the party shouldn't rush into such an important decision.
"We are less than a week away from a devastating loss that virtually none of us saw coming," said Ilyse Hogue, the president of NARAL Pro-Choice America. "We cannot and should not rush to make the decision about who is going to lead the DNC through it's needed transition. Too much is on the line. Those who have already thrown their hat in the ring are leaders and people I admire. But we should wait to see who all the candidates are and what their vision for the future of the party is before making this critical decision that will have tremendous impact on 2018, 2020 and beyond."
Some Democrats are disappointed there have not been more women in the mix, especially since the party just saw its presidential nominee become the first woman in history to win the national popular vote.
Former Michigan Gov. Jennifer Granholm was seen as the frontrunner to chair the DNC under a Clinton White House. And she could help Democrats in several areas, including their desire to repair relations with working class whites in the upper Midwest, where Trump won states that have traditionally been Democratic.
"She is one of those people who had a real breakout cycle in terms of being out there for Democrats every day, even on tough ones," said one Democratic operative.
And allies are urging not to count out Kander, a 35-year-old former Army captain who attracted national attention this year for running an effective race against Missouri Sen. Roy Blunt, who narrowly won reelection.
"This is a generation that is capable of greatness, it is a numerous generation, and it has a lot of work left to do," Kander said in his election night speech.
Without an administration to fill, other Democrats are likely to join the race, which is quickly becoming a stand-in for a larger discussion about the future of the Democratic Party.
And many of the party's top leaders have yet to weigh in, including Obama, Bill and Hillary Clinton, and House Minority Leader Nancy Pelosi.
But one Democrat seemed to take himself out of the running Friday. "I'm not looking to run for DNC chair," House Democratic Caucus Chairman Xavier Becerra said on MSNBC. "There are plenty of great candidates out there right now."