First Read is a morning briefing from Meet the Press and the NBC Political Unit on the day's most important political stories and why they matter.
The Democratic race isn't as close as you think it is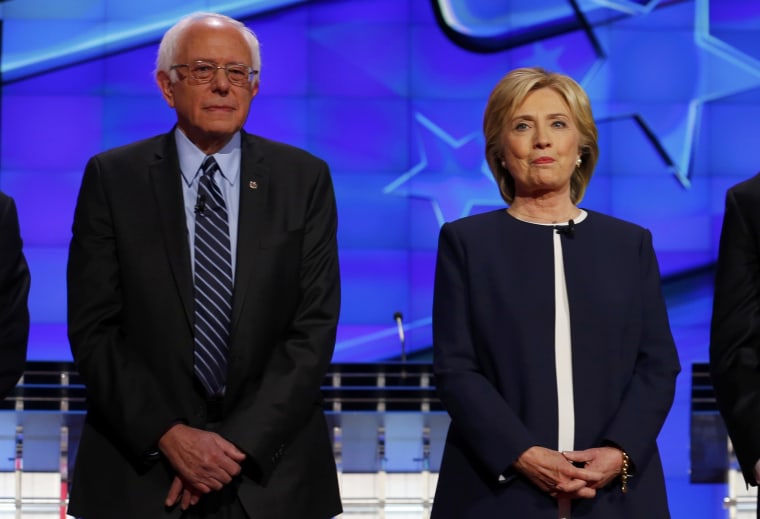 Bernie Sanders just won Oregon and almost carried Kentucky. His campaign is "willing to do some harm" to Hillary Clinton to try to win California next month, the New York Times writes. And they're hoping to take their fight all of the way to July's Democratic convention in Philadelphia. But here's the one little problem with that strategy: The Clinton-vs.-Sanders race really isn't that close -- certainly not as close as it was in 2008 between Barack Obama and Clinton. Back then, after the primary season had concluded, Obama led Clinton by about 120 pledged delegates. But Clinton's current pledged-delegate lead over Sanders is more than TWICE that amount. What's more, while Obama and Clinton largely split the Democratic superdelegates in '08, Clinton has an enormous 527-39 advantage here, bringing her overall lead over Sanders to 765. (Note: The superdelegates have never changed the pledged-delegate outcome since their creation.) And in terms of popular vote, Clinton leads Sanders, 13.2 million votes to 10.2 million. Here's the current delegate math after more delegates were allocated in Kentucky and Oregon:
In pledged delegates, Clinton currently holds a lead of 277 delegates
Clinton 1,771 (54%)
Sanders 1,494 (46%)
Clinton must win 32% of remaining pledged delegates to get a majority in pledged delegates
Sanders must win 68% of remaining pledged delegates to get a majority in pledged delegates
In overall delegates (pledged + super), Clinton holds an overall lead of 765 delegates

Clinton must win 9% of remaining delegates to reach 2,383 magic number
Sanders must win 91% of remaining delegates to reach 2,383 magic number
A reminder: Clinton essentially put Dem contest out of reach back in March
But how can that math be right when it seems that Sanders has won as many Election Nights as Clinton has, especially in the past month? Here's the answer: Clinton's biggest wins -- her delegate hauls that effectively put the contest out of reach back in March -- were early poll-closing calls on dates with multiple primaries, so they didn't get that much attention at the time.
On March 1, Clinton beat Sanders in Georgia, 71%-28%,netting a gain of 44 delegates (73-29)
On March 1, Clinton beat Sanders in Texas, 65%-33%, netting 72 delegates (147-75)
On March 15, Clinton beat Sanders in Florida, 64%-33%, netting 68 delegates (141-73)
On April 19, Clinton beat Sanders in New York, 58%-42%, netting 31 delegates (139-108)
On April 26, Clinton beat Sanders in Maryland, 63%-33%, netting 27 delegates (61-34)
Add up those five results, and that's a net gain of 242 delegates -- making up most of Clinton's current 277 pledged-delegate lead. By contrast, Sanders' recent victories in Indiana (+5 gain in delegates), West Virginia (+7), and Oregon (+6 so far) produced a smaller combined gain (+19) than what Clinton got out of Maryland by itself (+27), as the New York Times' Nate Cohn has observed. Sanders' biggest delegate haul was out of Washington state (+47), but he hasn't had enough of those kind of results to undo what Clinton accomplished on March 1 and March 15. Oh, and what do those five big Clinton victories above have in common? They're states with significant minority populations.
Trump already weighs in on Egyptair crash
Of course, the biggest story today isn't the 2016 presidential race but instead this news overseas: An "Egyptair flight with 66 people on board crashed while en route from Paris to Cairo on Thursday, the French president confirmed. Flight MS804 left Charles de Gaulle Airport at 11:09 p.m. Paris time (5:09 p.m. ET) and vanished over the Mediterranean Sea. French President Francois Hollande told a press conference that the plane had crashed, but said it was too soon to speculate as to the cause." But that hasn't stopped presumptive GOP presidential nominee Donald Trump from speculating: "Looks like yet another terrorist attack. Airplane departed from Paris. When will we get tough, smart and vigilant? Great hate and sickness!"
Former GOP senator apologized to Muslims for Trump while on deathbed
Speaking of Trump, don't miss this piece via NBC's Frank Thorp: "In the final days of his life, former Utah Republican Senator Bob Bennett turned to his son and asked him, 'Are there any Muslims in this hospital?' The question caught his son, Jim Bennett, off-guard. It felt like a non-sequitur, and he thought it may have had something to do with his father's recent stroke. But Jim said his father, even after the stroke, was 'sharp as a tack.' 'So I was standing there with him in the hospital and out of nowhere he asked me, "Are there any Muslims in this hospital?"' Jim Bennett told NBC News Wednesday evening. 'I said, "Yes, dad, I'm sure there are."' Jim said of the conversation, which was first reported by the Daily Beast. 'And he was very emotional and said, "I want to go up to every single one of them and apologize, I want to go up to every single one of them and tell them how grateful I am that they are in this country and apologize on behalf of the Republican Party for Donald Trump."'"
Quinnipiac poll: Clinton leads Sanders in New Jersey
Finally, a new Quinnipiac poll finds Clinton leading Sanders in New Jersey's June 7 primary, 54%-40%. And it has Clinton topping Trump in the state, 45%-38%, while Sanders is ahead of the presumptive GOP nominee, 49%-37%.
On the trail
And with the focus on Jersey, Trump attends a rally with Chris Christie in Lawrenceville, NJ at 5:00 pm ET. The same Quinnipiac poll had Christie's approval rating in the state at 29%.